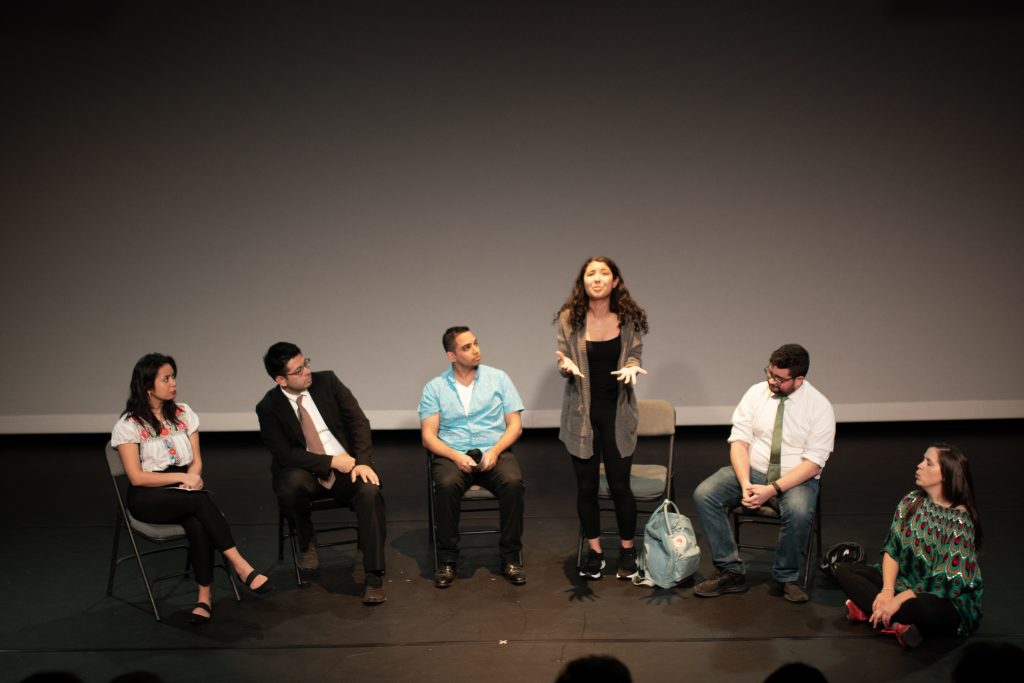 Love in the Time of Climate Change is a play recently performed at the Atlas Intersections Festival in Washington D.C. Written and produced by first-time playwright Rozina Kanchwala, a brown woman who works in solar energy and experiences climate anxiety herself, Love in the Time of Climate Change weaves together intersectional issues many young people face today: The threat of climate change, migration policies that tear families apart and amidst all of it, the struggle to find love. Kanchwala's play aims to introduce audiences to the subject of solastalgia – a psychological and emotional state detailing the anxiety about our changing planet and government inaction. By humanizing this complex feeling, the play aims to understand solastalgia through the small glimmer of hope and humor that community support can bring. 
The play follows protagonist Kamila, a millennial woman who navigates online dating while experiencing solastalgia. She is bombarded with bad news about the state of the planet while growing increasingly frustrated with online dating. She exclaims, "scrolling through Twitter for news is like swiping through Tinder for love" because both are hopeless disasters. To help combat her climate anxiety, she joins a solastalgia support group where she meets other climate-anxious individuals including Marisol, a Salvadoran climate refugee; Jared, a pharmaceutical sales representative who tries to sell a "cure" for climate anxiety; Aidan, a climate activist; Derek, a climate denier who joined the group by mistake thinking it's a salsa meetup group; and Sage, the group's new-age yogi facilitator. Through a comedic exchange, the group gets to know one another and works to ward off their solastalgia, all while trying to convince Derek that climate change is real.
The play tackles Kamila's experience dating "in the time of climate change," drawing a parallel between the latest scientific findings that we have approximately a decade left until the effects of climate change are irreversible, alongside Kamila's growing sense of urgency to find love. After swiping right on a series of men on a dating app, she goes on several hilariously disappointing dates that make her lose even more faith in finding "the one." 
"I just need one to be normal, just one," she says. Kamila frequently references the planet in her stream of conscious soliloquies, saying things like, "Sure, plenty of fish in the sea, but you know what else is in the sea? Trash!" invoking humor while reminding the audience of the play's main theme. Her insecurities come out as she ponders to herself, "Did I say something wrong? Was my hair too frizzy? I've replayed the night over and over in my head and I don't know where it went wrong." Many people identify with Kamila as they also wonder why their love interests "ghost" them, if they'll ever find "the one" and when that will be.
To combat her solastalgia, Kamila attends a climate change protest with her newfound friends and lobbies a Senator to pass the Energy Innovation Act. She ultimately realizes by the end of the play that she has found love, just not the romantic kind. Her dating experiences and her climate anxiety support group have allowed her to find happiness within herself, love for her new community and a path forward to combat her solastalgia.
After watching the play, I spoke to Kanchwala about her experience writing and directing this play to better understand how much of it was inspired by her own life. She explained that the idea came about when she was sitting with a friend — who is a Deferred Action for Childhood Arrival (DACA) recipient in her apartment — feeling hopeless after the 2016 U.S. presidential election and the unimpressive dates they had been on. As two single women living in Washington D.C., they decided it would be fun to develop a sitcom to highlight climate change, an issue that is always top of mind for Kanchwala, and focus on the connection to immigration. She drew the play's dialogue primarily from their experiences, and integrated references of "Venmo, avocado toast, bitcoin" to represent a typical millennial looking for love.
One important theme in the play is the disproportionate effect that climate change has on marginalized communities, exemplified by Marisol's unique perspective as a climate refugee. Marisol speaks about how people of color are impacted the most by climate change and yet for most of these individuals, "talking about climate change feels like a luxury when some people [climate refugees] don't even have access to basic necessities." As a result, these minority communities are forced to focus primarily on survival even in the midst of worsening climate conditions. 
While Kanchwala recognizes the play isn't solving climate change, she hopes it can start a conversation about the impacts of climate change on communities, especially for minorities or marginalized communities. While there is a growing awareness about climate change in the United States and abroad, she wants to see more people in the South Asian community get involved. Climate change is and will continue to have devastating impacts in South Asia – heat waves, increased flooding and air pollution are some of the causes of death and economic instability in the region. While the Indian government has created the National Action Plan on Climate Change, there has not been any significant change in people's behavior, company policies or carbon emission reductions in the country.
In an attempt to bring about more climate change awareness, Kanchwala continues to take action despite her own solastalgia. She recently started Eco.Logic — a non-profit focused on environmental education — that creates spaces to bring together adults and children to talk about climate change and make meaningful change. These days, Kanchwala is still swiping left on the "climate clueless" men of Washington D.C. and hoping that she'll meet someone who understands her solastalgia. However, she also knows her friends and family will be there to support her through this climate crisis. After all, her biggest lesson writing her play is that there nothing is more valuable than the community that helps get us through the toughest of times.