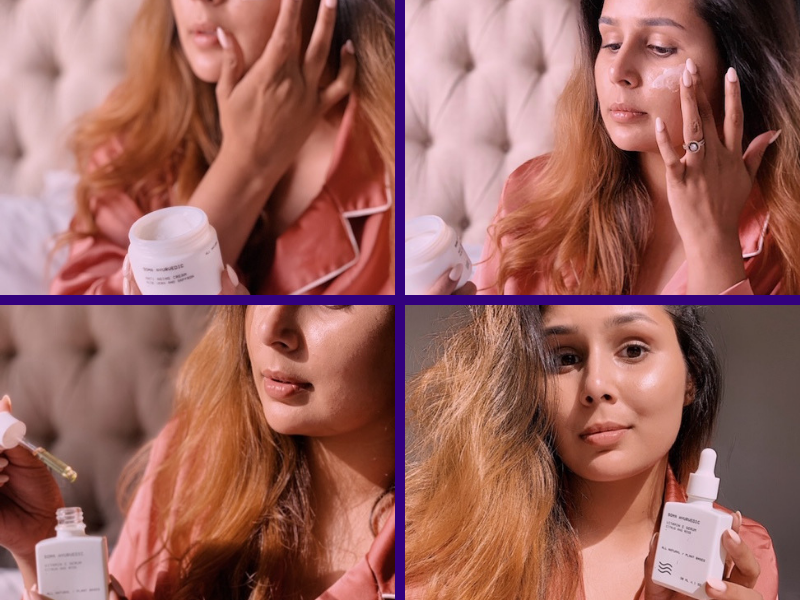 The following post is brought to you by Soma Ayurvedic — offering all natural, vegan, minimalist skincare products that are cruelty-free and eco-friendly. For every product purchased from their website, Soma Ayurvedic donates one female hygiene kit to a woman's shelter and one school supply kit to kids who live in orphanages in India, as many of these folks lack these basic necessities. Learn more about Soma Ayurvedic and apply discount code 'BGM30' for 30 percent off at check-out.
As I have gotten older, I understand the value of a solid skincare regimen and enjoy learning about new products that share some of those same values. My skin is temperamental, dry, and flares up during hormonal times, so I look for products that are moisturizing, all natural, and easy on my sensitive skin.
In general, I have a very minimal approach when it comes to beauty – less is more – and I try to keep things as simple and straightforward in terms of what I use. When I learned about Soma Ayurvedic, I was immediately drawn to the minimal messaging and the natural ingredients. Like most South Asian kids, my mother and grandmother encouraged using aloe vera, saffron, turmeric, oils, and other natural derivatives for health and beauty. I grew up with an emphasis on an ayurvedic approach, so Soma Ayurvedic's products felt familiar but also new with how accessible and minimal their line of creams and serums are.
The first product was Soma Ayurvedic's 'Anti-Aging Cream,' which is infused with aloe vera and saffron and has a pleasant scent and texture. I have been in denial about needing anti-aging products for a while, but it was time and I'm loving the results so far. The texture of the cream, along with the light scent, and the consistency really stood out to me. After using the product around the t-zone of my face for a few weeks, I noticed a nice change. My skin felt brighter and more nourished.
With so many under eye night creams and maks to try, it's been hard to find a go-to I can keep on my nightstand. But I've been loving Soma's 'Under-Eye Gel' especially because it can be applied to other parts of the skin that contain dark spots or scars. It contains a concentrated formula of herbs, flowers and plants like lavender, moringa and avocado, which is rich in fatty acids, vitamin E and potassium. I've been applying it consistently every night for a few weeks for best results and should be used primarily for puffy eyes, and to tighten loose skin and wrinkles. 
My all-time favorite product from their first-ever three-product line is the 'Vitamin C Serum' — made with citrus acid, rose and grapefruit, and helps boost natural collagen production, fills in fine lines and safely tighten your skin.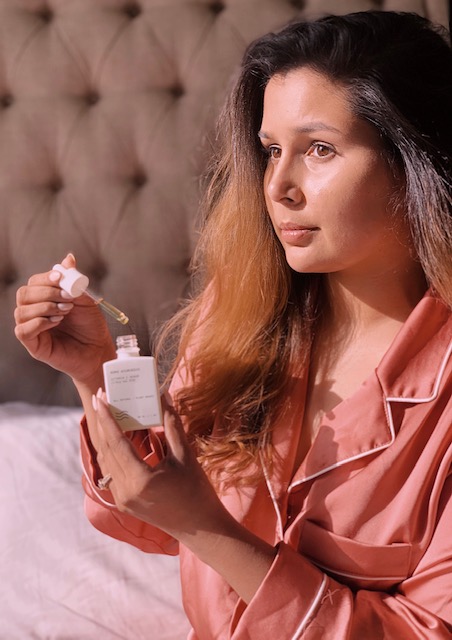 I especially loved using this before applying makeup because it gave my skin a hydrated glow and it made application smoother. 
Aside from the aesthetic and quality of the ingredients, what stood out to me most about Soma Ayurvedic's mission is their initiative to foster the communities from which they source ingredients. They donate school supplies to local orphanages and hygiene kits for women in India in order to build positive relationships and uplift through an ayurvedic lifestyle approach.
In addition to their outreach, the founder Arjun Sampath's mission is to incorporate the ayurvedic principles of preserving and respecting the environment by only using recycled stamped glass. It's amazing to see an independent South Asian-American skincare brand incorporate ayurvedic roots while seamlessly tying the product line to our modern everyday lifestyle, and stay consciousness at every level. 
---
ABOUT SOMA AYURVEDIC:
All natural: every single adaptogen in our products come from the most biodiverse forests on earth: The forests of Kerala in southern India and the foothills of the Himalayas.  Products, proudly made in India.
Plant-based and vegan: all ingredients are derived from plants which enhance and maintain natural collagen levels to keep skin elastic.
Eco-friendly: All of our bottles and jars are GLASS, not plastic. Furthermore, our glass is recycled and may have imperfections.
Cruelty-free: There is no testing done on animals, EVER. 
Minimalist: we use the least amount of ingredients for the greatest amount of impact
Ayurveda is yoga's sister science, is 7000 years old, and is the oldest continually practiced for, of medicine in the world.