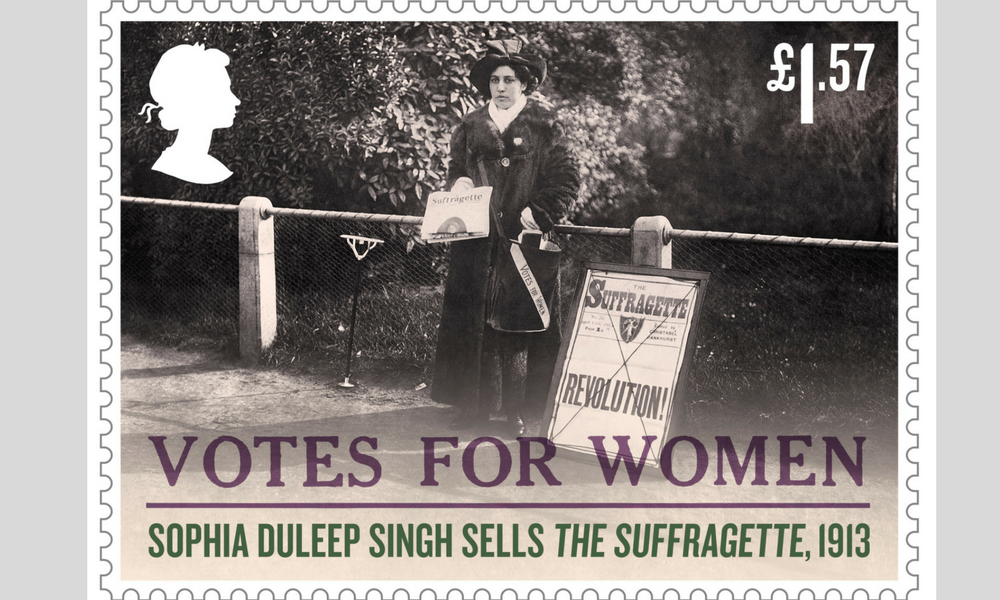 by Clare Ruel – Follow @ceruel83
Earlier this month, the UK's renowned letters and parcels delivery company, Royal Mail, issued a series of stamps to mark the centenary of the Representation of the Right of the People's Act 1918 — an act that created UK history on 6th February 1918 by giving women over 30 in the UK the right to become part of the electoral system. This stamp collection includes Sophia Duleep Singh, a largely unknown political figure and Indian princess whose contribution to the movement was unknown to many—until now.
On the stamp, she is pictured selling copies of "The Suffragette" magazine at the gates of Hampton Court Palace in 1913. It was this image in a magazine that the caught the attention of veteran South Asian television presenter and BBC journalist, Anita Anand, which led to her writing the biography entitled "Sophia: Princess, Suffragette, Revolutionary," which was originally published in 2015. In light of the 100 years of UK women gaining the right to vote, independent publishing house Bloomsbury Publishing has recently re-released the book using the very same image.
While Emmeline Pankhurst, British political activist, and leader of the British suffragette movement, became a household name, women of colour have long been invisible on this journey. Princess Sophia Duleep Singh was largely unknown before Anand's biography of her life. Goddaughter to Queen Victoria, Sophia was the daughter of the last Maharajah of Punjab, Duleep Singh. Anand said,
"There was something about that picture that made me think that she looked Indian or ethnically Punjabi, I tried to get a book out about her and there was nothing. So, to yank this woman out of obscurity has been a really wonderful feeling, particularly as it was the desire of the of British Raj at the time to bury her without a trace."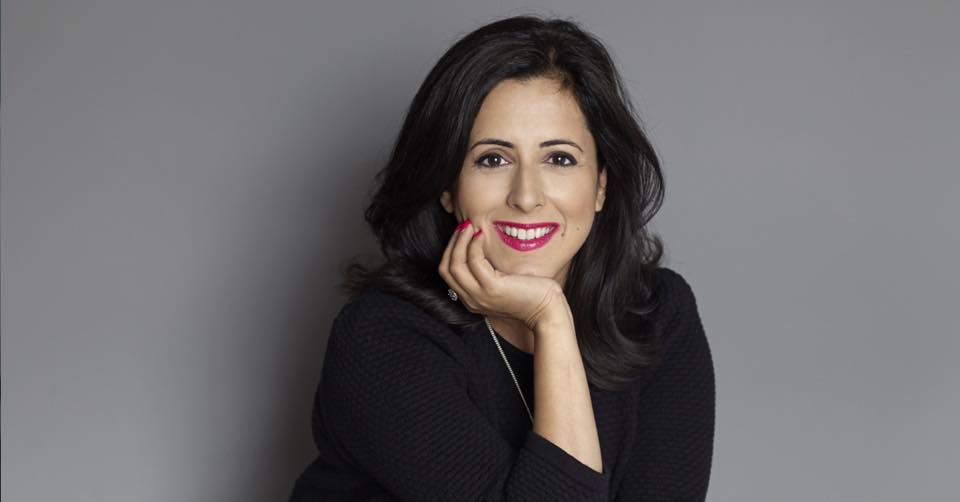 When Royal Mail got in touch with the author in the run-up to the centenary to find out more about the Indian princess suffragette, Anand was touched,
"The image they used means a lot to me, because it was the first one I came across that made me write the book, it was the first glimpse that I ever had of Sophia, which is held at the Museum of London.It is such an important thing to celebrate people like Sophia who have been invisible for a long time. It means absolutely everything to me, because we are absolutely rubbish at writing women's history, we just are, men generally write history, so those women as extraordinary as Sophia get lost in the cracks and women of colour are even more invisible."
 The set of eight stamps also include images of the Coronation of the Procession of 1911 but also female demonstrators such as Mary Leigh and Edith New. Liz Law, a Royal Mail spokesperson, said:
"Our 'Votes for Women' stamps convey the scale of activities that the different organisations undertook in their tireless campaigning for the vote."
Sophia's father, the Maharajah and last one of the Sikh Empire that spanned the Kashmir Valley, the Khyber Pass, Lahore, and Peshawar, was exiled in 1849 to England after the British invaded Punjab in 1845. Sophia was born at Elveden Hall, his Suffolk estate which he transformed into a Moghul palace with leopards and exotic birds. Born into royalty, she was raised as a classy aristocratic English woman.
Her mother was a product of an unmarried couple, an Abyssinian slave and a German merchant — Sophia was named after her maternal grandmother. Her parents had six children in total. In 1893, Sophia and her siblings were orphaned, but she stayed in a grace-and-favor house at Hampton Court Green that Queen Victoria arranged for her.
Sophia traveled to India against the British government's will in 1903 and this trip changed her view on India and she returned a revolutionary. She joined the Women's Social and Political Union (WSPU) in 1909 as a fully-fledged suffragette. Her cause for struggle was overall the fight for female suffrage, but she also fought for Indian independence, the fate of the Lascars-the sailors from India employed on European ships, and the welfare of the Indian soldiers in the First World War. She attacked politicians and even tended to wounded soldiers evacuated from the battlefield.
Sophia was a member of the Women's Taxation Resistance League whose official motto was "no taxation without representation," — she appeared in court on various occasions for refusing. She was later deployed as a tool of propaganda by Emmeline Pankhurst, as her actions were an embarrassment to the Royals.  Previously Sophia had been a fashion icon, a champion dog breeder and winner of Crufts and one of the first women in Britain to ride a bicycle in public.
She had a very close relationship with Queen Victoria, who stepped in after their father left for India leaving the family to fend for themselves. King George V was reluctant to challenge Sophia's political activity due to this.  Sophia died in 1948 aged 72, a year after India gained independence. Anand, concluded:
"If nothing else just look into your own background because I found people who were still alive that knew Sophia. It would start with a conversation that you would think would go nowhere to them saying 'oh I've got a box of papers in my attic belonging to my granny'-so look into your own personal histories. Look also into the histories of people who were known to your family and get them to talk, because particularly Asian people don't talk very much about the mavericks in the family, and you will open a treasure trove of history and you might uncover something quite extraordinary."
---
Clare Ruel is a journalist, she has covered regional, lifestyle, politics, health, utilities and FinTech news for Onboard Hospitality, The Times Educational Supplement, The South West Londoner, IBS Intelligence and Utility Week. Her belief that story telling is a basic human need to understand societal trends and her background in sociology facilitated her career in journalism. When she's not story hunting, she enjoys yoga, dance, exploring and reading dystopian novels..