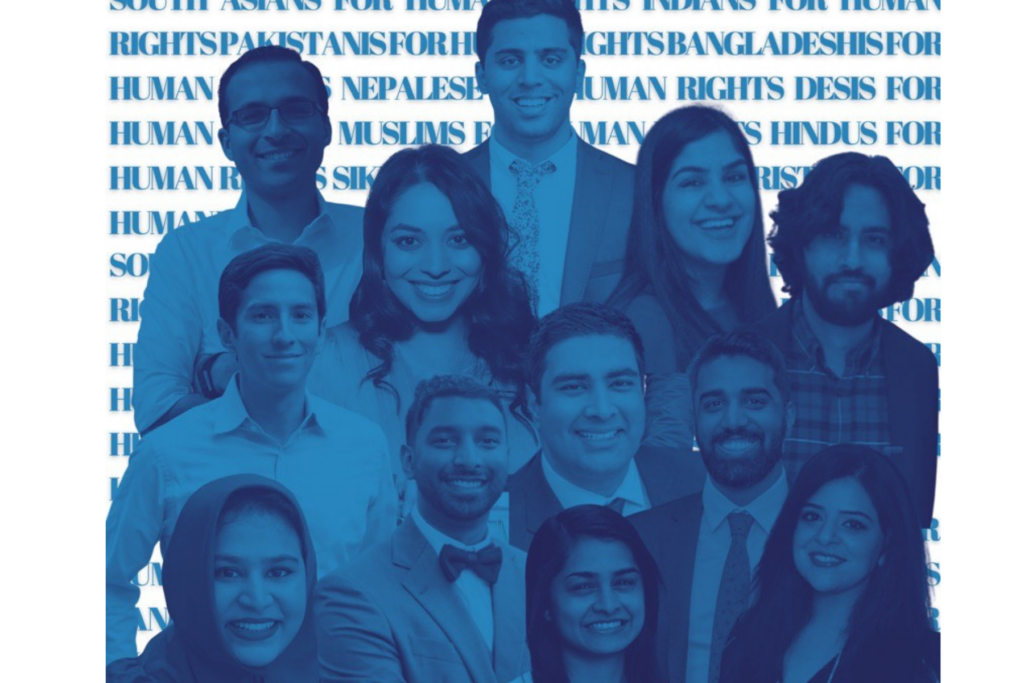 The South Asian American community is not a monolith. Each of our journeys to the United States is as different as the languages and religions of our homelands. The 2020 U.S. presidential election exposed the deepest political divide in our diaspora: the United States' approach to foreign policy in South Asia. The election divided South Asian Americans into two camps. The first camp argued that the diaspora is American first and foremost, therefore our politics should primarily focus on the issues affecting us here today. While this approach preserves community solidarity, it also silences South Asian Americans on issues that they are vastly more knowledgeable about than other Americans. After all, American foreign policy and its international human rights agenda have always been fair game for pre-election debate topics. Why should we close our eyes if the debate takes us to the land of our ancestors?  
The second camp imported South Asian tribalism to the United States: religious bigotry, virulent nationalism, casteism, whataboutism in response to human rights violations, to list just a few. In a region too often consumed by communal tribalism and often devoid of justice, the politics of human rights simply becomes a tool for vengeance and domination. These special interests are focused on dividing the South Asian community by enforcing group hierarchies that many of us thought had been left behind in our homelands.
Neither of these approaches offers a productive direction for our community. If we want to truly come together and move forward, we will have to unify around the human rights of all South Asians, in America and overseas, and push for truth, reconciliation and healing. 
Just as the United States still aches from the wounds of slavery and the genocide of indigenous peoples, partition — which occurred just 74 years ago — still haunts South Asia. As riots swept through South Asia and civil order broke down, Hindus, Muslims, and Sikhs slaughtered one another: raping, pillaging, and killing. More than a million people died, and more than 10 million were displaced, including the parents and grandparents of many of the American-born millennials of South Asian descent.
For many of us, learning this history as children exposed us for the first time to the graphic bloodshed in South Asian history. Over time, our canon of partition-era stories grew as we shared these stories among ourselves, revealing another painful reality: That period of terror has left behind a slew of mental health issues experienced by parents and grandparents. 
Many survivors felt that the pain they had undergone gave them a greater sense of empathy for their fellow human beings. They realized how easy it is to bring out the worst in each other. However, for many others, the depravity, in addition to the lack of justice and reconciliation, washed away much of their compassion. They settled on the semi-nihilist idea that, "if no one will face justice, and the only thing that determines right is power, then no one will look out for people like ME. Thus, I am entitled to look out only for me and my own."
This did not begin with partition, it started at the very dawn of history in the Indus Valley and later on in countless acts of intercommunal violence and numerous entrenched systems of oppression. Within our grandparents' memories, human rights have been violated without consequence.  Almost every community in South Asia has engaged in ethnic cleansing and horrific human rights violations, and only in rare instances have they faced justice.
Here are a couple of examples mostly focused on the modern era:
We, as the millennial and Gen Z generations of South Asian Americans, must do better. Many of us fail to speak up on these issues out of a fear of confrontation, but that lets those who perpetrate hatred and bigotry lead the conversation. We can choose to let our community stew in anger and its own personal identities, refuse to trust, and seek vengeance and bigotry, or we can join hands together across languages, religions, homelands and ethnicities to proclaim that the crimes and traumas of our past will not define our future. We can push for a system that enshrines individual human rights and justice as the bedrock of the South Asian American community.   

We know that many in our distinct communities will say we are young and naive because we didn't grow up in the homeland and or say we're race traitors. Some will say that we're spouting fake news. Some will say we're damaging our futures by speaking out and "log kya kahenge" (what will people say?).
That's certainly hard to hear, but these same aunties and uncles taught us to live lives of honor, dignity and principle. It's time to do so loudly. 
We must continue to learn and discuss our history, else, as they say, we will be doomed to repeat it. Our silent majority must now stand up for common human rights, reject the caste system, fight against religiously motivated bigotry of all kinds and virulent nationalism and dismantle the patriarchy and homophobia that plagues our communities. Speak out for your fellow human beings and learn to stand up for those who are different from you, especially when the perpetrator claims their actions are in the name of your creed or group.  Our generation can break the cycle. South Asia and America deserve no less.
The undersigned speak on their personal behalf and not of any organizations or employers with whom they are affiliated.
The following contributors have collaborated on the post above: 
Alex Karjeker, Fmr. Candidate for Texas State House District 129
Amatullah Contractor, Texas Civic Engagement Director of Emgage
Azra Siddiqi, Founder and President of WiseUp TX 
Hena Rafiq, Former AAPI Organizer, Texas Democratic Party, a board member for They See Blue Texas 
Karthik Soora, a board member for They See Blue Texas
Prerna Bhat, Former AAPI Organizer, Texas Democratic Party, They See Blue Texas Board Member
Raj Salhotra, TSB Texas Board Member and former Candidate for Houston City Council at Large #1
Rocky Saligram, President of Fort Bend Young Democrats 
Rish Oberoi, Texas Political Strategist
Saatvik Ahluwalia, Co-Founder and President of Asian Democrats Central Texas
Sumbel A. Zeb, Co-Founder Get Out the Muslim Vote-Texas & Muslim Women for Biden 
Zainab Calcuttawala, Vice President at Ascend Houston, an AAPI Professional Assoc.
Zohaib Ahmad Qadri, Co-Founder and Advisory Committee Chair of Austin Muslim Democrats 
---
The opinions expressed by the writer of this piece, and those providing comments thereon (collectively, the "Writers"), are theirs alone and do not necessarily reflect the opinions of Brown Girl Magazine, Inc., or any of its employees, directors, officers, affiliates, or assigns (collectively, "BGM"). BGM is not responsible for the accuracy of any of the information supplied by the Writers. It is not the intention of Brown Girl Magazine to malign any religion, ethnic group, club, organization, company, or individual. If you have a complaint about this content, please email us at Staff@browngirlmagazine.com. This post is subject to our Terms of Use and Privacy Policy. If you'd like to submit a guest post, please follow the guidelines we've set forth here.