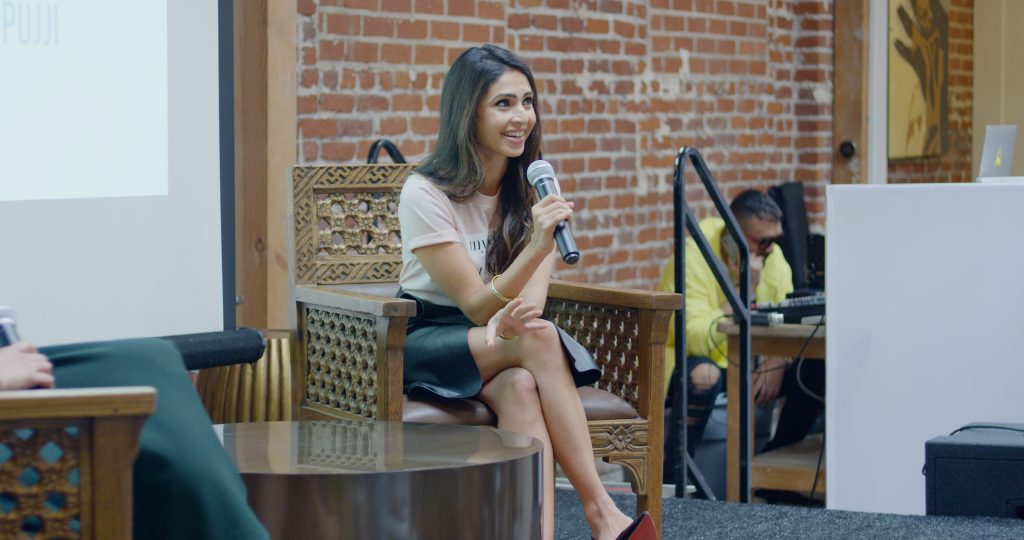 When you start working in media, it's easy to trap yourself in a bubble; a bubble where only TV exists or film or dance etc. Attending this year's South Asian Creative Summit in Los Angeles, hosted by Product of Culture (POC), was a reminder that in order to truly make our mark on the world as South Asians in creative fields, we must be collaborative, be encouraging, and be resourceful.
View this post on Instagram
POC was founded on the principals of encouraging entrepreneurial efforts within South Asian generations by providing a space to build partnerships, educate one another, access capital, and be exposed to the mentorship that our community so desperately needs to break stereotypes. Based in Chicago with operations in New York City and Los Angeles, Product of Culture is founded by Archana Jain and Monika Sharma, and powered by Abhinav Gupta, Mileen Patel, Nehaa Haneef and Sreejith Nair.
The speakers of the South Asian Creative Summit truly covered every aspect of succeeding in the media space. Speakers like Payal Kadakia Pujji, CEO of ClassPass and founder of Sa Dance Company, spoke to never letting your fear of failure triumph over your passion.
View this post on Instagram
Brand ambassadors from Tonal Journal, Brightland, and Haati Chai (three brands that could not be more different from each other) spoke to the business of creating compelling content that highlights the uniqueness of our South Asian diaspora and an aesthetic that brings people back for more.
Reena Bhansali, founder of RB Communications and Hindi by Reena, spoke to the business side of launching your business off the ground from a PR standpoint: how to build a press kit, how to budget, what an NDA vs. LLC is etc.
Saniya Waghray, a marketing strategist at Disney, discussed the difference between "networking" and "building your network" and how the people we surround ourselves with need to not only be champions for you and your work but also provide a collaborative and innovative atmosphere.
Garima Verma and Shawn Kalsi, digital marketers in the entertainment studio space, spoke to the tricks and nuances of social media and how we can use these platforms to maximize user engagement with our brands and budding businesses.
And who could forget our very own Keertana Sastry who spoke to how to be effective and resourceful when you're pitching your ideas to editors and executives. The diversity of speakers within the media space provided for a holistic and truly eye-opening environment.
https://www.facebook.com/ProductofCLTR/videos/680872425626023/
The final day of the South Asian Creative Summit was perhaps the most rewarding. From short films, to music videos, to web-series, the talents and visions of our South Asian community were showcased in a way that is rarely done. And fruitful discussion and Q & A allowed us as jury members to get into the minds and behind the stories of all that were showcased.
View this post on Instagram
Short films tackled identity crisis and laid the groundwork to break social boundaries. Music videos ranging from rap to alternative music highlighted the innovation and cinematic vision that South Asians have when it comes to telling a story via music. Web-series ranged from episodic, to comedy, and to thrillers breaking down the stereotypical walls that are built around South Asians in television.
Ultimately, the South Asian Creative Summit was a weekend of being proud to be South Asian. By providing a safe space to learn and collaborate South Asians have and will continue to feel comfortable in their creative skin and progress in a field that contains very few role models.