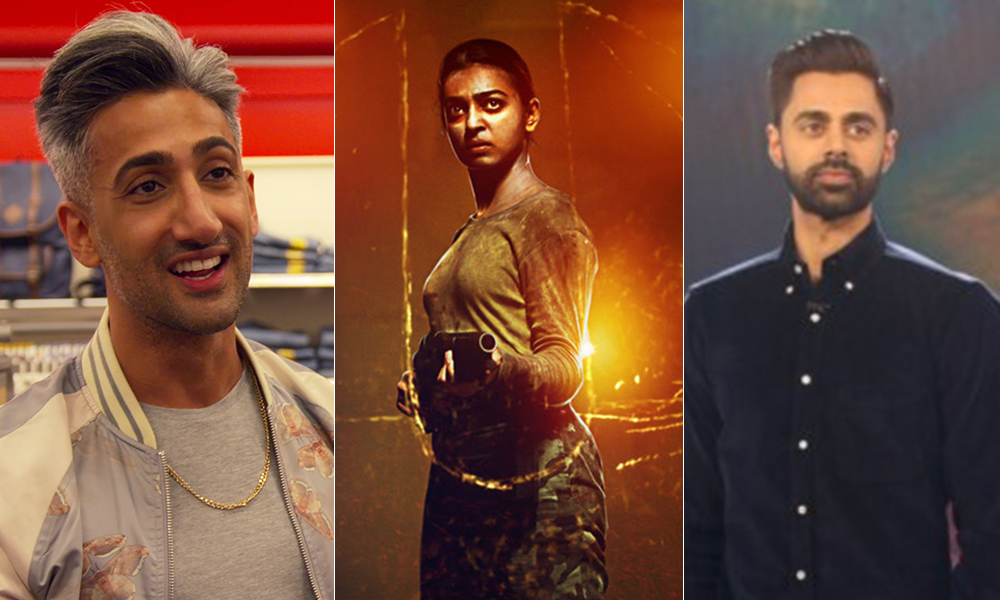 We've owned Komodo dragons, been terrorists, ridden elephants on the beach, worked at gas stations, worshipped cows, were always named Raj, and we've only ever made good doctors, engineers, and call center employees – but all that is changing. From emerging out of non-existence, to being forced to embrace our stereotypes, to finally getting roles that allow us to exist uniquely within our culture, the journey of South Asian representation in front of and behind television screens has been a long and daunting one.
Now that we've entered the new year, let's reflect on some of the best moments of South Asian representation on TV in 2018!
1. Tan France: "Queer Eye"
This Justin Bieber-loving, short-sleeve printed shirt-wearing god of a man has contributed monumentally to the queer South Asian presence on television. It's always great to see queer South Asian characters played in shows, but it is truly inspiring to see actual queer South Asian men unapologetically living their lives (as they should). In his own words,
There's no right or wrong way to be gay, no right or wrong way to come out. It's your journey, do it the way you wanna do it.
France is a reminder to us all that letting society dictate how you carry yourself is the most unproductive way to live.
Fun Fact: France has paired up with Men's Wearhouse to give unemployed Americans the resources and tools necessary to ace an interview because,
Style is not fashion. Fashion is not trendy after a season. I couldn't give a shit about fashion. Style is dressing the way that you feel confident and what is appropriate for you, your age, body type.
To quote Chandler Bing, "Could he BE any more perfect?"
2. Hasan Minhaj: "Patriot Act with Hasan Minhaj" (Netflix)
FINALLY, the Late Night TV landscape has been graced with a charismatic person of color, after being completely saturated with old straight white guys. The structure of Minhaj's show is fresh and accessible. Much like "Full Frontal with Samantha Bee," Minaj is on his feet throughout the show and constantly engaging with his studio audience and the viewers. He touches on only one topic every episode and focuses on the nuances and breakdown of the issue, so you leave each episode well educated and informed. His focus on issues that concern the minority has created a community. Not to mention he's super-hot and not a horrible thing to stare at for 30 minutes a week.
Side note: His web-exclusive extras on YouTube, including his shopping outing with Tan France, are nothing short of brilliant.
3. Radhika Apte: "Ghoul," "Sacred Games," and "Lust Stories" (Netflix)
The reigning Indian queen of Netflix is none other than Radhika Apte. From her leading turn in the thriller series, "Ghoul," to her small, but memorable role in "Sacred Games," to a noteworthy performance as a college professor who engages in a sexual relationship with a student in the film anthology, "Lust Stories," Apte has single-handedly monopolized Netflix India, and honestly I'm not mad about it.
The best part about Apte is her commitment to playing different female roles that often challenge common South Asian women perceptions (i.e. her role in "Lust Stories"). She continues that same commitment to her big screen roles as well, like her wonderful performance in arguably the year's best Bollywood film, "Andhadhun."
May her omnipresence continue to bleed into 2019.
4) Sarayu Blue: "I Feel Bad" (NBC)
A show and character that strays from "tokenization," Sarayu Blue's portrayal of the modern first-generation Indian woman is one that has been much needed on American TV. Blue's character challenges gender disparity in the workforce, the notion of "female guilt," and touches tastefully on the ever so stressful dynamic between an Indian woman and her parents who live with them.
HONORABLE MENTION: We have to give a well-deserved shoutout to Madhur Jaffrey who plays Sarayu's mother in the show and is, as always, damn adorable. Aseem Batra, who co-created the series and is a damn genius, gets a hearty shoutout, too!
5) Aparna Nancherla: "Corporate" (Comedy Central)
If you enjoy dry humor and elevated sarcasm, I HIGHLY recommend you check out the Comedy Central show "Corporate." Playing the head of HR at a VERY generically corporate company Aparna Nancherla perfectly captures the irony that involves working in HR: She is either complicit in violating corporate policy, is super unhelpful, or blatantly ignores issues so she doesn't have to deal with them. I also find it hilarious that in an office of nearly all white people, Nancherla (the only woman of color for the most part) is "tokenly" placed in the HR department.
Nancherla is truly an icon for South Asian women who are trying to make a name for themselves in comedy, and her commitment to bits that are less commercial and more tasteful is what makes her special and stand out.
6) Suraj Sharma: "God Friended Me" (CBS)
Playing a dorky Indian hacker who still lives with his parents, Suraj Sharma's character, Rakesh, is the perfect combination of stereotype and well let's face it… The harsh reality of some South Asian men. Rakesh is constantly being set up on dates by his parents, and he struggles with being able to create his own sense of agency while still trapped in their house.
The show strips religion (one of the most, if not the most, polarizing issues we face today) down to its core value, which is ultimately humanity helping humanity, and I absolutely love that there's a South Asian face associated with that message.
Other South Asians who graced our television screens this year:
Parveen Kaur plays 'Saanvi' on NBC's "Manifest"—my guilty pleasure show of the year.
Anupam Kher plays 'Dr. Anil Kapoor' on NBC's "New Amsterdam"—a surprisingly uplifting series.
Nik Dodani plays 'Pat Patel' on CBS's revival of "Murphy Brown," and 'Zahid' on Netflix's "A-Typical."
Reshma Shetty voices 'Angella' on Netflix's "She-Ra and the Princesses of Power."
Rahul Kohli plays 'Ravi Chakrabarti' on The CW's zombie comedy, "I-Zombie."
Pallavi Sastry recurs as 'Cameron' on CBS' long-running series "Blue Bloods."
Karen David recurs as 'Emma Tig' on The CW's 'Vampire Diaries' spinoff, "Legacies."
Manish Dayal plays 'Devon Pravesh' on Fox's "The Resident."
Meaghan Rath plays 'Tani Ray' on CBS' "Hawaii Five-0" reboot.
Arjun Gupta plays "Penny Adiyodi" on Syfy's "The Magicians."
Rizwan Manji recurs as 'Ray Bhutani' on the hilarious Canadian series, "Schitt's Creek."
Aparna Brielle plays 'Sarika' on NBC's dark comedy, "A.P. Bio."
Jameela Jamil plays 'Tahani' on NBC's "The Good Place."
And here just a few actors who will South Asian representation on new shows in 2019:
https://www.instagram.com/p/Bn6QBoZgqTk/
Raza Jaffrey will play 'Ali Ziai' on NBC's upcoming drama, "The Enemy Within" (series premiere, February 25th).
Karan Oberoi will play 'Noah Bracken' on The CW's "Roswell, New Mexico."
Dhruv Uday Singh will recur on Freeform's "The Fosters" spin-off, "Good Trouble" (series premiere, January 8th).
Vinny Chhibber will play 'Liam Bhatt' on CBS' new drama, "The Red Line."
Mouzam Makkar will play 'Loni Kampoor' on ABC's Marcia Clark-created drama, "The Fix" (series premiere, March 18th).
Kal Penn will be back on TV in 2019, now that Netflix has saved "Designated Survivor" from cancellation!
Kumail Nanjiani (who is as hilarious as ever on HBO's "Silicon Valley") will appear in one episode of CBS' "The Twilight Zone" reboot, produced and hosted by Jordan Peele!
Vir Das (who just released another great Netflix comedy special) will appear in at least one episode of ABC's new action comedy, "Whiskey Cavalier" (series premiere, February 27th).
And so so so much more…
Not to mention the greatest announcement of them all, "Mira, Royal Detective," Disney's upcoming animated series, is voiced by an all brown cast! My heart sings for all the South Asian girls who no longer have to settle for being 'Jasmine' for Halloween because it's "close enough."
Reading this list, I know what you may be thinking: Some of these characters do not have South Asian names and these shows aren't exclusively about the South Asian experience, but that doesn't negate the fact that this moves us forward in our pursuit of South Asian representation.
Some people think that representation is exclusive to being as "ethnic" or "traditional" as possible, and don't get me wrong, one day I hope to see an Indian/Bangladeshi/Pakistani etc. family drama that shows the beautiful traditions that come along with being South Asian. But Ava Duvernay put it best in an interview with Justin Simien, that representation doesn't need to be driven by a heavy and culturally stirring plot. Representation can mean just showing people of color living a normal life, and that doesn't make that story any less valuable.
So put down those books, stop doing outdoor activities, and keep supporting our South Asian brothers and sisters on our TV screens in 2019!! (I'm only partly kidding…)