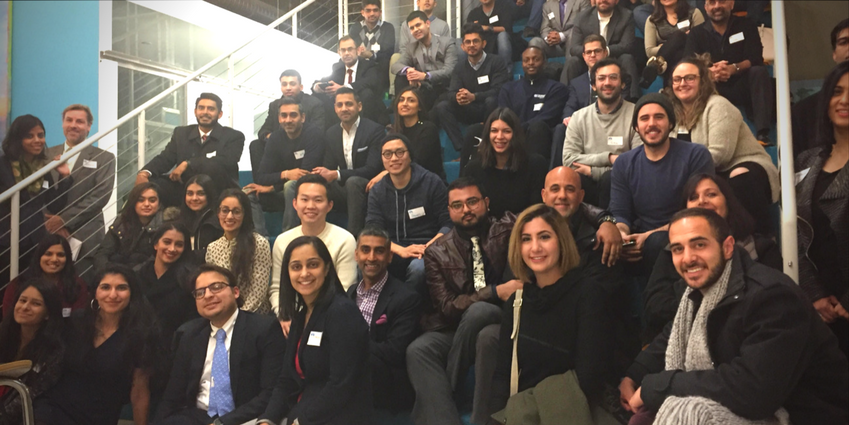 When you think about South Asians in sports, you may envision the famous cricketer Sachin Tendulkar or the successful tennis player Sania Mirza. You may have even been inspired by the recent Bollywood movie "Dangal," which was based on real-life wrestlers Geeta Phogat and Babita Kumari. However, it is difficult to come up with names of professional South Asian athletes in the North American sports industry, let alone, South Asians working behinds the scenes in organizations like the NFL or ESPN.
Luckily, Neha Contractor and Neha Uberoi Khangoora, founders of South Asians in Sports, are here to create awareness about desis in the sports industry and break through racial barriers. Last week on March 16, they held an inaugural event in New York City to bring together as many South Asian sports professionals in the area as possible for a night of networking and dialogue. Attendees and panelists included: Hrishi Karthikeyan, SVP of Legal and Business Affairs at the NBA, Ishveen Anand, CEO of OpenSponsorship, Priya Desai, Digital Correspondent at Sports Illustrated and Akash Jain, VP of International Commercial Development at the NFL, among others.
Here's what we found out about these immensely talented Brown Girls as part of our "Fast Five" interview series, which introduces budding artists/activists to the Brown Girl Magazine community.
Tell us more about the conference on March 16. How did it come together? What was the purpose of the conference?
Neha C: "Over the past 18 months Neha and I have been working hard to launch South Asians in Sports (SAinSports) by building our online presence through our website and social media avenues. In addition, we've been engaging and building relationships with industry professionals to help grow the network. Then we thought what better way to get the community together than to host an in person event in New York City. Given that there are many South Asian sports professionals in New York we thought it would be a great location for the event.

The purpose of the event was to have a panel discussion among South Asian leaders in the sports industry. In the audience we expected not only liked-minded individuals but also those that were interested in the sports industry. Lastly, we really wanted the attendees to realize South Asians are making themselves known in the industry through a number of channels. This was a great way to bring the community together and expand this network."
Do you think there's a stereotype or bias against hiring South Asians in sports? Why do you think there's not many people like us in the field?
Neha K: "Well, I definitely think there is an inherent bias against South Asians and females of color because top athletes, owner, managers, commentators, coaches, agents, the whole industry is dominated by white cisgendered men. When we think about sports, South Asians just don't fit that narrative, yet!  The South Asian diaspora is sports crazy but we just don't recognize the industry as a successful and fulfilling career option the way we do other fields. I understand that aspiring to become a professional athlete is just so scary and risky in our cultural mindset. However, there are so many other less 'risky' ways to become involved in sports."
Do you face stigma or being a South Asian woman interested in sports and now as a mom? If so, has it worsened or do people embrace it naturally?
Neha C: "Growing up I never really felt a stigma because I had amazing supportive parents who allowed me to get involved from day one. My mom traveled all throughout India playing cricket growing up so sports were a big part of her life as well. Both my mom and dad saw tremendous value in playing sports and they saw that I loved it so much they knew one day I would get involved.

Now, in this generation, as a mom, people embrace it more than ever. I think as we get older we see value in things that perhaps our parent's generation did not. I run into a lot of family and friends asking if I'm going to coach my son in any sports. People really do see sports offering so much more than the game itself."
What advice do you have to give to people, especially women, looking to start a career in the sports industry?
Neha K: "I've learned two things from my career as a professional athlete that applies to everything else I'm doing which is to work hard and to be patient. There are no shortcuts. Be patient with yourself and give yourself the permission to go after whatever drives you."
Where do you go from here? What do you have in store for SAINSports? What do you personally see the future of South Asians in sports being?
Neha K: "Big things! We aim [for SAINSports] be the premier network and hub for South Asians involved in sports from athletes to businesswomen, we'll get there one step at a time."

Neha C: "I see South Asians making bigger and bigger waves each year in this industry. Whether they're athletes or professionals I think we're making strides in all areas. One area in particular that stands out to me is in the digital and analytical space. Through those avenues individuals with math and science backgrounds are making a case to be in the sports industry.

The journalism side of the sports industry has already seen a number of South Asians moving up the ladder. As the years go by I only see this area growing because we continue to open doors for others. I think sports journalism will be the first field that will be considered a "normal major" for South Asians outside of the typical doctor and engineer type majors.

In addition to what Neha Uberoi said, we will continue to grow our online presence by hosting digital events such as Twitter chats, deepen our relationships with industry professionals and academic institutions, and host additional in person events around the country to bring the community together. For information on SAINSports or future events, we encourage folks to check us out online (sainsports.com) and through social media."
---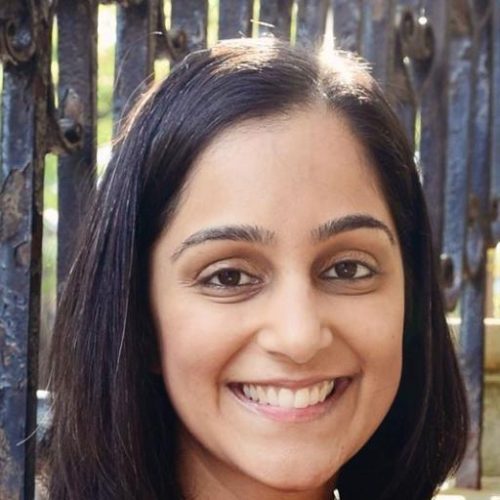 Sports have been a big part of Neha Contractor's life ever since she was born. She played, volunteered and coached growing up. Sports have given Neha so much it had always been a passion of hers to get involved in the field at some point. In her late 20s, Neha broke into the sports industry by volunteering for organizations that utilized sport as a tool to drive social change. It was through that avenue she met so many South Asian professionals in this field and thought to create a platform where like-minded individuals can talk to one another, share stories and support each other. Neha then approached Neha Uberoi, a successful athlete and professional, to help start South Asians in Sports.
---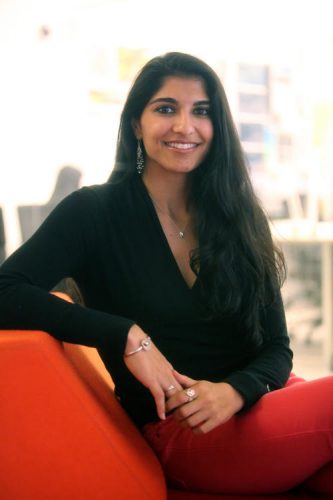 Neha Uberoi Khangoora is a former professional tennis player, entrepreneur and health and wellness advocate. Neha entered her freshman year at Princeton University at 16 years of age, winning Ivy League Rookie of the Year before taking a leave of absence to play on the professional tennis tour alongside her sister, Shikha Uberoi. She reached two WTA tour doubles finals and competed in the US Open before retiring and then completing her undergraduate degree.
An Indian-American role model, Neha advocates for healthy lifestyles and excellence in athletics and academics through philanthropic projects, public speaking and blogging. Across the US and in India, Neha frequently appears on various media platforms to provide commentary on sports, women's empowerment and health and wellness, including The BBC, NeoSports, Sports Illustrated, The Huffington Post and Al Jazeera.
---
Tina Lapsia is a graduate of the University of Connecticut and studied political science and economics with a minor in Spanish. She is passionate about politics, feminism, and women's rights, and wrote her senior thesis on the impact of the 2012 Delhi gang rape case in India. Tina is a fervent Bollywood fan and dance enthusiast; when she's not listening to Hindi music, you can find her dancing to it. She aspires to have a career in public service in the future.