by Mayura Iyer
A few weeks ago, I had the privilege of seeing a screening of 'Southside with You,' a new movie featuring Tika Sumpter and Parker Sawyer as Michelle and Barack Obama, which is an intimate story of the first-ever date between our current First Lady and the President of the United States.
The film, which boasts a list of credits including John Legend as an executive producer, is set in 1989 Chicago, where young Barack is trying to woo a skeptical Michelle Robinson (now, Michelle Obama), on their first date. Barack is a summer associate at a law firm in Chicago, where Michelle is a full-time associate. Despite Obama's advances, Michelle is hesitant due to the professional boundaries they are crossing. However, Obama remains insistent, and their date continues across the 80 minutes of the film.
Sawyer's portrayal of the young, smooth-talking Barack is perfect. While young Barack is immature, always late, and headstrong, we still see the same charm, the passion, and powerful dialogue that we see in our president today. Sumpter's portrayal of young Michelle shows a hard-working woman who is deeply dedicated to her family and is, as a result, focused on her vision of her successful career. She is no-nonsense, intelligent, sharp, and poised, while Barack is suave, charming, and more focused on the present. He sees the "big picture" of his future but isn't as concerned with exactly how to get there, while she sees one clear path and has mapped out the steps she needs to take to be where she wants.
While, at first, their differences make them butt heads, it becomes clear how much their personalities complement each other and bring the best out of each other – even when on their first date.
However, the strongest part of the portrayal of these figures was the way in which the film conveyed their individual struggles with their identity. Throughout the film, we see Robinson struggling with her identity as a woman of color. Her feelings for Obama, in her mind, were unprofessional, however, as a black woman in an office of predominantly white males, she has to work twice as hard to prove her worth. To her, even an innocent flirtation with the only black coworker in the office could have enormous consequences on her reputation at her job and her reputation as a serious lawyer. This, coupled with Barack's own investigation of his identity as a black man – seen in his struggle between balancing his passion for community organizing in Chicago and advocating for social justice with his life as a summer associate at a corporate law firm and the benefits and status that comes with that position – gives an insight into the experience of black men and women of color in the workplace that is not often examined in mainstream film. We see much of these characteristics in both Michelle and Barack today.
Recently, I had the chance to ask Parker Sawyer and John Legend on what parallels they see between the movie's young Barack and our president today through a Twitter chat. Sawyer observed that even today, Barack showcases a "strong sense of self…a playfulness…and wit," while Legend noted, Barack's spirit was built in Chicago and he took that foundation and that spirit with him to the White House.
.@BrownGirlMag #asksswy pic.twitter.com/vO2muNxuTF

— John Legend (@johnlegend) August 12, 2016
Through their heartwarming, understated, and disarmingly believable portrayals of young Barack and Michelle, Sawyer and Sumpter draw audiences into a character analysis of two of the most visible political figures of our time. Through their portrayal, we are able to make connections between our current President and First Lady and their past selves, and catch a glimpse into what it took to get them to where they are today.
However, we also see that, despite their enormous success, even the Obama's have dealt with issues of race and gender in their daily lives, and struggled to break free of the stereotypes and the expectations society has pinned on them. In this way, "Southside With You" is more than just a love story – it's the story of the American Dream.
'Southside With You' releases in theaters nationwide on Friday, August 26, 2016. Check your local theater for showtimes and listings.
---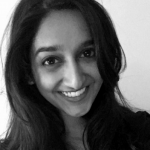 Mayura Iyer is a graduate of the University of Virginia and is presently pursuing a Master of Public Policy. She hopes to use her policy knowledge and love of writing to change the world. She is particularly interested in the dynamics of race in the Asian-American community, domestic violence, mental wellness, and education policy. Her caffeine-fueled pieces have also appeared in the Huffington Post, Literally, Darling, BlogHer, and Mic.com.