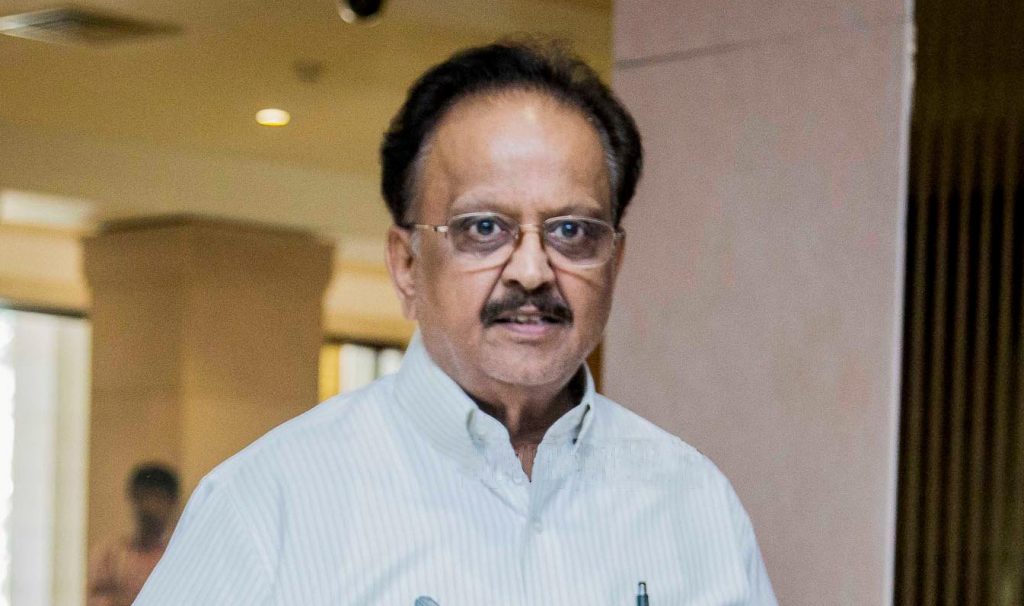 Even the saddest of songs cannot capture the sorrow in losing legendary Indian singer, S.P. Balasubramanyam — or SPB as he was lovingly called — at age 74. When we watch our favorite South Asian films from any era, we remember the heroes and heroines on the screen, but today we remember the hero behind the music in 200 different Indian movies that fills so many of our hearts and memories with warmth and emotion.
The genius music composer and singer who originally planned to be an engineer, held a Guinness World Record for writing and singing more than 40,000 songs over a 50-year time period. Balasubramanyam's career began in Tamil and Telugu cinema. His first major breakthrough in southern Indian films happened when he sang for M.G Ramachandran in the Tamil film, "Adimai Penn" in 1969. SPB was also the first singer to cross over to Bollywood successfully when he sang "Ek Duuje Ke Liye" in 1981.
Rest in peace #SPB garu. Very sad to hear this devastating news of the greatest, the legendary #SPBalasubrahmanyam passing away. We were so hopeful that he was on the path to recovery. pic.twitter.com/SnpXYWOXmh

— Shreya Ghoshal (@shreyaghoshal) September 25, 2020
SPB demonstrated a magnificent work ethic unlike any other in the film and music industry in India:
He once spent 17 hours in one day to record songs for different composers
In 1981, Balasubramanyam recorded 21 new songs in Kannada, working to create a new record for a film music composer, which took the entire day to do
SPB broke social norms when he deterred from the route of Indian classical music similar to his father who was a devotional singer
From the 1970s until 2010, Balasubramanyam worked across four different southern language film industries and would record 1-3 songs daily
In tribute of this incredible singer and composer's legacy, we honor his life and career and will showcase the feats and success of S.P Balasubramanyam as the world should across global music and cinematic industries.
Tamil Songs
"Kadhal Rojave" — "Roja" (1992)
Easily one of the most iconic songs SPB has ever sung. A.R. Rahman's incredible '90s and 2000s Tamil music legacy is, in many ways, tied to SPB's voice.
"Sundari Kannal Oru Sedhi" — "Thalapathi" (1991)
"Pennalla Pennalla" — "Uzhavan" (1993)
"Azhagana Ratchashiyae" — "Mudhalvan" (1999)

"Thanga Thamarai Magale" — "Minsara Kanavu" (1996)
Arvind Swamy + AR Rahman + SPB = a consistently winning combination.
"Konji Konji" — "Veera" (1994)
SPB + Rajnikanth: another iconic pairing.
"Mandram Vantha Thendralukku" — "Mouna Ragam" (1986)
"Mannil Intha Kaadhal" — "Keladi Kanmani" (1990)
This film marked one of few films where SPB played a hero (or any role) onscreen. Seeing him perform his own song is a really lovely sight.
"Nalam Vaazha" — "Marupadiyam" (1993)
"Anjali Anjali Pushpanjali" — Duet (1994)

This song became so popular in both Tamil and Telugu, that many (including most of us at Brown Girl Magazine) could not remember which language it was released in first.
Telugu Films
"Sankara Naada Sareera" — "Sankarabharanum" (1980)
Along with the next film on our list, the music of "Sankarabharanam" became synonymous with SPB. Every single song is a classic in this film.
"Thakita Thadhimi" — "Sagara Sangamam" (1983)
Once again, you cannot go wrong with any song from "Sagara Sangamam." This film is widely considered one of the best Telugu movies (and soundtracks) ever made. Illayraja, SPB and Kamal Hassan cemented their places in Telugu movie history with many hits, but this film in particular made sure those places would never get erased.
"Aamani Padave" —"Geethanjali" (1989)
One of a very select few Mani Ratnam movies in the original Telugu, Geethanjali continues to be a standard for Telugu romance movies. This song is a big reason.
"Pakka Gentleman Ni" — "Super Police" 1994
"Jaamu Rathiri" — "Kshana Kshanam" (1991)
This film and the next on our list are another one-two-punch of great films — this time with the legendary Sridevi as the common thread. This song is one of the many that showed how beautiful the musical pairing of SPB and Chitra were together.
"Priyathamaa" — "Jagadeka Veerudu Athiloka Sundari" (1990)
Once again, another great musical pairing with SPB — this time with S. Janaki.
"Telusa Manasa" — "Criminal" (1994)
This is one of the songs that SPB would sing regularly at Telugu concerts, and it was always a joy to see how much he enjoyed singing, especially with his talented friends and co-singers like Chithra.
"Suvvi Suvvi Suvvalama" — "Swathi Muthyam" (1996)
"Hello Hello" — "Gangmaster" (1994)
"Ade Neevu Ade Nenu" — Abhinandana (1987)
One of the most memorable songs from the long, illustrious Telugu career of SPB.
Hindi Films
"Aaj Shaam Hone Aayi" — "Maine Pyar Kiya" (1989)
"Pehla Pehla Pyaar Hai" — "Hum Aapke Hain Koun" (1994)
Honestly, who doesn't love this song?
"Dekha Pehli Baar" — "Saajan" (1991)
"Didi Tera Deewar Deewana" — "Hum Aapke Hain Koun" (1994)
As has been made very clear in all of the above Hindi songs listed, SPB quickly became one of Salman Khan's musical voices in the late '80s and '90s. In our opinion, Salman's rise in popularity as a romantic hero is in large part, thanks to the singing voice that SPB provided.
"Tere Mere Beech Mein" — "Ek Duuje Ke Liye" (1981)
This film marked the debut of SPB in Hindi film, and he quickly won a National Award for Best Male Playback Singer.
From romantic to classical, to yodeling tunes and dance tracks, SPB did it all. His awareness of his voice and ability to feel music what films needed was unlike any other. This is a huge loss to the Indian film industry and music as a whole. He will be deeply, deeply missed.