This post was originally published on our partner website India.com. 
Sikh-Canadian spoken word poet and author of "Milk and Honey" Rupi Kaur recently voiced her side of the controversy surrounding a photo she posted to Instagram last week on Huffington Post Live's #FreeSpeechZone with Alyona Mink.
The now infamous photo of Kaur lying on her bed with visible blood stains on her pants and sheets garnered massive attention after Instagram "accidentally" deleted the photo, claiming it violated their community guidelines and regulations. Unrelenting, reposted the photo to Instagram for a second time — where it was deleted again. She then turned to Facebook and Tumblr, posting the following message with the photo.
"thank you, Instagram for providing me with the exact response my work was created to critique. you deleted my photo twice stating that it goes against community guidelines. i will not apologize for not feeding the ego and pride of [a] misogynist society that will have my body in an underwear but not be okay with a small leak. when your pages are filled with countless photos/accounts where women (so many who are underage) are objectified. pornified. and treated less than human. thank you. as a part of my final project for my visual rhetoric course i created this image along with a full set which you can view at  www.rupikaur.com to demystify the period and make something that is innate "normal" again cause rape categories in porn are okay. objectification and sexualization is okay. people getting off on naked underage women. bondage. torture. humiliation. abuse is okay but this makes them uncomfortable. that's what this work is supposed to do. make you as uncomfortable as you should feel when you watch others get abused and objectified. This just goes to show who is sitting behind the desk. And whose controlling the show. Whose controlling the media and who is censoring us."
Instagram issued an apology Kaur  in an email, reposting the photo, which has now received more than 64,000 likes and made international headlines for its symbolic representation that menstruation is not and should not be considered "mature content." The media frenzy that ensued following her post — inviting both positive and negative feedback — is exactly the type of attention she hoped to bring to the societal taboos surrounding periods, Kaur said.
"I'm a senior and the [pictures] were a final project for a visual rhetoric course," Kaur told Mink during the Huffington Post Live interview that aired on March 30. "In my own community and the larger Western context, menstruation is something that so many of us go through, but it's completely silenced."
Kaur, a senior at the University of Waterloo in Canada, said she wanted to give viewers of her photo series insight into the regular day-to-day of when a "women gets up, gets her period, cleans herself off, and how she spends the rest of the day."
"I wanted to dissect the ways that different media would reject or embrace the image," Kaur said. "It turned from being a project to my own personal protest. If you hashtag the word 'girls' on [Instagram], you see naked women. There is an account where naked women are used as scarves. So I was confused as to why my picture was violating their guidelines."
Kaur said she accepts Instagram's apology and is glad the pictures are back on her profile — where they belong.
"It's been completely insane," she said. "I didn't think it would get blown up to such big headlines. It's become this big thing."
The viral photo saw more than 11,000 comments on the Instagram post alone. Kaur's simple-yet-intriguing photo is stirring discussion that is part-unbelievably disgusting and part-heartwarming. Reactions ranged from positive support, negative remarks about the photo's vulgarity, and discussion about what is considered distasteful versus modest for women. Some went as far as comparing this photo to posting a photo with feces and urine stains.
As for Kaur, the positive response and discussion she has spurred globally around social stigmas remain the center of her focus, she said.
"There have been some hateful comments. I'm not looking to get people to agree. It's to get people uncomfortable. It's to disrupt the space. It's to get them talking."
---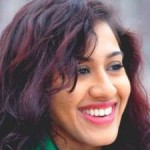 Vaidehi Mujumdar is an aspiring physician, writer, and researcher based in Washington DC. She's a contributing writer for India.com's US Edition. Her work has been published in The Guardian, The Feminist Wire, Media Diversified, and others. See more of Vaidehi's work on her website.