By: Pooja Dhar – Follow @BrownGirlMag
It is interesting the emotions that the loss of a celebrity evokes. For a couple of days now, South Asians all over the world are lamenting the untimely death of the iconic Bollywood actress, Sridevi. As we have in the past, we react the same way we would had we lost someone we knew in our personal lives – with disbelief, with shock, with grief, with anger. We seem to care less when an unknown, faceless person dies – but the purpose of this article is not to take a moral high ground or question if or why we care less or accuse those who we think may care less. The point of this piece is more to analyze why we may care so much when celebrities die, with a special focus on the beloved Sridevi.
The world cried when Lady Diana died. We grieved at the loss of President Kennedy, Bruce Lee and Marilyn Monroe. More recently, we lamented the loss of Aaliya, Michael Jackson, David Bowie, Brittany Murphy, Heath Ledger, Robin Williams, Philip Seymour Hoffman, Alan Rickman, Prince, etc. In India, I've personally experienced the violent reactions to the death of celebrities, particularly in the South, which is prone to hero worship. Growing up, I remember the furor over the death of MGR, and to some extent, Shivaji Ganesan and recently, Jayalalitha. The loss of Indira Gandhi and Rajiv Gandhi, the latter of which I remember keenly, when I was living only an hour away from where he was killed as a nine-year-old. I remember how we grieved at the death of Divya Bharati, Silk Smitha, Jiah Khan, and all it takes is for us to watch a movie or hear a song to say how sad it is that Geeta Bali, Madhubala, and Smita Patil died so young. Recently, we 've dealt with the losses of Reema Lagoo, Om Puri, Amrish Puri, Vinod Khanna, Rajesh Khanna, and so many more.
So, going back to the crux of this article—WHY do we react the way we do, and WHY do we care so much about the death of people that we don't know? Here are some of the reasons I believe contribute to our reactions to celeb deaths:
1. We feel like we know them or can relate to them
Celebrities obviously live very public lives. As a society, we crave to know them – who they are, what they do, what their families do, and so on, and this spurs on the media to continually cross all real and perceived boundaries to deliver the knowledge we so desire. With time and the advent of social media, this has expanded to star kids and the access to real-time information on where the celebrity is at any given point of time, what they're wearing, what they may be feeling and saying. With actors, this fact is compounded by their presence in their work—the characters they play. I laughed and cried for Sridevi's legendary role as a woman suffering from amnesia in "Sadma" ("Moondrum Pirai" in Tamil and "Vasanth Kokila" in Telugu), in Gumraah as an innocent woman wrongly accused of drug trafficking, and I found I could relate to her in "Chaalbaaz," as both the victim of abuse and as the strong tomboyish rebel.
2. The sheep mentality, or better put, shared humanity
It is human to want to find consensus, and as such, seeing someone react a certain way, triggers a similar reaction within us. I had no plans on writing this piece or reacting in any way beyond initial disbelief upon the news of Sridevi's passing. But when the news broke, I was surrounded by several fellow Brown Girl Magazine contributors for a meeting, and watched them in their initial reactions, as I grappled with my own. Over the course of the next day and half, I saw and read post after post of people's reactions—some who knew her, some who met her, some who saw her, and most who never knew her or saw her in person, but were in some way influenced, impacted or inspired by her. Before I knew it, my initial shock turned to mild sadness, which turned to what felt like a gaping hole in my heart. We find solidarity amongst one another, which is somehow compounded by reason number one—the feeling that we've lost someone we know.
3. The reality of death scares us
We think of celebrities as larger than life (no pun intended), and so, losing them to the inevitable brings about fear. It is difficult for us to accept that the people we idealize and/or idolize are just as fallible and just as vulnerable as the rest of us. This is scary, these warring feelings of grief combined with our fear of our own mortality.
4. The way they died or when they died shocks us
We've seen celebrities die in mysterious accidents, like Divya Bharati, and suicide, such as Jiah Khan and Nafisa Joseph. We've seen celebrities die too young, such as Sridevi and Smita Patil among others. Some celebrities died of cancer—I remember all too well the shocking photo of an emaciated Vinod Khanna just before he died, or drugs/alcoholism, such as Meena Kumari, Parveen Babi, and Guru Dutt. How we react to the unexpected deaths such as those mentioned, is different from how strongly we feel when age-relevant deaths occur, such as with Shammi Kapoor. For example, we may seek to hide or bury suicide or drug/alcohol related deaths with our own, but this tends to be a huge topic of discussion when discussing the death of a celebrity.
5. They are inextricably tied to fond memories
Some of my best memories with my mom are when I watched movies with her growing up. I mentioned crying over Sridevi in "Sadma." I remember looking over and watching my mom wipe away tears of her own. I recall dancing (badly) around my living room, singing Hawa Hawaii at the top of my lungs. I remember using the phrase "Jaani, yeh chaaku hai. Kya hai? Chaaku. Lag jaaye toh KHOOOOON nikal aata hai" in a fake rough throaty whisper like Sridevi in Chaalbaaz in response to real-life situations (yes, I'm THAT person). I danced (again, badly) with one of my oldest, dearest friends at a Diwali party, to "Morni Baga Ma." I feel as though a part of my childhood has died with Sridevi, a sentiment echoed by many of the current generation Bollywood celebs on social media today.
https://www.youtube.com/watch?v=aqHVNxlxb9I
No matter the reason, I plead for privacy for the family, and empathy for anyone who may feel anything at Sridevi's loss, or at the death of anyone—celebrity or otherwise. It is not for us to question why or how people feel, and I can already predict some judgmental posts about rallying against people who spoke out about Sridevi's death, and not about the tragic death of those school children in Florida. DON'T. Live, and let live. For if we have learned nothing else after all of the deaths we have witnessed, no matter who they were and where they were from, and how we may or may not have known them or be related to them, we must have learned that life is short. And grief, well, it needs no reason, nor justification.
As for Sridevi—Surmayi Ankhiyon Mein, Nanha Munha Ek Sapna De Ja Re—may your eyes remain filled with dreams as you are laid to rest.
---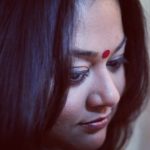 Pooja Rudra is the quintessential "Jill of all trades." A brown girl who spent the first 17 years of her life in India, and the next 17 years of her life in the U.S., she has never truly fit in with either culture and has found reasons to rebel against and embrace both, for various reasons. She's a proud Indian, and a proud American, but resists the term Indian-American for unknown reasons. A corporate Training & Development professional by day, Pooja has had a checkered past littered with artistic pursuits – from acting in plays as a child, to being her school's beloved emcee at a moment's notice, to a brief and highly unsuccessful stint as a dancer, to an advertisement dubbing artist, to a wedding singer, a blog/poem/short story writer, to a photographer. The singing is now mainly contained to the bathroom (!), but the writing and photography are and remain front row center. To support her quirky artistic pursuits, follow her on Facebook and Instagram or check out her website.