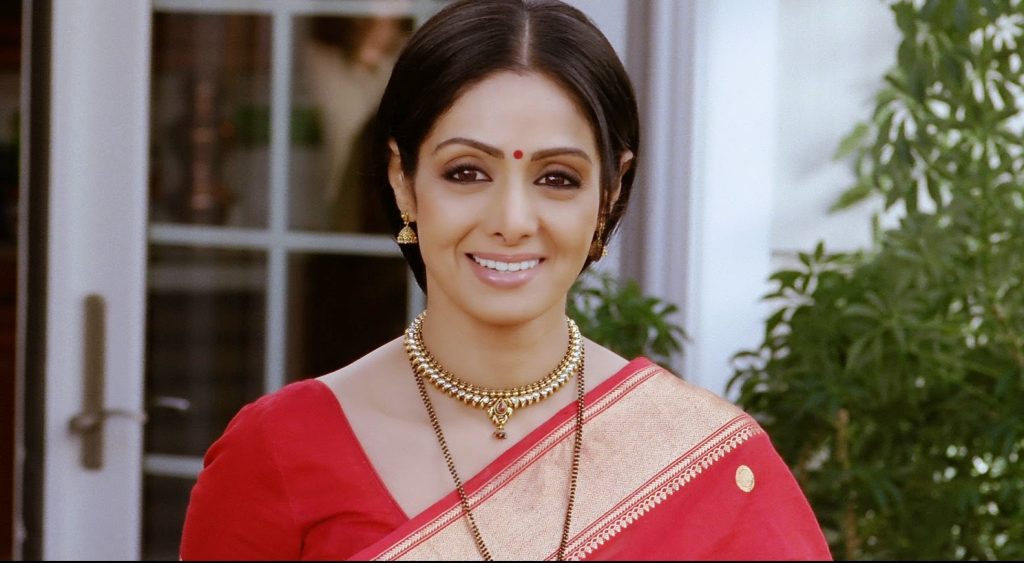 by Shivani Tripathi – Follow @shivani510
Indian cinema lost an icon this past week.  Indian film actress Sridevi, whose career spanned 50 years and close to 300 films in five languages, unexpectedly passed away at the age of 54. Often described as the first female pan-India superstar, Sridevi brought incredible beauty, mature performances and impeccable comedic timing to the movies, the likes of which hadn't been witnessed before. Her icon status was so undeniable, that even the 2018 Oscars telecast included her (and Shashi Kapoor!) in their "In Memoriam" tribute, and rightfully so.
Here are some of her most memorable Hindi film roles which catapulted her to fame, cemented her status and proved to audiences that once a queen, always a queen.
"Sadma" (1983)
https://www.youtube.com/watch?v=V5qMS-K8eYY
A remake of her Tamil hit, "Moondram Pirai," Sridevi reprises the role of a woman diagnosed with regression amnesia after an accident has her believing she is a child.  The actress, who was later seen as a paragon of glamour, was free of makeup or shiny clothing, brought much sparkle in her eyes.  Memorable music courtesy Gulzar's lovely lyrics and maestro Ilaiyaraaja's melodies added to the mood of the movie, which beautifully explores moments of joy and loss.  "Sadma" is easily considered one of Sridevi's best, and most memorable performances.
"Nagina" (1986)
The myth of the naagin or shape shifting snake woman had been explored before, but Sridevi brought the fierce like no one else.  Sridevi's Rajni goes through several changes from a mysterious, apparition-like maiden, to beautiful bride, then a naagin who must protect her mate at any cost,  Sridevi's eyes turn ice blue and her body sways in such a sultry manner that you can't help but celebrate your own inner naagin!  In the final song of the film the naagin comes face-to-face with the evil snake charmer and what transpires is cinematic history.
Mr. India (1987)
With a title like "Mr. India," and a sci-fi  premise the likes of which Indian audiences had never seen before, could have easily translated into little to no room for the female lead to make an impact.  But not Sridevi.  As Seema Soni, the career gal who wants to prove her mettle as a journalist, Sridevi was tough, compassionate, charming and showcased comedic chops which are remembered so many years later.  Super hit songs "Hawa Hawaii" and "Kaate Nahin Katate" sealed her standing as an immensely popular film personality.
"ChaalBaaz" (1989)
https://www.youtube.com/watch?v=MvWq4srgaHg
Playing a double-role, in Indian cinema, is a huge vote of confidence because it means viewers love you enough to want to see two of you!  Sridevi played identical twin sisters separated at birth but who grow up to be as different as can be: Anju (painfully shy, nurturing and full of fear) and Manju (fiery, street smart female who appreciates a good drink!).  Sridevi's zingy one-liners, unbeatable comedic timing and contrasting portrayals of the siblings makes "ChaalBaaz" a marvelous masala movie.
"Chandni" (1989)
A woman choosing between two men sounds like a cliched premise, but Sridevi's maturity and grace brought freshness to the romantic drama.  A soundtrack for the ages added to Sridevi's catalog and images of her from the film are in the dictionary when you look up 'Hindi film heroine'.  "Chandni" was a milestone for both Sridevi and director Yash Chopra, whose legacy of beautiful women dressed in chiffon, surrounded by Swiss Alps was firmly established with this super hit film.
"Laadla" (1994)
The tired archetype of the frigid, corporate boss lady is made red hot by Sridevi's clap-worthy portrayal.  In fact, film audiences asked why was the film called "Laadla" and not "Laadli," as Sridevi made the leap from perceived antagonist to bona fide scene stealer.  But be warned.  After watching "Laadla," your assertive comeback will become Sridevi's popular dialogue "Understand? *finger snap*  You better understand!"
"Judaai" (1997)
https://www.youtube.com/watch?v=2hkS68eGm1s
This film came six years after India liberalized its economy and showed that with an influx of new money and goods, comes materialism.  So much so that middle-class housewife Kajal agrees to sell her husband so her family can live a cushy life after years of struggle (so what if they're happy? Mommy needs Manish Malhotra sarees!).  In "Judaai," Sridevi makes the audience laugh, sniffle and while Kajal's actions are so wrong, Sridevi is so right.
"English Vinglilsh" (2012)
15 years after "Judaai," Sridevi returned to the silver screen and proved that real talent is never out of practice. Shashi, a housewife who gets plenty of love but little respect from her family, learns to love herself as she learns English in the heart of New York City.  Sridevi seamlessly navigates through a myriad of emotions, without any hint of melodrama, and adds another jewel in her cinematic crown.
There have been many times when the role or film didn't do justice to the actress's immense talent, but nonetheless she would add spark to a scene, or make the simplest of song sequences, magical. Although no longer in this world, Sridevi's remarkable film legacy continues to live on.
---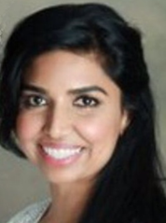 Shivani cannot remember a time when she wasn't madly in love with Indian cinema, which now inspires much of her writing. She lives in both New York City and Twitterpur.