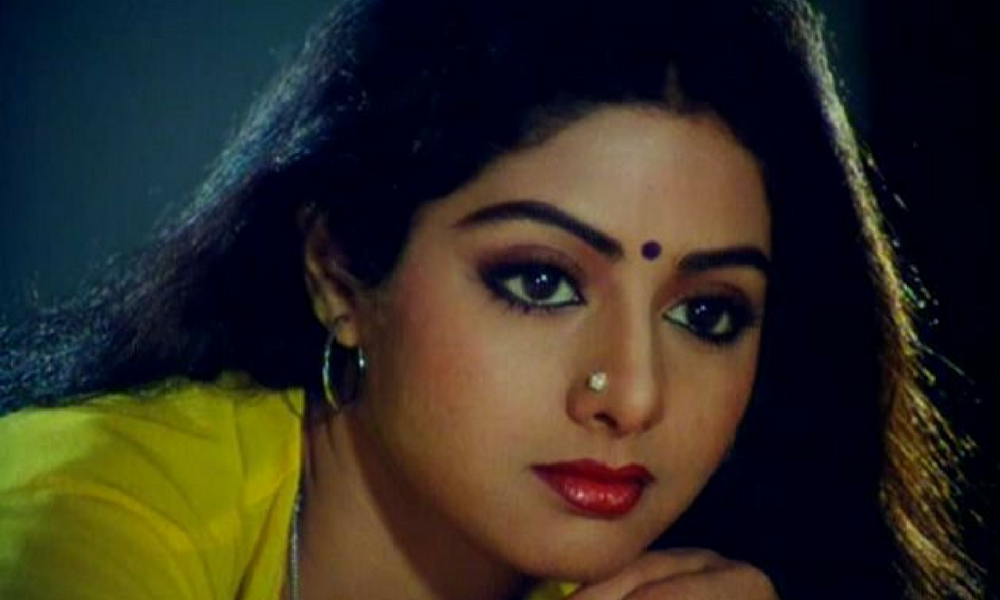 Once upon a time in 1983, swamped in gold jewelry, draped in a bright orange ghagra choli and surrounded by piles of multi-colored clay pots, on our tiny TV screen, there stood Bollywood's future dynamic diva — Sridevi.
As this South Indian beauty gyrated her curvy hips alongside then superstar Jeetendra, to "Naino Me Sapna" from super hit "Himmatwala," little did the world know, that this multi-talented artist was about to change the face of women in Indian cinema like no woman before. But sadly, there isn't a happy ever after — as I woke up to the news of the loss of one of my childhood icons.
Sridevi's claim to fame began at the tender age of four and she continued as a child artist across South Indian cinema. After appearing in over forty films by the age of ten, she was already moulded for the big screen. Her childhood was no longer really hers and it was often believed that her mother was the driving force for her continuation in the field of acting. Thrust into the limelight, the film sets became her playground and the camera lens her best friend.
As a child of the 80's, I quickly became accustomed to believe that all good Indian films centered around the male protagonist — for it was HE that would kill the bad guy, and HE would get the 'good Indian girl', even if it meant desperately chasing her in pursuit and harassing her, no matter how many times she said no! (I failed to understand the so-called 'charm' in that!) But Sridevi's arrival was a game changer with her larger than life screen persona.
Whether it was showcasing her raw emotions in "Sadma" with Kamal Hassan or grooving to "Tacky so Tacky!" — oops! I mean "Taki O Taki" with Jumping Jack Jeetu, Sridevi's presence was groundbreaking. Not only did the success of 1986's "Nagina", a snake fantasy film, lay solely on Sridevi's shoulders, but even today, when the 1987 Anil Kapoor-Sridevi superhit "Mr India" is mentioned, it is Sridevi's portrayal as the witty crime reporter that outshines Kapoor as the desi invisible man.
My sisters and I would proudly bellow the lyrics to its anthem "Hawa Hawai" as we attempted to imitate Sridevi's fabulous moves — minus the bright outfits of course — but we simply couldn't match her playful expressions or recreate that sparkle in her eyes.
No other actress of that era could entice an invisible man in a drenched blue sari with such sultry moves and ooze sex appeal without looking vulgar, a la "Kaata Nahin". It was a rarity that a female actor could upstage onscreen two major male superstars such as Sunny Deol and Rajnikant — yet Sridevi walked away with the all the accolades for her double role in "Chaalbaaz" leaving her male peers far behind. What do you say to that Beyonce?
When Yash Chopra presented Sridevi in a new avatar in "Chandni", she had developed a sense of maturity in her role as a woman who is determined to create her own independence despite being left by her lover. She mesmerised with her incredible dance skills, proving herself as the epiphany of grace and elegance — I wanted to be like her I kept telling myself!
But it was the 1993 release of "Lamhe" with Anil Kapoor, that really tugged at my heartstrings. As a teenager, I witnessed Sridevi's character Pooja's love for an older man — it was a love that whilst unrequited, was simply innocent, and love that I had not understood was even possible. The look of despair and hurt without dialogue that Sridevi often created in many parts of the film, triggered a flood of tears asserting in my 15-year old mind that yes, this is what heartbreak must feel like.
Her continuous successes had created a new phenomenon as her roles carved a new definition for female leads. She was paired with actors of different generations right from Amitabh Bachchan, Anil Kapoor, Rishi Kapoor, Dharmendra to Shah Rukh Khan and Salman Khan, yet still had the ability to have the greater screen presence. Creating new trends in both Western and Indian attire, she was the fashionista every actress and young girl wanted to follow. I even allowed my sister to cut my fringe to recreate the "Pooja" look in "Lamhe". (Not the best idea!).
Dance was second nature to Sridevi — it was almost as if it was her escapism from the real world. As an awkward teenager, wanting to detach myself from the feeling of being uncomfortable in my skin, I found my love for dance watching her perform with such passion and sheer joy in "Chandni" and "Lamhe." Dazzling the world with both her dance moves and dress sense, Sridevi was the woman every young girl like me had been in awe of.
The parallels between her upward journey to stardom and physical appearance, however, was not unmissable. Chopra's movies certainly recreated Sridevi's screen image, but it was her alleged cosmetic surgery on her nose before the release of "Chandni" that had created headlines. The aesthetic definition process may well be a fashion fad today, but in the 1990's, void from social media or the internet, this was often unheard of. As her personal life continued to be hounded with controversy, rumours on her changing appearance followed suit.
Whilst there was never any formal admittance on Sridevi's part, it was difficult for the female teenagers who looked up to her to comprehend why such a successful and talented woman would to change how they look. From where I stood, everyone and anyone wanted to be where Sridevi was — actresses right from Madhuri to Juhi wanted to dance like her, look like her and recreate her magic, but they just couldn't. Young girls like me only believed what we saw of her on-screen — confidence and empowerment.
The reality is, of course, I didn't know anything about my idol outside of the three hours of entertainment neatly packaged for me. I didn't know what is like to not have a normal childhood at school with friends, I didn't know what it was like to be constantly told what to wear, how I should look, what to say. I wasn't publicly judged on every decision I made. Even after battling with own insecurities in my 30's, just as I had loved privately, I could also grieve privately.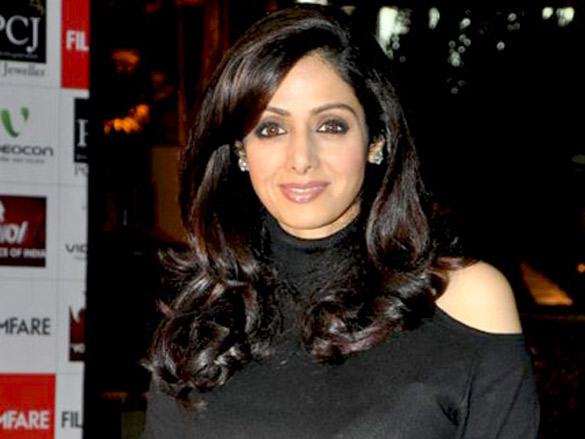 What I do know is that Sridevi (and women in Bollywood like her) not only changed the portrayal of Indian actresses, she also allowed young girls like me to use art to detach from negative emotions. She inspired us to dance like no one is watching, laugh so hard that it becomes infectious, and love with passion and soul. If her love affair with the camera was indeed the escape from the harsh realities of the outside world, then it was certainly was a beautiful affair to remember.