by Vaidehi Gajjar – Follow @vgajjar95
America has Queen Bee, Beyoncé, and India has Queen D, Deepika Padukone. There's no doubt in my mind that Deepika is the definition of perfection for so many women (myself included), and not just South Asian women at that. She's beautiful, she's charismatic, and she's someone we can all still relate to as being a normal woman with normal problems.
Having said that, when I saw Deepika's face on the Femina India cover earlier this month – and I was a little disappointed, to say the least. Deepika possesses such a natural God-given beauty that, in all honesty, no camera or magazine cover can capture. While Queen D's expression was the perfect mix of sultry and confident, her over-edited nose was a different story. At first, I did a double take and thought, maybe I just didn't see it properly, but her nose was indeed altered.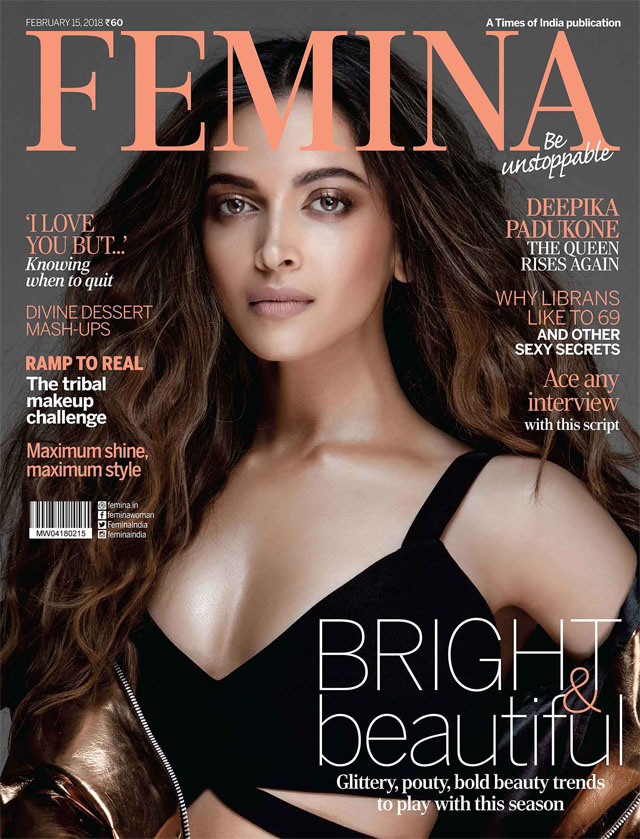 Of course, Deepika is a natural beauty and she has the personality to match, but her face presented as a photographer's art project just doesn't sit well with me. In fact, it worries me as to what young girls who saw this cover will think about themselves. This, unfortunately, is the norm in "the industry" regardless of whether it's Bollywood or Hollywood. But when females, young girls and women included, see someone they consider "perfect" look a certain way, it leaves an impression on the perspective of their own beauty.
According to Heart of Leadership (statistics from the National Report on Self Esteem), 98 percent of girls feel an immense pressure from external sources to look a certain way. In America, alone, by the age of 13, 53 percent of girls are "unhappy with their bodies" and that number grows to 78 percent by the age of 17, as found by the National Institute on Media and the Family. Now just take a second to think about that.
There have been so many times when I looked at a magazine cover or social media, even accounts of girls I knew, and just wished that my nose wasn't so big or that my acne wasn't so bad. I wanted to see the reflection of who I see on those magazine covers and in those movies – because that portrait is what has been accepted as normal.
It's time that media outlets like Femina India contemplate what they are putting on their magazines. With them reaching such a large and impressionable female population, and how it affects females' perceptions of themselves, it is even more critical that they evaluate their efforts. Especially because South Asian society, unfortunately, isn't forgiving when it comes to physical appearance. The 'Fair & Lovely,' the "don't wear this color of lipstick," or "cover that up" trends still haven't left us.
Finally, a personal message to Femina India: Deepika's nose didn't need to be restructured in the first place; please restructure your thinking instead.