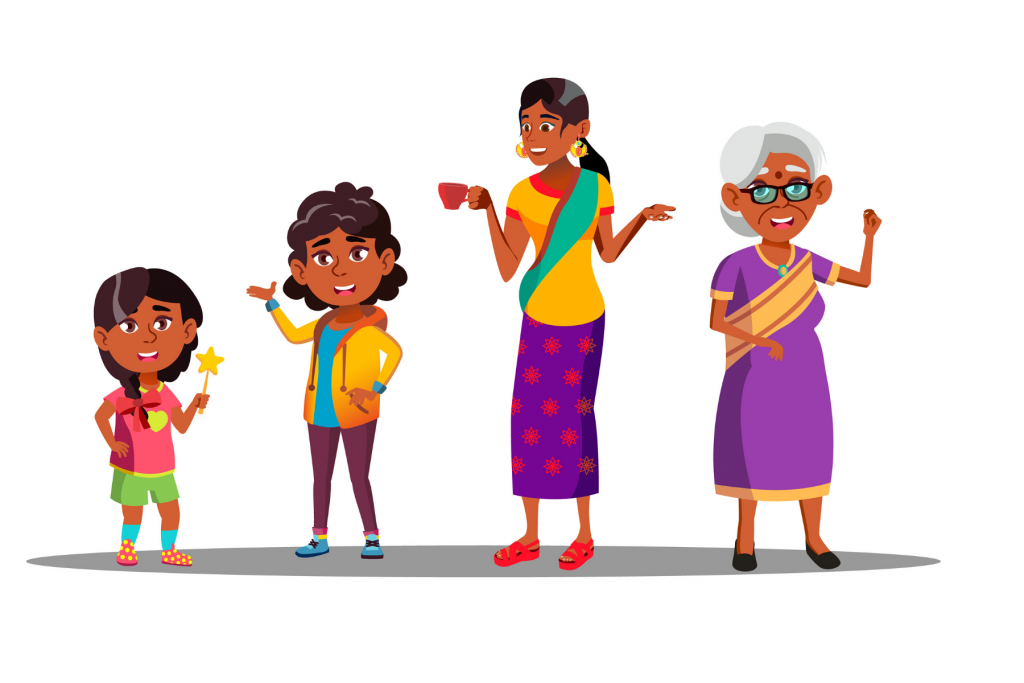 The simplest memories I share with my mother are of when I was a child. It's when I was a child that I was oblivious to her story and her experiences as a woman of colour. As I grew older, her struggles with the English language became more evident — and so did the burden of being a bilingual British Indian woman. After seeing many strangers lose their patience with my mother as a result of miscommunication, I didn't think that as her daughter, would turn into one of them. 
There are countless stories of immigrant parents who have successfully adapted themselves to communicate in English, despite it not being their native language. As an Indian woman who arrived as an infant with her parents in Britain, my mother has strived to meet the expectations of living in this country. For a woman who didn't have access to the educational opportunities that I've been privileged enough to receive, she understands English well and can hold her own in a conversation. But for all the strides she has made to achieve this, I cannot expect her to understand every concept as fluently as someone born in this country.
Being bilingual can be a conflicting experience and often make our struggles as Black, Asian, and minority ethnic (BAME) people even more profound. As complicated as our lives already are outside of the home, our constant reliance on the use of multiple languages behind closed doors can sometimes make our emotions flicker from confidence to confusion.  
From watching TV to explaining career decisions, the relationship between second-generation immigrant children and their parents can be quite the conundrum. There have been plenty of times where I have begrudgingly watched the Punjabi and Hindi television programmes she prefers, and she has done the same for me. There are times when I love my mother's curiosity for discussing Western current affairs, and there are times where I resent being asked to partially translate. Then there are times where I do it without her asking, as it is upsetting to watch her nod along, not fully comprehending what she's watching, but trying to appear interested for my sake. It is in these moments where we are compelled to communicate in a mishmash of English and Punjabi, because I want for us to have mutual conversations in which we are able to discuss the things that we're passionate about. 
The most difficult thing about being bilingual is the arguments that children have with their parents, which often occur because of miscommunication. Sometimes, the worst arguments happen because both parents and the child can't find the correct word to reflect their feelings. There is a real anguish in not being able to express your emotions fluidly, in fear of your words being misconstrued. I can imagine that our parents feel just the same. 
Kirthika, a British Sri Lankan student, talks about her experiences of 'seeing the unnecessary scolding' her little brother receives due to a lack of understanding between both parent and child. It is difficult for her to watch them 'stumbling over each other trying to make the other understand what they're trying to convey' and makes living together as a family a little bit harder. 
For some children whose parents have a limited grasp of their local language, the challenges are more complicated. Vaani Sai, a Canadian teacher, talks of her struggles with her South Indian parents in 'taking charge when talking to people who came to our door,' or when ordering food at restaurants to 'save them the trouble.' Anoushka Saha, a Spanish student, explains how she and her siblings would always accompany her parents outside 'in fear of locals being rude and flippant' without her being there to translate. 
It is absolutely heart-wrenching to see strangers lose their patience with our parents, particularly when they're trying their utmost to carry out a simple task like pay a bill or book an appointment. There have been times where I have had to grab the phone out of my mother's hand and confront the person on the other end for twisting her words to justify the demeaning tone of their voice. Sometimes, it is hard to tell whether the person is being impatient because of a misunderstanding, or whether they're just ignorant towards anyone whose first language is not English.
I cannot describe the hurt and helplessness that children are forced to endure because of the inability of others to be kinder to our parents. When my grandparents and their children migrated to Britain in the 1960s, having patience towards their new neighbours is the one thing that withstood the hostility that surrounded them. I can't help but despair when I see that same patience still fails to be reciprocated.
But for all the barriers that language creates, there are ways in which it brings immigrant parents and their children together. What is the key to our co-existence? A bit of compassion and patience goes a long way. When I put myself in my mother's shoes, I realize I am the same as her. It is also the humble acknowledgement that miscommunication doesn't always stem from her difficulties with English, but also from mine in Punjabi. Yes, being bilingual can feel like a burden at home, but it is also a journey that both my mother and I are constantly learning from. 
This is the beauty of being bilingual. For many of us, it is a gift we have earned from the sacrifices of our immigrant parents and grandparents, and though our lives carry their own nuances, being bilingual is a blessing that we do ultimately cherish. The most valuable thing I've learned as a bilingual British Indian woman is that the love we share for our parents transcends language.