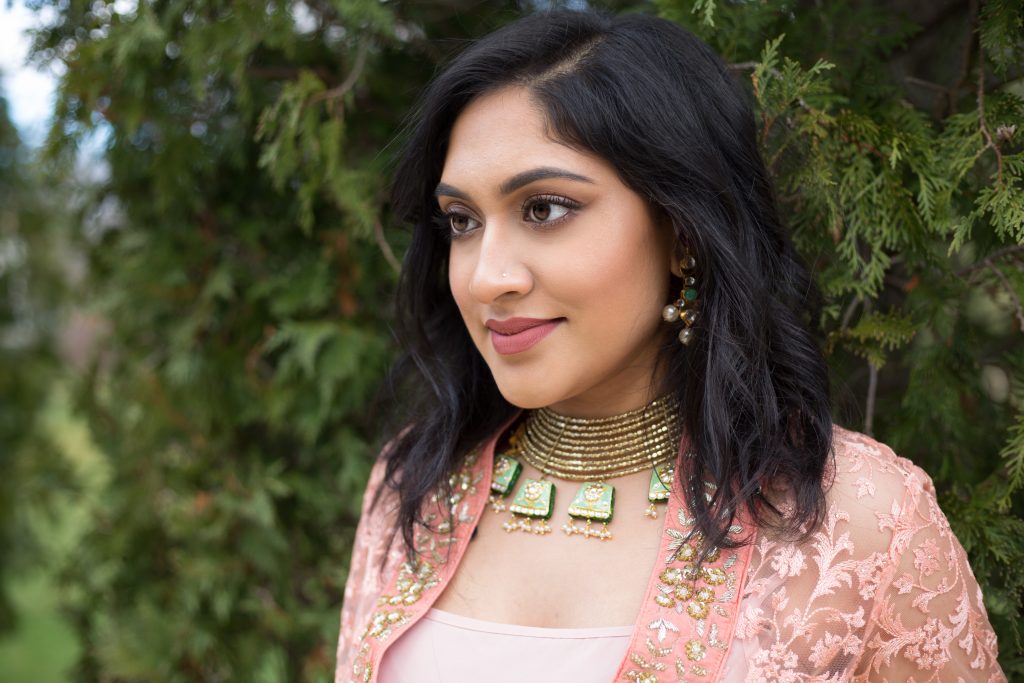 by Sapna Sakaria – Follow @sapnasakaria  
The following post is brought to you by our sponsor, IndiaBoulevard.com— a marketplace for Indian fashion. These photo series are a part of our 'East Meets West' photo shoot, curated in efforts to showcase how we merge our eastern and western flairs to shape our identities.
I strongly feel that style has multiple meanings and functionalities. It's not a definition, but a reflection of me that evolves constantly, and weathers as I mature and continue to identify with myself.
I'll start by telling you a bit about my past: I have clear memories of growing up in a typical American setting all while attending a Greek Orthodox private school in Queens, New York, and being the only student of color aside from my siblings. I ran away from the idea of my classmates hearing my parents use my Indian nickname even when I was three blocks away from the school entrance. Trust me, the backlash from my classmates was brutal and I couldn't have prayed harder to wake up with a standard American name in efforts to fit, even when I was living in a melting pot.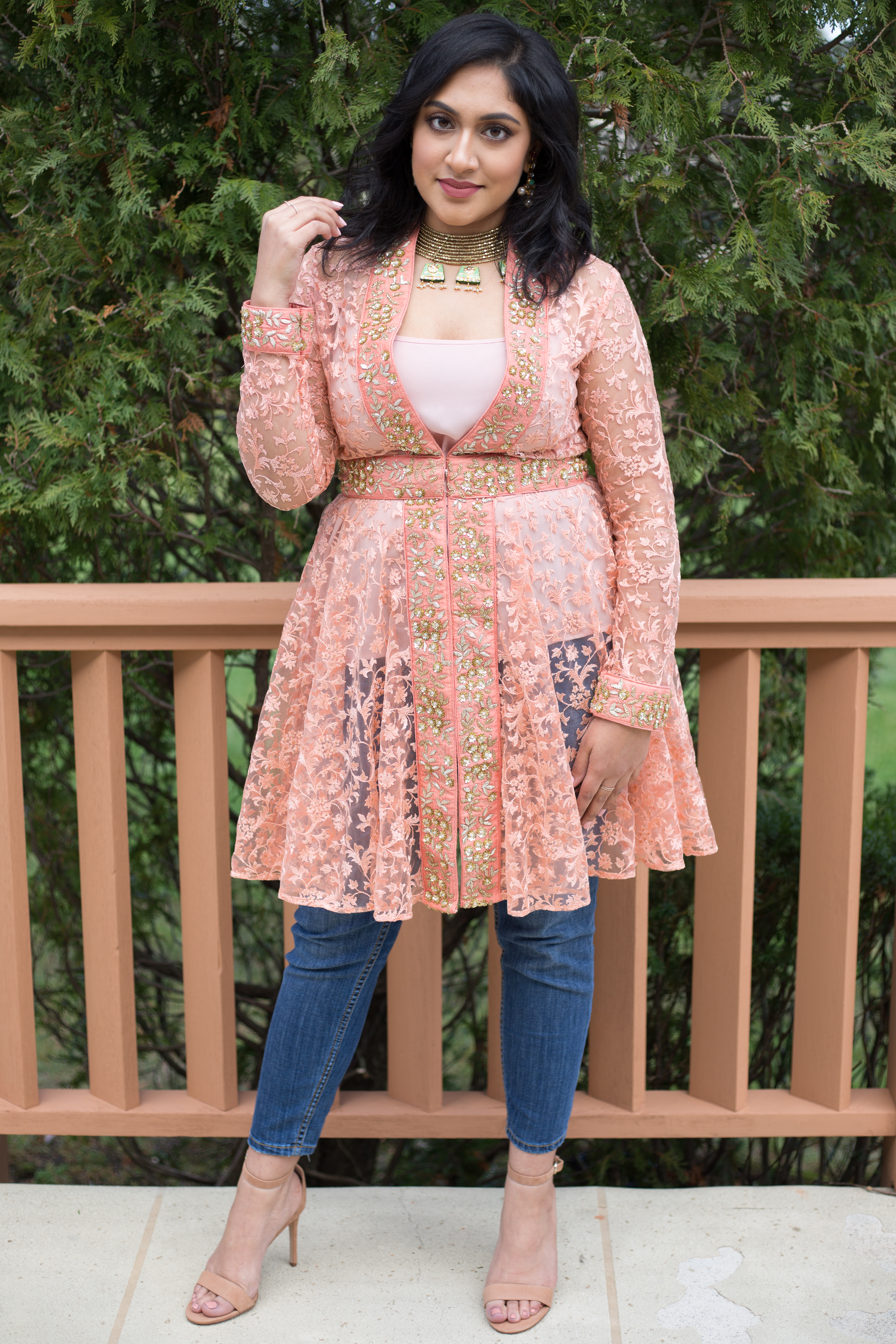 But, my life was split right down the center when I was at home— I was  forced to eat every vegetable known to man as a part of my traditional Indian cuisine and likewise, when going to the temple and mingling with family. So ultimately with this confusion of identities, it's safe to say that both sides of my personality never meshed and it was quite evident that I had no intention to embrace my culture and ethnicity, let alone claim a unique sense of style in the era of "fitting in."
Fast forward to present day, where I'm well into my 20s and couldn't be prouder to embrace all aspects of my individuality, my culture, and being of Indian-American descent. The sole reason for the background of my upbringing is to identify with most Indian-Americans who similarly faced these internal conflicts and feelings of embarrassment. Growing up in present day not only taught me that my ethnicity will always be a part of me, but it's what I value and love about myself and am most thankful for.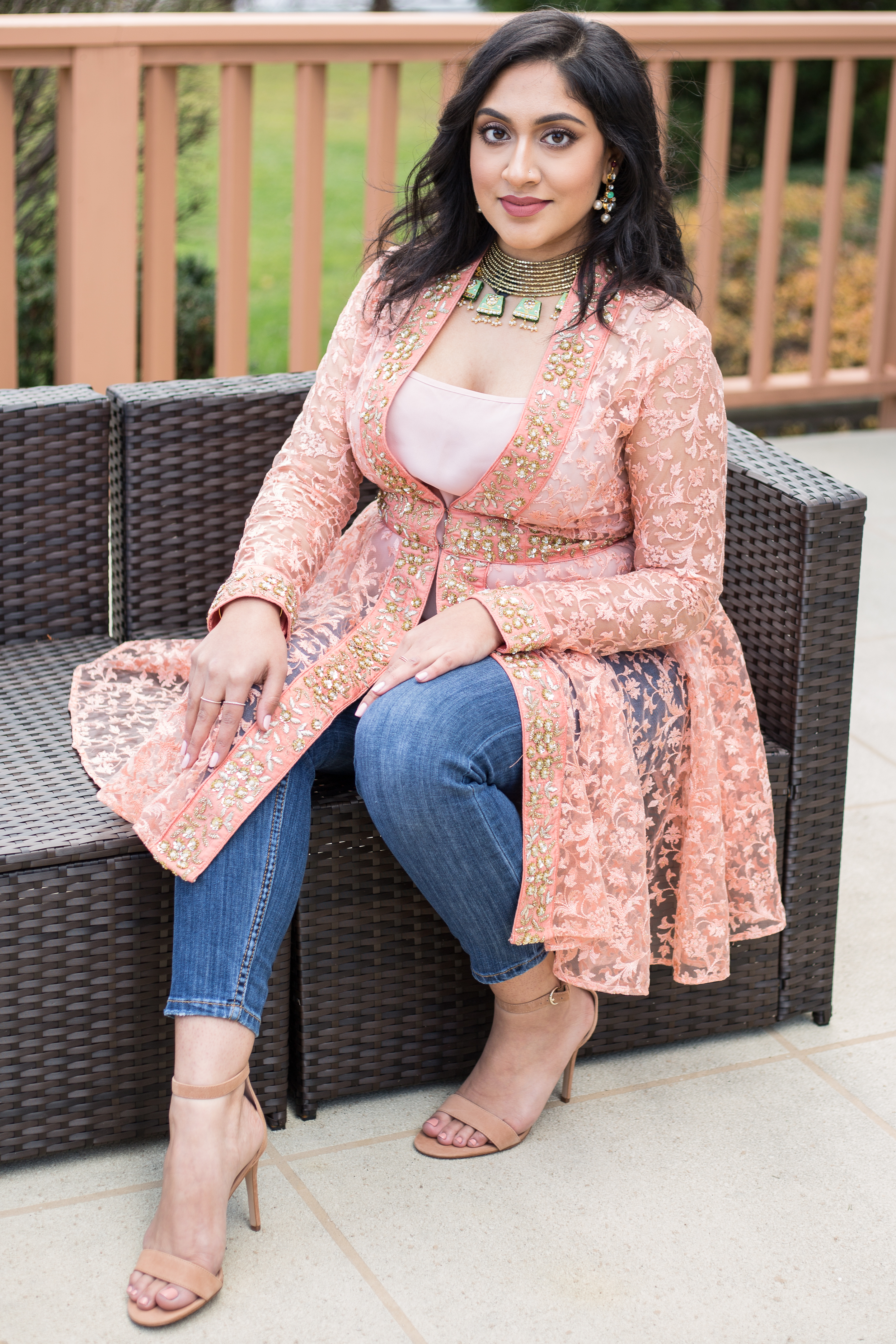 And that's how I developed the niche of my personal style—it stems from that my desirability to prioritize simplicity and comfortability while looking gracefully chic. My palate of favorite textures and fabrics like silks, brocades, and the intricate workmanship of your basic linens and cottons, is influenced by both my eastern roots and western lifestyle. My staple looks mostly include ornate designs of ethnic jewelry while maintaining an overall western flair.
With a personality that exudes soft feminism, playfulness, and an organic edge, my style is reflective of those very traits. I enjoy pairing pieces together from opposite sides of the spectrum— I'll mix-and-match from items in my daily wardrobe and my elaborate ethnic garbs; I love chic silhouettes, sophisticated patterns, vibrant yet flattering color schemes, and traditional yet charming accessories. My Indian culture continues to be represented in these various aspects of my western wardrobe be it with vibrantly saturated bold lipsticks that compliment my complexion, or the perfect Rajasthani inspired mirror clutch to jive with an off-shoulder sweater and cropped jeans.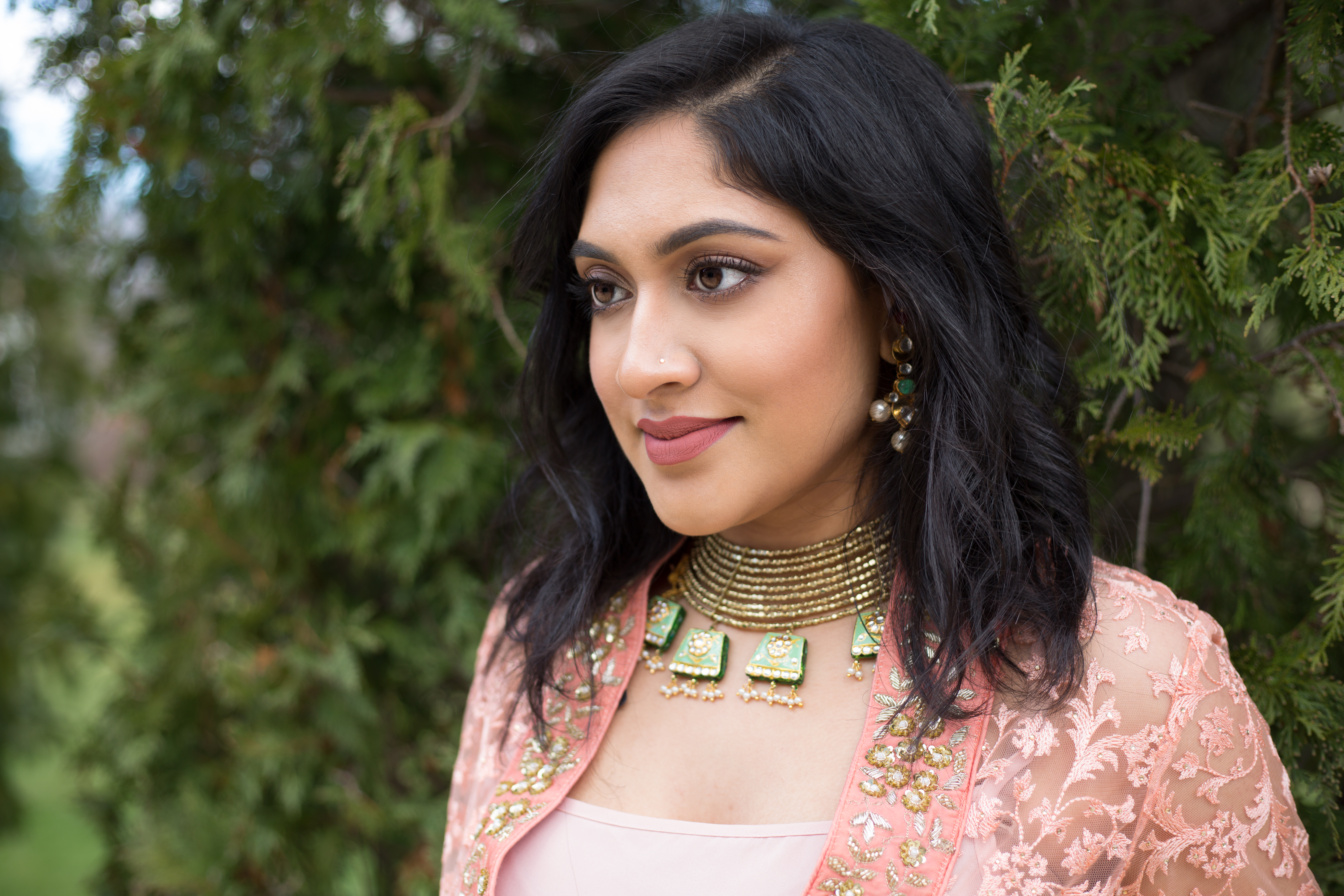 My countless travels throughout India have really helped me appreciate artisans across the country. From witnessing the hand-weaving process of invaluable silks to the Persian influence in well-crafted rugs, it is safe to say my admiration for my culture is second to none.
Finding unity in the myriad of styles I gravitate towards brings me joy and a sense of inclusiveness. Living as an undivided individual with various facets is a personal choice in how I choose to live and want to be represented. The concept behind my style encompasses my culture and allows me to recognize my identity unlike during a time when "fitting in" was all I knew. I continue to embody my style as an accessory to my unique personality and encourage others to do the same in identifying with one's personal style.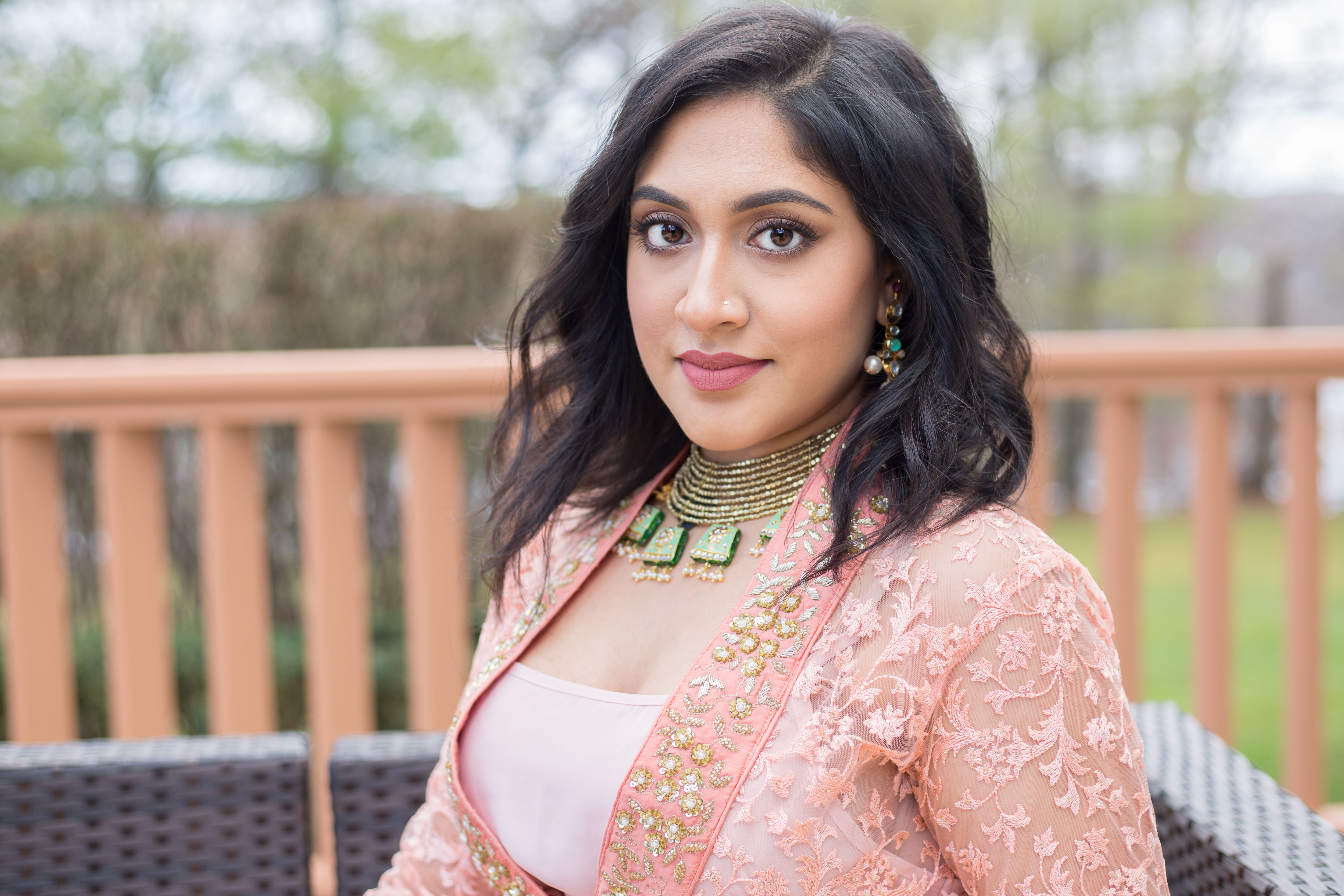 ---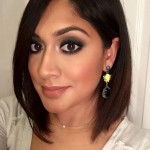 Sapna Sakaria is our go-to beauty blogger at Brown Girl Magazine. She is thrilled to share beauty tips, tricks and tutorials with all of you! Born and raised in New York, Sapna grew to love the artistry of make-up application and all things beauty. All while receiving her B.S. in Biology at St. John's University, beauty and make-up started as a hobby, but making women smile and enhance their true inner beauty by sharing her passion has made it all worth it! Deemed "The Sephora Princess" by her fun-loving little brother, you can find Sapna perusing down Sephora's isles and continuing to answer all your beauty qualms here at Brown Girl Mag!