There's something so understated about the masculine cut of a power suit styled in a feminine way. In this juxtaposition of hard and soft, I feel unstoppable.
Here are some of my favorite ways for you to style your power suit and become the CEO your parents always wanted you to marry!
1. Go Metallic With Nothing Under
This first one might be my absolute favorite way to style a power suit: With nothing under. I like to highlight my plunging neckline by adding Becca's pressed highlighter in "Champagne Pop" (pun intended) in the center of my chest. With this kind of look, I would leave the neck bare. It's best paired with long earrings and a simple heel. It's worth mentioning as well that several big safety pins plus nipple pasties are a MUST with this style!
2. Go Pastel With a Pop of Color
By far the most summery way to wear a suit: Pair a pastel color with a top under that adds a pop of color. The culotte pants in this set are even more appropriate for hotter weather. I love how the color combo is unexpected but somehow works. I find bright yellow works with almost any pastel color! Since we're playing with color a lot, I would keep the rest super simple with sleek hair, nude heels, and simple sunnies.
3. Go Velvet With a Statement Piece
I think there's something beautiful about a feminine velvet fabric with a masculine cut—it's soft and hard all at the same time. Instead of adding anything under the jacket, I opted for a statement piece on the outside: a super glam fanny.
Another way I could've styled this is with a statement belt or necklace—anything that draws the eyes away from the suit so that the suit becomes the canvas for that showcase piece.
4. Go Unexpected With a Blazer Dress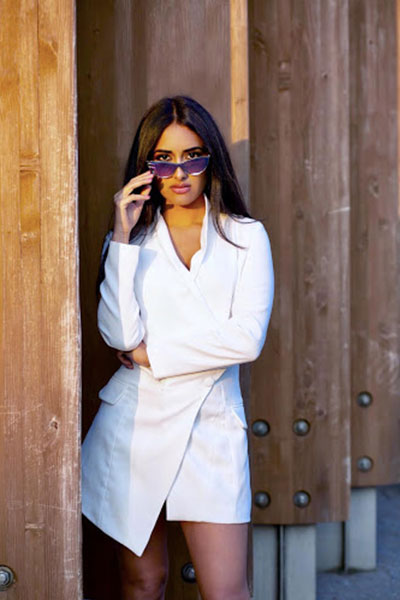 With a blazer dress, I would stick with nudes but really play up the femininity with pink lips/nails and voluminous, teased hair! I kept the jewelry to a minimum to make the suit the star of the look. To complement the stark white suit dress, I added a pair of mirrored cat eye sunnies! I love the combination of silver and white, I think it works so well against melanin-rich skin!
5. Go Sexy With a Lace Bralette Under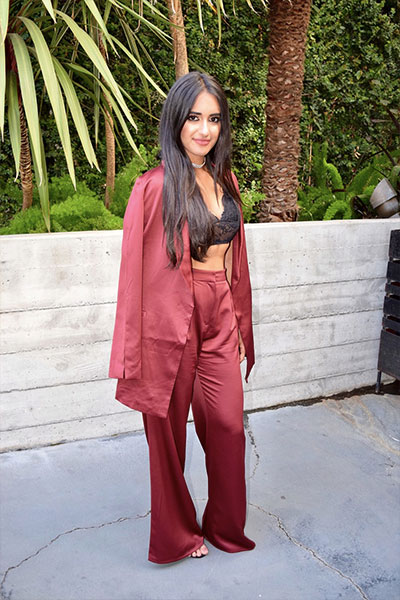 I think this way of styling a suit makes lingerie daytime appropriate. It's suggestive but leaves a lot to the imagination since there's still a lot of fabric on you. I would keep the jacket styled over your shoulders to make the look feel super sleek. With the lace, it's really sexy to add a choker or some sort of blingy jewelry to play up the glam. Make sure to have pasties and check if your bralette is see-through via a flash photography test!
Hope these different ways to style a power suit empower you to be a boss babe and own 2019!