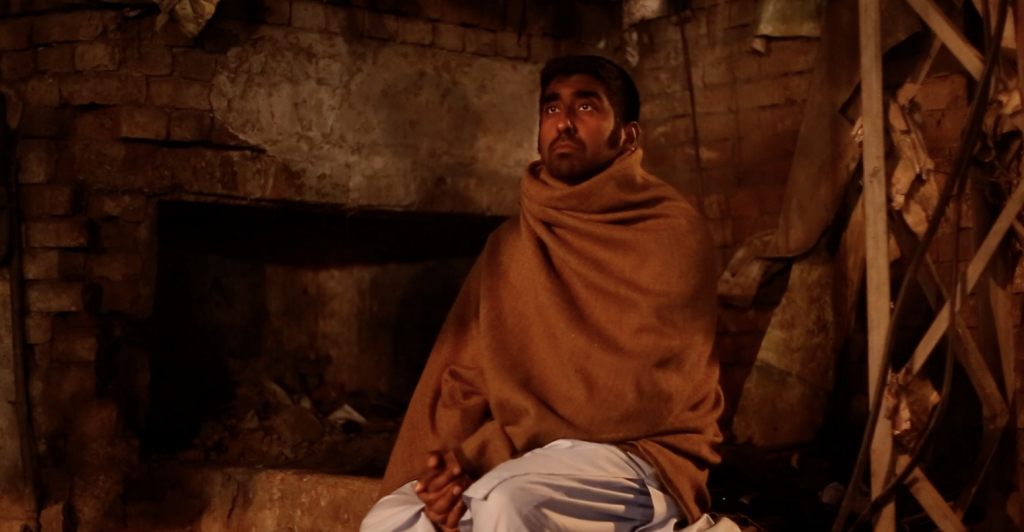 What qualifies a musician as "great?" Perhaps it's the goosebumps and chills that are sent down our spines when they begin to play, or the inability to stop ourselves from dancing along. Great musicians have no language, they develop art that is so innately impactful, we involuntarily give ourselves to it.
I have covered many musicians and loved even more. Today, however, I share with you all, someone great.
If you were living under a rock like me and had not heard of Zeshan B., I feel sorry for you, and my pre-Zeshan life. This Chicago based, gospel and Sufi trained musician is everything I love about our hyphenated identities and so much more. As a son to Indian immigrants and a Times of India journalist, he has turned thoughts into action by writing lyrics so riveting and timely, in his album "Vetted." From Black Lives Matter to his linguistic parallels in Urdu, Punjabi and English, Zeshan's Dravidian roots and commitment to community are parallel to none. Whether it was singing for President Barack Obama or sitting down with Democracy Now's Nermeen Shaikh and Amy Goodman, Bagewadi has just begun.
Gearing up to release his new single, "Nausheen," just after the incredible, "Brown Power," featuring Ilhan Omar, Rashida Tlaib, Hasan Minhaj, Jesse Jackson, Aparna Nancherla, Nina Turner, and an inclusive array of representatives, reverends, and artists, Zeshan agreed to tell us a little bit about the man behind the magic.
View this post on Instagram
1. Why is language powerful to you?
Well, it's how we think, right? It's the currency of our psyche. I mean I guess we think in images and shapes too, but we think in words primarily–so it's really become sort of sacro-sanct with the human existence/experiment.

And perhaps that's why I feel it's so important to learn as many languages as you can because you only enrich your brain with that currency. Growing up as a brown person in a bilingual household. I honestly thank the heavens that neither my Naani or Naana spoke English because it forced me and my sisters to learn Urdu so that we could communicate with those two loveably cute, old human beings.

It served me later in life –the increased "sound inventory" helped me to pick up languages real fast. Before I knew it, I was picking up Spanish pretty well in high school. And then Spanish provided me a sort of linguistic bridge into Italian, which I got damn near fluent in when I studied abroad in Italy during my college days. And then when I started singing professionally, Urdu provided the same sort of "bridge" into Punjabi, which I can sort of fake my way through now.
2. We believe music has no language, what reactions do you receive on you multi-tongue songs from the public?
You'd be surprised just how much love I get from people who have zero connection to Urdu or Hindi. Because yes as cliche as it sounds, it's def true–music is transcendental in that way. Doesn't really matter what language it's in as long as it's got that groove!
[btx_video type="external" video_url="https://www.youtube.com/watch?v=ZdtzzQjbCio"]
3. As a vocalist who draws from his hyphenated and global identities, do you experience "imposter syndrome" in any genres?
I used to but not anymore. I mean definitely not when I sang anything that is overtly desi i.e. anything in Urdu or Hindi. Real talk, when I sing in the language of my ancestors, I don't feel the slightest iota of imposter syndrome. Because let's be real here…just look at me. I am about as unmistakably Indian as they get.

No fair & lovely cream on this South Indian. And because of my indigenous, dravidian phenotype, I've never once been mistaken for any other ethnicity. It's funny, I recently got a DNA test done just because I was curious. But boy those results were pretty uninteresting–it came back as 100% Indian. I called my Dad and said, "Hey guess what, Dad? I'm 100$ Indian. My Dad was like, "Let me get this straight…you paid money to obtain that information? I could've just told you that for free". The man has a point. And because I very much "look the part" there was never any hiding from it.

So when it comes to singing the music and language of my people, I think I have a genetic mandate to sing that music and perhaps why those vocal stylings and aesthetics come so naturally to me–because they are me. So no, definitely no imposter syndrome there!

However, at times I did in fact feel that way about singing R&B. I mean I grew up singing that too–I sang in gospel choir in high school and I ended up being the lead soloist of an all black choir. Plus my parents listened to black folks' music as much as anything else. In fact, my pops used to write for the Times of India on black literature and expression back in the 70s. So yes, I did indeed have a healthy dose of exposure to it growing up.

Still though, when I got out of music school and started singing full time (or trying to, at least) I was a little reluctant to sing R&B because I was worried about cultural appropriation. But then as word got around, some things just fell in place that put me at ease–when iconic black leaders like Rev. Jesse Jackson and Rev. Otis Moss gave me their instant seal of approval, and when I was getting engaged to sing black music in black spaces such as the 50th anniversary of Dr. Martin Luther King Jr's Chicago march (which, interestingly enough, I was asked to sing the black national anthem, "Lift Every Voice and Sing") and when I got invited time and again to sing at Black churches–lets just say it went a long way in mollifying me.

I found a real nexus between the musical idioms of black and brown people–the blue notes that we sing. Notes that are bent. Notes that are jagged. Rooted in oppression and instability. I sing those notes. Those melismas are the foundation of my creative process. a lot of soul searching and finding that nexus point, I found my very own voice. A voice that was totally unique to me and so it's always felt genuine and organic in that way.
View this post on Instagram
4. Being compared to legends like Marvin Gaye, Otis Redding and Sam Cooke, do you have South Asian music idols as well?
Ohhh, you bet! My childhood pretty much starts and ends with Mehdi Hassan. That man was from another planet. Some of my earliest musical memories are of his voice and of those beautifully tasteful orchestrations that they were churning out in Lahore back in the day. His phrasing. His diction. His intonation. SO much to learn from listening to an artist like that. I bop to Mehdi Hassan pretty much every day of the week and I know/possess just about every single one of his recordings.

And there are so many others! Where to start? Ustad Bismillah Khan. Noor Jehan. Manna Dey. Kishore Kumar. Mohammed Rafi. Shaukat Ali. Pandit Ravi Shankar. Ustad Vilayat Khan. I could go on and on. If you think about it, the Indian subcontinent has been SO kind to this world when it comes to musicians. And all of these artists have influenced me immeasurably.
5. You have single-handedly altered what representation means for South Asian artists, what do you hope for them musically?
I guess I'd really hope that South Asian artists continue to grow musically and branch out. There's more to the musical world than spoken word, hip-hop and bhangra.

Not that I dislike those things — I'm just saying there's a vast world out there. Perhaps what could help is if we connect with our roots more. And don't get me wrong, I'm not saying everyone should know the ins and outs of Hindustani music; I can't say I know much of it myself. But I think that no matter what we do, we should never forget what we have inherited. And in our case, we're talking about a five-thousand-year-old tradition of music from a subcontinent that the world fought over just because they wanted to be us. The story of Mother India is in so many ways the story of the world. And when it comes to our music, it's an entire universe. Read about it. Be proud of it. Rep it.

I'd also love to see us hold each other to higher standards of professionalism and excellence. By that, I mean that I've worked with South Asian artists and I've often seen a certain lack of attention to these things — coming late to meetings or rehersals or missing deadlings. All the while citing this sort of implicit 'desi standard time'construct. It's like we take advantage of each other and we run game on each other like that, and I say running game because I know that we wouldn't pull this sort of shenanigans with white people! Anyway, I guess what I'm saying is, I'd love for us to project brown excellence.
6. In three words, who is Zeshan?
Loud, loving and bard.
View this post on Instagram
7. We can't not ask, what was it like singing for President Barack Obama?
Well, it was interesting to see the secret service take apart my harmonium to inspect it–was def a first for me! (and probably for them too lol). Aside from that, I guess the whole thing was really surreal. There I was, the grandson of poor Indian villagers about to sing for the leader of the free world. For some rea

son, it made me think of this story my dad told me once that when he was a kid, Prime Minister Jawaharlal Nehru came to his village and my Daada Ji hoisted my dad up on his shoulders so he could get a glimpse of Nehru–don't ask me why, but once I set foot in the East Room to meet President Obama, I somehow I felt things came full circle with that story. It was an honor to perform for him and he really appreciated my singing — got to hang with him a little too.

It was funny because I had actually met him a long time ago back in Chicago when I was a kid at an event at our mosque (yuu'd be surprised how many of us Chicagoans have met him or seen him in some capacity or the other back in the day). When I told him that I met him when I was a kid he said,

"Aww man! You ruined it!"

I said, "Ruined what, Mr. President?"

He said, "It's not good manners to make someone feel old."

Hell of a man. Boy, do I miss him!
[btx_video type="external" video_url="https://www.youtube.com/watch?v=ro_049TZe0k"]
8. Your music reflects on society, how it pivots and changes. What is currently inspiring you and in the new album?
I think that empathy has inspired me as of late. I feel that we live in a world of apathy. In a spiritual blackout. If it's anything that gets me going with all this, it's trying to feel some sense of empathy when I'm surrounded by apathy. And consequently, I feel that empathy and more specifically, tenderness inspired this album.

Where's the tenderness in music today? You listen to lyrics of the older stuff like Bill Withers (rest his soul! I'm still so heartbroken over his death the other day) singing, "We all need somebody to lean on". Curtis Mayfield and the Impressions when they sing, "I'm so proud of being loved by you". Ella Fitzgerald singing "Let's build a stairway to the stars". Sam Cooke singing "You send me" You listen to lyrics of a Curtis Mayfield and the Impressions when they sing, 'I'm so proud of being loved by you' or a Sam Cooke singing 'You send me' Or in our case, Mohammed Rafi singing 'Suhaani raat dhal chuki. Na Jaane tum kab aaoge.'

Such tenderness in all of that! Such beauty! Such poetry. It's all inspired by empathy. And I've tried to employ that kind of empathy and tenderness in "Nausheen" and for that matter, in the rest of the album.
9. How has COVID19 impacted you and what are your thoughts on the effects on artists/arts professionals?
Oh lord! Where to start? Well, for one, my hair is getting a lot longer–and there's all of a sudden quite a few more white hairs in there lol. But for real, it's just bananas with all this COVID mess. First of all, my wife is a doctor — an anesthesiology resident at Johns Hopkins Hospital (by the way, she's a brown girl too — of the Latinx persuasion). So that said, she is literally in the trenches and on the front lines of all this. It's amazing how her and her colleagues have mobilized to take on the sheer onslaught of ICU cases at such great risk to themselves (which puts me at risk too) but I am so proud of her.

And then if that weren't enough, when it comes to just me personally and my career, it's hard to put in words how disruptive COVID has been. I had a run of shows at Lincoln Center that got cancelled. The release of my single, "Brown Power" was to be amplified by some potential TV appearances that are now postponed indefinitely or cancelled because of newsrooms now having to cover COVID 24-7. My wife and I are supposed to move to New York in June and I honestly have no clue what that's going to look like. Let's just say, I picked a hell of a time to release an album!

But as with anything, I think the smart thing to do is adapt accordingly. I'm now investing pretty much all my time and energy in generating content from home (in fact, if you want to hear me perform 'Nausheen' and the other songs live, Lincoln Center is featuring me in their new 'At Home' concert series!) And with that, I'm discovering just how uncomfortable I am in performing solo without my band — but perhaps it'll prove to be a rite of passage for me.

In other words, it's a time to be reinventive!
View this post on Instagram
10. Describe what "Nausheen" means to you.
'Nausheen' is, I guess part fantasy and part reality. By that, I mean it's a song that expresses a very stark reality that South Asian women are across the board way more intelligent, thoughtful, imaginative, and just overall impressive than South Asian men. Like hands down. But it's also somewhat fantasy too–I mean yes, it's a love ballad, and parlays some of the infatuations I felt esp in my bachelor days or my college days with various "Nausheens" (I picked the name Nausheen because it's such a beautiful name, so evergreen, so traditional, so effervescent) and those amazing young desi women were just SO out of my league, you know. And so yes, it sort of has that fantasy love ballad vibe.

But I think, more importantly, the fantasy aspect and the reality aspect sort of in my mind combine to articulate an idealist vision for the future. And by that I mean, look I grew up in the diaspora, you know I've been to India and Pakistan many many times throughout my life and as much I love desi culture and I love going to the motherland, I think I've seen just how backwards and misogynistic our society is. And being a south asian male myself, I've seen just how low the bar is set for men, and how unfairly high it's set for women. I mean I get such a big pat on the back from desi ppl for the fact that I'm "domesticated"–that I know how to cook and clean.

I'm like why? I should know how to do all that! My sisters don't get congratulated for doing all those things. Which back to what I was saying, I think that has EVERYTHING to do with why South Asian women have evolved to be the superior group. They've had to put up with so much bullshit from men that they've just become so much more intelligent because they've had to co-exist subversively with men who have no idea how to treat them with respect. I guess the idealism in Nausheen for me is, 'boy, wouldn't it be nice if it wasn't this way.'

If instead desi women were in charge? I mean I guarantee you if desi women were in charge, the situation in India and Pakistan and Bangladesh would be like 100x better, and the partition would've never happened. The wars would've never been waged. The BJP and the Jamaat-e-Islaami (who I think are both two sides of the same coin) would've been reduced to fringe movements that everyone would just laugh at. Everyone would be held to a higher standard.

Would love it if Nausheen took over. And that's sort of the broader message of this song. Hope you all dig it!
If I wasn't speechless before, I am now. "Nausheen" is available on all streaming platforms, and be sure to check out his exclusive Q&A with Brown Girl Magazine.