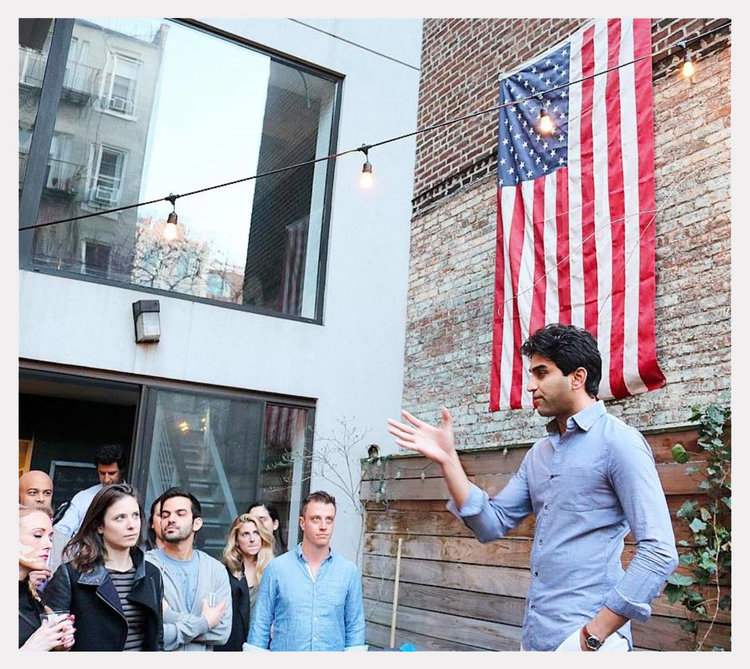 This article reflects the author's and interviewee's own views and is not a representation or an official endorsement of any candidate by Brown Girl Magazine.
Update as of June 25, 2018: Brown Girl Magazine received a statement from Suraj Patel's team, which we've shared below. 
The assumption that there was any misrepresentation involved in our approach is just that — an assumption. We included profile images that clearly identified each swiper's affiliation with the campaign, and as the conversations started we explained what we were doing. This approach isn't new — The NY Times published an op-ed last year titled, "How Tinder Could Take Back the White House," by two young women who built a bot to turn out millennial voters for the UK's Labour Party.
Not to mention the many Tinder banking events I've attended here in New York City to bring awareness to the IDC and fight for the AHA– through amazing organizations like Rally & Rise.
Now our campaign outreach consists of all the traditional tactics, including phone banking and door knocking, but given how only 7 percent of the district voted the last cycle, we're leaving no stone unturned. We are testing tactics like text-tinder-banking to increase that turnout. Especially within the under 35yo registered Dems (only 2 percent voted in our district's last primary). — Tania, Chief of Staff 
Update as of June 23, 2018: According to the latest news from The Observer, the Suraj Patel campaign has been criticized for using a controversial "Tinder Banking" strategy to promote voter engagement. Additionally, The NY Post has reported the campaign also allegedly misappropriated campaign funds. We encourage — you the reader — to take stock of the facts and make an informed choice on election day.
---
A beautifully designed website accented with pastel pinks and blues; a hip, unconventional campaign office housed in a former social justice bar; and trendy merch I would actually buy, are all aspects of Suraj Patel's campaign that one notices right off the bat. His campaign exudes a youthful energy and uniquely millennial aura that looks and feels different from congressional campaigns of America's past. Not to mention, it starkly distinguishes his race from his opposition's — Carolyn Maloney — a 25 year incumbent of his district who has been endorsed by several top New York Democrats. It's not only through these stylistic choices but also through his political views that Suraj hopes to position himself as a fresh progressive voice that is fundamentally challenging and re-defining how politics function in America.
Who is Suraj Patel?
The 34-year-old first generation Indian American has lived in multiple states in the United States as well as briefly outside of it. He grew up in Indiana and Mississippi, attended Stanford, went to Cambridge University in England — where he earned his Masters in public policy — before finally ending up in law school at NYU and calling New York his home. Seeing his family's immigrant story unfold, from humble beginnings to a successful motel business, Suraj hopes to give other Americans a similar opportunity to achieve their American Dream. In 2008, 2 years into law school, Suraj answered a call to public service by working on the Obama campaign first as a field organizer and then traveling, doing events:
"I just couldn't sit on the sidelines. I was so inspired by the president but even more than the president, I was inspired by the MOVEMENT. I got to see first hand, the power of a political campaign that inspires, that elevates, that unites."
Now, he is running to represent New York's 12th district which encompasses most of Manhattan and Brooklyn along the East River. Although the district has been comfortably blue for decades, Suraj believes the representative of such a district ought to be a leader for progressive politics in the country, not someone who, "does the bare minimum and takes good votes on bad bills." Suraj was deeply impacted by Donald Trump's election after which, he recalls, he spent six hours at an Olive Garden eating away his sorrows. Then, he resolved to take action. When asked why he hasn't sought local or state office first, Suraj expresses that he has no desire to follow the path taken by "career politicians" who he thinks have gotten to a point where they wouldn't give up their seat for anything.
"I don't believe congress should be filled with people who climb step by step by step and lose a little bit of that renegade-y and insurgent spirit. If you've been in office for 25 years, you have nothing to give up your seat for."
In a way, his sentiment makes sense. Noting that the average age of Congress is 59, Suraj believes many members of Congress have not only become complacent but also out of touch with the people. Most recently, Congress has shown its age with the hearing on Facebook involving CEO Mark Zuckerberg, where several members of Congress seemed to lack a basic grasp of the technology and the company's business model. As an adjunct professor of Business Ethics at NYU Stern School of Business, Suraj thinks that Facebook now has an obligation as a public commons to root out fake news and police its community better. And part of that he said is being more transparent.
"A lot of people are signing the terms of agreements that unwittingly make them the products instead of the consumers. So I would support European style regulations on Facebook and on privacy."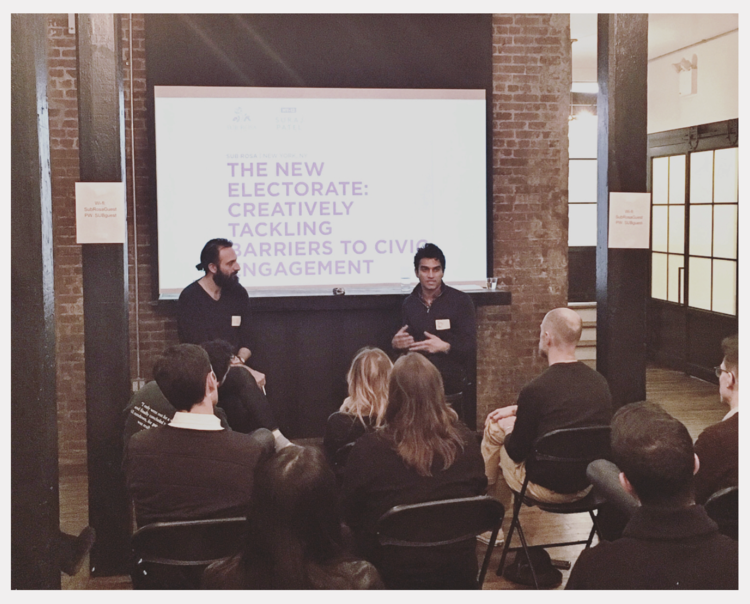 Democracy Reimagined
Like other progressive candidates across the country, Suraj is calling for a transformation of our democratic process, focusing on issues like campaign finance reform, gerrymandering, and voting reforms. Although voter laws and gerrymandering are currently being dealt with at the state-level, Suraj supports putting them on the federal agenda. Broadly, his campaign calls for a constitutional amendment to restore fair representation, under which, he proposes overturning Citizens United to get special interest money out of politics, directing state legislatures to establish non-partisan redistricting commissions, and instituting voting reforms like automatic voter registration and early registration for all 50 states. Suraj thus far has walked the walk and not accepted a single contribution from a corporation or corporate PAC.
With participation as low as 8% for congressional elections, his district, in particular, has historically seen dismal voter turnout, a trend much lower the already low national average of 35-45% for midterm elections. Low voter turnout is symptomatic of a broken democratic process that makes it harder for people to vote and discourages competition through policies that protect incumbents. State-specific voting laws like cuts to early voting, voter ID laws, and purges of voter rolls disproportionately impact and suppress the voices of black people, the elderly, students, and people with disabilities. Rather than take the beaten path and organize their outreach efforts around that 8 percent of voters who are "most likely" to show up, Suraj's campaign hopes to activate the #NewElectorate, a younger generation of voters tired of the status quo.
Comprehensive Immigration Reform
In March of 2018, a $1.3 trillion omnibus spending bill was passed, covering everything from defense to border security to opioids. However, a deal to ensure a pathway to citizenship for Dreamers wasn't addressed, leaving both Democrats and republicans empty-handed on immigration reform. Suraj believes he and other progressive candidates could change the tide on immigration by taking back control of the House. He has led by example by being the first congressional campaign to call for the defunding of ICE (Immigration Customs and Enforcement), urging several other democratic campaigns across the country to follow suit. ICE, which was only established in 2003, has drawn criticism for its actions which have harassed and terrorized both legal and undocumented immigrants alike. Suraj supports keeping ICE on borders and at ports while revoking their jurisdiction to find and deport immigrants — a decision that can be left to FBI in cases referred from states.
"Since 1996, when the abhorrent immigration reform act that the Democrats helped pass, immigration has gone in one direction which is more security, more surveillance, more deportations. And in exchange, Democrats thought, maybe the Republicans might come around on the 11 million undocumented immigrants in shadows and increasing legal immigration. And every time, they've been rolled. It's a terrible negotiation strategy. So if we took the house back, I would take that tool away and force Trump to the table for comprehensive immigration reform."
It's not just undocumented immigrants who are at risk under the Trump administration, but also authorized, legal immigrants as well. Coming to the South Asian community specifically, the New York Times recently published an article which discussed the precarious situation that dependents of immigrants who came to the USA on H1-B skilled visas are under. These dependants, often the female spouses of highly skilled tech workers, were granted an H4-EAD work permit under the Obama administration, which the Trump administration is now threatening to revoke. Many in the Indian community specifically, face a long backlog — upwards of 10 years — to obtain green cards, during which, children can age out and be deported once they reach the age of 21. In response to these measures being taken against legal immigrants in this country, South Asian groups like the Republican Hindu Coalition have been signaling to the Trump administration that H-4 visa dependants are more deserving of receiving a pathway to citizenship than undocumented immigrants like Dreamers. Suraj believes this rhetoric is divisive and instead supports expanding and reforming legal immigration:
"I'd say, shame on them. I think the whole concept is abhorrent. We do not throw our fellow marginalized communities behind us with the premise that we are here so let's pull up the ladder behind us. This is not a zero sum game."
Primaries are fast approaching on June 26th so please make sure you are registered to vote and informed on all your candidates' platforms. If you are not sure if you live in New York's 12th Congressional district, verify here and register to vote here.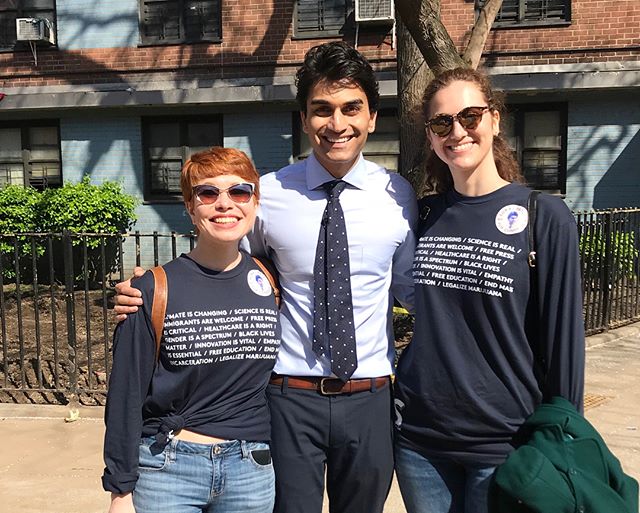 Rapid Fire Questions
What has been your most favorite and least favorite part about running your campaign?
Most: Being SO energized by my team. I have 25 full-time employees on my campaign, over 50 interns and a couple hundred applications of backlogs of interns that we just haven't been able to get to. Average age is very millennial so it's a remarkable energy in there which validates what we are doing.
Least: I skip a lot of meals, workouts etc.
If you could create a Suraj Patel special menu including your favorite food from places in your district, what would be on that menu for breakfast, lunch and dinner?
My district has the best food in the world! I have to admit though, I have a real soft spot for fast food: Taco Bell, Pizza Hut, Chick-fil-A, Wendy's, Popeyes. New York slice is the other answer. I could eat it for 8 meals a day if I had to.
Since this is Brown Girl Magazine, and we want to spread the love, who are some South Asian American women that inspire you, and why? (can't be from your family)
Toral Patel is one of my best friends. She is a free spirit and she started an organization to provide financial advice to women in their 20's. Toral is great.