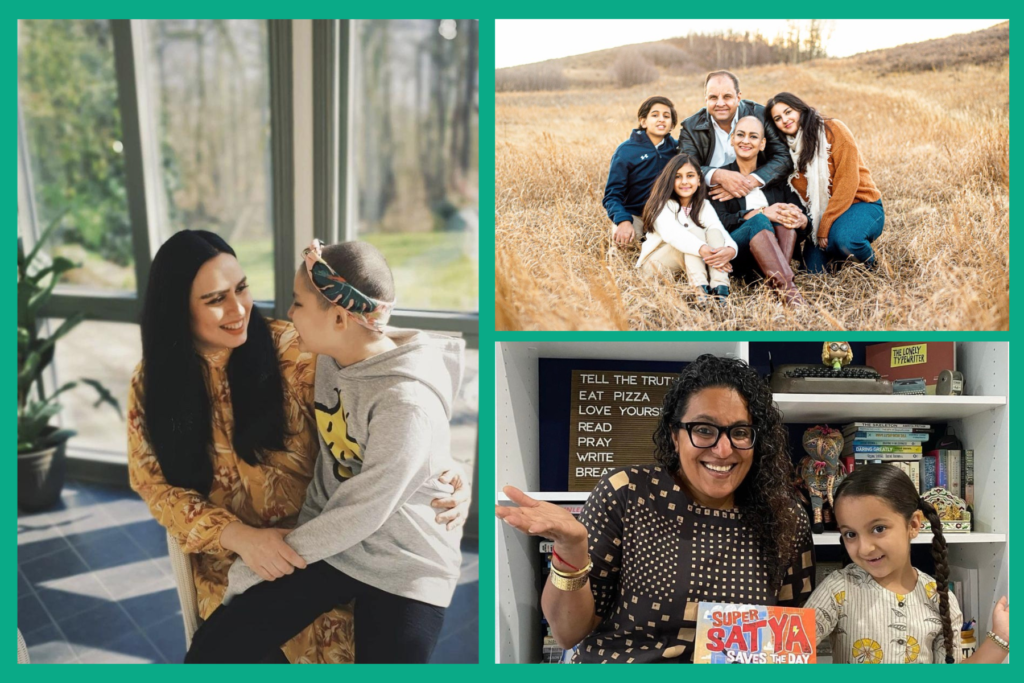 Earlier this year, I had the privilege of connecting with three warrior mamas, who shared their inspiring stories of courage, perseverance and positivity — their battles of surviving cancer together with their loved ones. A Canadian, an American and a Scandinavian mom, all connected to each other, and to other mothers, with a cancer diagnosis in their family that not only changed their own lives but also the lives of those around them.
Hina Haq is a warrior mama to three beautiful children. She has battled cancer twice; with remarkable grit, perseverance and positivity. She documents her resilient journey on Instagram and shares moments of victory as well as vulnerability in hopes to inspire others going through similar experiences in life.
1. Can you briefly tell us about your cancer and healing journey?
Back in 2020 when the whole world was in lockdown due to COVID-19, I felt a lump in my right breast. It worried me for a few days even though I was active and feeling healthy. I decided to wait until the lockdown was lifted, to get the lump thoroughly examined.

Life went on and soon it was February 2021. Now that I had time to breathe again, I decided to have a complete check-up. I went in for a routine mammogram. The next day I got a call to come back in for a more detailed check-up. When that happens you just kind of know where it's all heading.
Fast forward to a week later, biopsy results revealed stage three breast cancer without any family history. My whole world changed overnight! As I searched for meaning through the pain, I desperately wanted to turn this negative chapter in my life into a positive one, in any way that I could.

When I was first diagnosed, my doctor gave me an advice that I will be forever grateful for. She suggested not to scour Google for answers. Sooner than later, I realized all can be faced in another way; with grit, grace and gratitude.

I'm very open about what I have gone through — the highs and the lows. I am passionate about getting people activated, especially on social media. Sharing my story openly, with others who might be going through a similar experience, and encouraging people to get regular screening and check-ups was a big part of my healing journey.
2. How did your diagnosis and treatment affect your family and parenting?
The scary cancer diagnosis was followed by overwhelming decisions about treatments and then actually going through regular treatment appointments. No doubt, last year was a tough one for me and my family. I can't say I always felt up to the challenges, but decided to show up, not quit and give it my all as I knew that my kids were watching me. Together, we have learnt that family is about being together and the best gift of all is indeed love.

No doubt the journey has been a rough one, but in so many ways it has been a year of growth, evolution and introspection. One of the things that kept us going strong as a family was focusing on, and celebrating, little things that turned out well. What matters the most to me is that my kids see me fight with all my might and positivity.
View this post on Instagram
3. How can the community (friends and family) support the journey of a loved one going through cancer?
Emotional support from friends and family is extremely important and can make a big difference to the quality of life of someone battling cancer. No matter how you communicate, whether it's in person, by phone, email, card or text, what you say (and how you say it) is so important.

The truth of the matter is you will not be able to completely understand the complexity of their experience, or their pain and fears. You might not even know what to say and that is okay. Sometimes the person fighting cancer may not even want to talk, but that doesn't mean they don't want you there. Often the most calming thing is your presence and your company even if words are not exchanged.

Friends and family can also support their loved one with a cancer diagnosis by taking easy walks together, watching movies, listening to music or doing an activity that actually brought the two of you together. If your loved one wants to talk, be ready to listen and let them lead.

The most unhelpful thing to do during this time is to offer advice or opinions. DO NOT do that unless you're asked. Be there for them by offering to run errands, clean the house, pick up medications or drive to and from appointments. Simply being there, and being available, means a lot!
Raakhee Mirchandani is an author, editor and pediatric cancer crusader. Her new book, "My Diwali Light (Little, Brown, 2022)," was released in September, this year. She lives in Hoboken with her husband Agan and their fiery, healthy and bookish 8-years-old daughter Satya.
1. Can you briefly tell us about Satya's cancer and healing journey? 
My daughter Satya was diagnosed with cancer before she was even six months old. My mother's instinct told me something was wrong, but we couldn't quite understand what. We were lucky to have had a loving South Asian doctor who listened to my concerns about my baby. Dr. Ayesha Mahmood listened to my mother's intuition and ran tests to settle my mind. Turns out, things wouldn't be settled for some time — the tests showed our newborn had cancer. My husband Agan, Satya and I were cared for by an incredible team of doctors and nurses, at Hackensack University Medical Center, who not only cured our daughter but nursed us all back to life, back into the light.
2. How did Satya's diagnosis and treatment affect your family and parenting?
Satya's diagnosis was shocking. I knew kids got cancer, but I never expected my kid to be in that group. While we were in the hospital, in treatment and dealing with surgeries, the diagnosis was the heaviest weight on my heart. I functioned entirely on instinct, doing whatever it took to keep Satya happy, healthy and alive. I didn't parent much, I just tried to survive. After seven years of watching Satya thrive, I can totally say that cancer has affected my family and parenting in a way I never saw coming — we now live our lives in service of children with cancer. I run to raise money for kids and families with a pediatric cancer diagnosis and will do everything in my power, until my last day on Earth, to support children with cancer. This is our family's purpose.
View this post on Instagram
3. How can the community (friends and family) support the journey of a loved one going through cancer?
I think doing, rather than asking, goes a long way. My mother brought smoothies to the hospital almost every day. My cousins brought french fries and pizza. My brother and sister-in-law just sat with me in the hospital room. Agan's parents and my maasi got on a plane and just came to support us in whatever was needed. If they would have asked me what I needed, well, I would have said nothing. The truth is, I didn't know what I needed, but they did. I needed their presence and support, their love, and the carbs and green juices that they brought. I needed to feel less alone and when they showed up for me, without me asking them, I knew that I was surrounded by the strength that would carry us.
Midhat is a gorgeous, brave mother to two beautiful daughters. Her older daughter, Nabiha is a cancer survivor. Midhat is originally from Karachi, Pakistan and has been living in Sweden for the past 14 years.
1. Can you briefly tell us about Nabiha's cancer and healing journey?
Nabiha was diagnosed with a rare Leukaemia PH+ mutation. The treatment of this mutation is considered very high risk. There are only a handful of patients diagnosed with this mutation. The treatment is still part of a research study with collaboration from all over the world and Nabiha was one of those cases.

Nabiha has recently come into remission after two and a half years of continuous intensive chemotherapy. Her treatment has had multiple side effects, one of which is a severe weakening of the bones. Nabiha was wheelchair-bound for several months, unable to stand, walk or put any pressure on her fragile bones. She currently went through her last surgery to remove her port from her chest and she's getting regular blood tests and physiotherapy here in Sweden.
2. How did Nabiha's diagnosis and treatment affect your family and parenting?
The diagnosis changed our lives completely. We went from having a normal, happy and carefree life to being continuously fearful of losing our baby to cancer. Each time she went through an intense chemo session, she had to fight multiple infections.

It was a very tough time for our then-two-year-old daughter Soha. At that time, all our energy and attention were focused on Nabiha and her treatments. Soha had to be kept at home from preschool to avoid potential viral infection exposure for Nabiha as her immune system was compromised.

Then COVID-19 hit and made hospital visits even more difficult. Only one parent was able to be at the hospital at one time. This was the hardest part of our journey, not being together as a family. There wasn't a single day for several months when we were all together at the same time as a family. But the silver lining was that this difficult experience made us stronger as a family.
View this post on Instagram
3. How can the community (friends and family) support the journey of a loved one going through cancer?
A cancer diagnosis of a loved one brings endless difficult moments where the patient and the family need both physical and emotional support. Support and kindness from friends and family make this journey easy and bearable. Our close friends and family were there when we needed them, whether we needed a shoulder to cry on or needed some physical help with things. Most of all it's important for them to show up and help out in any way they can.
Kudos to these brave mothers who shared the vulnerable details of their journey of surviving cancer to bring hope to other families going through similar situations, and to raise awareness of how loved ones can support them in such moments.
Photos Courtesy: Hina Haq, Midhat Tariq and Rakhee Mirchandani