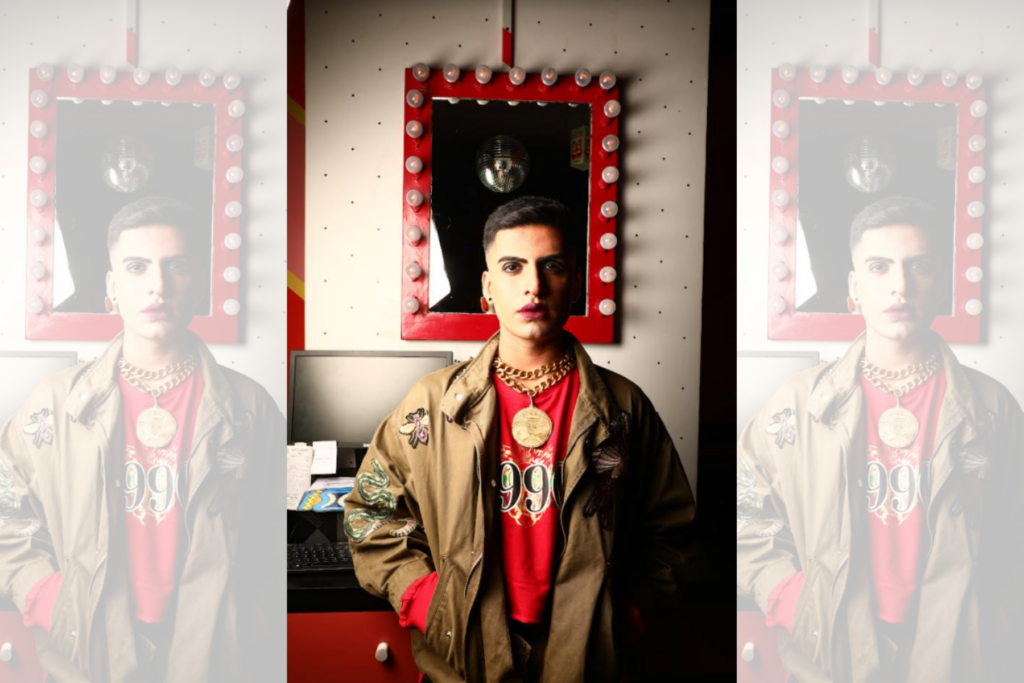 Sushant Divgikar is an eclectic performing artist and aims to further art without barriers. They do not want their gender orientation to take center stage but for individuals to focus on their artistic capabilities. I got the incredible opportunity to interview Divgikar earlier this year. They spoke to me about their experiences representing India at Mr. Gay World, being a celebrity contestant on "Bigg Boss," the art of drag, and lastly their family and personal life.
Mr. Gay World was an opportunity of a lifetime for Divgikar, who represented India in Rome without any proper preparation or mentorship.
"I felt like I really had to fight for my place at the table during this competition from the way I spoke to the way I presented myself."
Divigikar excelled with flying colors during the competition, being the only delegate from India to win three individual sub titles and 2 group sub titles including people's choice, art round, a team round, as well as congeniality. Divgikar let me in on the requirements of the contest.
"The contest does not discriminate and has individuals of all backgrounds from young to middle-aged and is not restrictive of height and body type."
View this post on Instagram
The contest helped further empower Divgikar to get in touch with their authentic selves. The contest was an amazing experience for Divgikar holistically, and they still keep in touch with many of the friends they made during the competition.
Divgikar is also an original in their own right, being one of the few openly L.G.B.T.Q.I.A.+ contestants at 24 years old on "Bigg Boss." They showed passion, compassion and empathy on the show and were remembered for their incredible personality. Divgikar explains what it was like representing themself.
View this post on Instagram
"It was fun representing myself in an authentic way and no one person can represent an entire community."
Divgikar explains that the term, Drag Queen is confused with the term cross-dressing. They reiterate that India has been the pioneer of Drag since ancient times. Kings and queens before colonial times watched Drag performances as beautiful forms of artistic entertainment. India was known as the land of diversity, known for being rich in culture, and made 31% of the world's GDP.
Divgikar talks about how Section 377 of the Indian Penal code dictated that a man and a man or a woman and woman could not have carnal intercourse. This speaks volumes to so many misconceptions individuals have about the L.G.B.T.Q.I.A.+ community. Divgikar continues to speak about their love for drag.
View this post on Instagram
"Performing Drag is a part of my culture. Why did we let the colonists take our country which was full of love, peace, and harmony and mess it up and why have we continued to keep these traditions going?"
In terms of music ability, Divgikar has a multiple octave range and can also perform different voices. They combine their voice and art as a historic and iconic tribute to their heritage and use their form of drag as a vehicle of change. Divgikar is trained in 12 forms of dance and can sing in 10 different languages. Through all of their hard work, Divigikar has worked with some of the biggest publishing houses in the world. Their drag name is Rani Ko-He-Kur and is broken down as Rani, or queen, and Ko-He-Kur, or diamonds.
View this post on Instagram
At the end of the interview, Divgikar let me in on how their parents reacted to them coming out.
"My parents are rock stars, my backbone, central nervous system and overall support. When I came out, my parents were never restrictive. They provided me with this playground to explore what I needed to in order to pursue who I wanted to become. When I came out to my parents, my father held my hand and told me, 'You're my child, not straight or gay. That's their issue. I'll make sure to protect you.'"