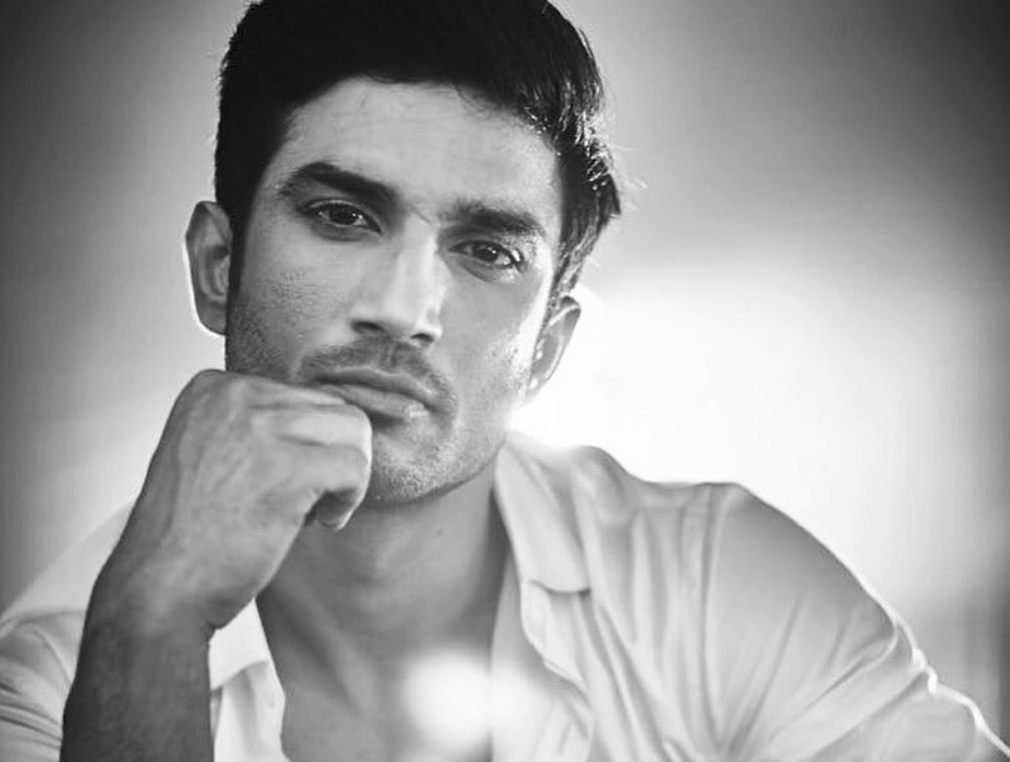 Despite being his fan, I never realized how difficult his journey as an actor in the Indian film industry had been without any insider connections. His was an increasingly rare Cinderella story of a regular person who had become a superstar.
Since his passing, many actors and filmmakers have spoken out about the barriers Sushant faced as an "outsider". Acclaimed director Anubhav Sinha, in a tweet, called out the "Bollywood privilege club…[to] sit down and think hard tonight".
Legendary director Shekhar Kapur tweeted about the people who "let [Sushant] down" stating that "what happened to [Sushant] was their karma".
I knew the pain you were going through. I knew the story of the people that let you down so bad that you would weep on my shoulder. I wish Iwas around the last 6 months. I wish you had reached out to me. What happened to you was their Karma. Not yours. #SushantSinghRajput

— Shekhar Kapur (@shekharkapur) June 15, 2020
Sushant was set to star in Shekhar Kapur's much anticipated film on the world water crisis, "Paani" which was in pre-production in 2015 until the film was shelved by Yash Raj Films.
Sushant's co-actor Ranvir Shorey tweeted after his death on the "gatekeepers of Bollywood" who are the ones with "the power to decide who will be a "star"…[and who are the ones] having inherited privilege in the business and the mainstream media sitting in their lap".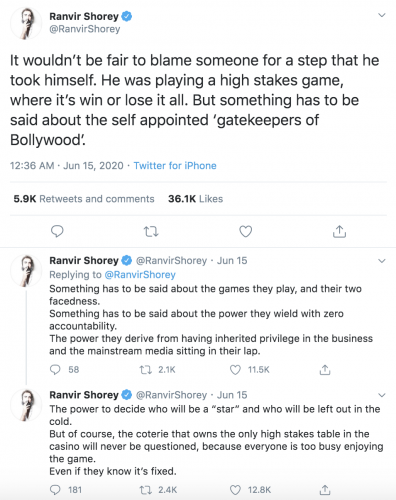 One of the most heartbreaking comments by Sushant himself speaking to a fan on Instagram in March 2019:
"I have no Godfather, I have made you (all) my Gods and fathers. Watch [my film] at least if you do wish I survive in Bollywood."
Unfortunately, without more information from industry officials, all we can do is speculate on if and/or how these circumstances that contributed to Sushant's pain. Needless to say, there was a lot going on below the surface that the public needs answers to.
Tragically, Sushant Singh Rajput was not the first person to experience this level of trauma and nor do I fear will he be the last. Even comedy legend Govinda has discussed his inability to release movies in recent years as there are "few people, they are behind not providing [him] a place to act". Govinda has gone on to state that his films are not being given a platform to be released.
While the investigation into the passing of Sushant Singh Rajput is ongoing, one wish I have for all lovers of Indian cinema is that we consciously make an effort to support films with new, independent talent. This is what Sushant alluded to in an interview where he stated,
"If you deliberately don't allow the right talent to come up, then there is a problem. Then the whole structure of the industry would collapse one day."
It is our responsibility as cine-goers to support the next generation of rising stars who have come in on their own merit. They must know that the most vital part of the film industry – the viewing public – is there to support their journey. I will be doing this personally, by watching more of their films, and on my blog by purposefully highlighting wonderful films with less well-known directors, producers and actors that may not otherwise reach the homes and hearts of viewers. I urge you all to do the same.
Sending lots of love to the family, friends and fans of Sushant. May he find peace and know that he will always be loved.