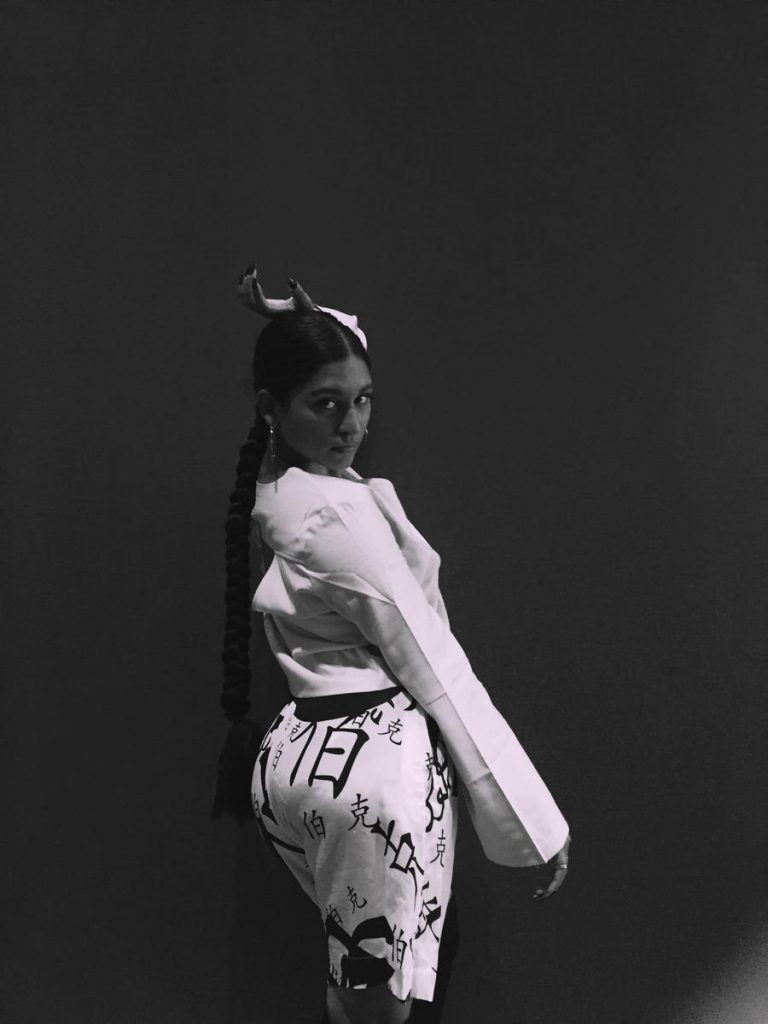 Often times, we ask those in entertainment or in most fields, what affects their ethnic origins have had on their journey, seldom do we ask those that aesthetically "look" like they derive from the same region that question. Identity is objective, we seek to define others and more often than not, they define themselves differently. "Open to interpretation" artist, singer and songwriter, Nadia Nair talks the frustrations of cultural appropriation, growing up in Sweden and her relationship with her artistry.
View this post on Instagram
In three words, who is Nadia?
Artist, human, pot-stirrer.
Where is "home?"
I travel a lot, but my base is in Gothenburg where I grew up. I'm a Swedish girl in heart and foot, I guess.
When did you realize music was "it" for you?
Being 'it' sounds like being the one for me which makes me think of when I fell in love with it rather than when I started working with it. It makes sense for me to see that as my starting point. Not long after I was born and could use all my senses, maybe around 3? I started to sing. But I'm not just a singer. I'm an artist. I'm still figuring out what that means. I've given my purpose a lot of thought lately, how to work around it to my fullest potential. Through the lens of my happiness and sorrows as a human. All I'm doing is recycling I think and giving back to the people. I want to believe it goes beyond singing on a track and uploading it to Spotify basically.
What was your musical community like in Sweden?
Very collective and loud. I've floated on a stream, which lead me to many creatives. I've met a lot of people along the way, not only musicians that have influenced my story somehow but being in different situations and set-ups have sort of lead me to some kind of place where I am now. It's tricky and exciting, trying to find your space and roll in it all. But it definitely colors the story.
How has being Indian-Malaysian in Sweden impacted your musical and personal journey?
It impacts it from the moment I am asked that question, in the sense that I get questioned about it a lot as an artist on all kinds of media platforms. Meanwhile, hardly any white artists get asked about their heritage. I think it stems from the fact that people are aware of my presence not only because I've been a minority in creative spaces, but also because I've stood out with my style and art.
View this post on Instagram
Where did the desire to create "open to interpretation art" come from?
I think the struggle for the music business to put me in boxes I've refused to be part of, inspired someone to finally label my art into a very beautiful term not so much created by me. But it's interesting to hear other people's take on my art. It arouses the curiosity in me which I guess also is a reflection of my music. And so, the recycling of interpretation takes place. For me it all sounds like an exchange and I really appreciate when the power can lie between me and the people, skipping the middleman of the industry.
What's your take on music being considered a place where cultural appropriation occurs?
What's my take? I find it uninspiring and frustrating, hard to weather out. I think it's important to hear people out especially the ones it affects negatively, but it just doesn't get many breakthroughs as a topic because people have such different views on it, and some don't even see it. I've dodged the tags and been miscredited and I think a lot of people expect me to shout all the time or be silent. But I tell people that I didn't come into music to be a dictionary of explanation because I've been that book all my life. My pen is my weapon and my voice is a tool. If people want to make noise, let's meet there uncensored.
View this post on Instagram
What's next for Nadia music and art?
I'm hoping to work a lot more visually and maybe get into directing more in the future as it has always been a passion of mine. I love when music can make moving pictures and vice versa. I travel a lot and bring with me my portable studio because I never know when my inspiration kicks in. It's always dependent on that. I don't really force work.

When I don't get into my introvert space and write for myself, I'm a writer for other artists. That's when I step out. As well as when I have really extrovert energy periods where I do live performances. My collaborations and where I've been expanding my own work right now has been in Gothenburg and London as of late. But I'm hoping to come out of Europe more. and not typically only think of the USA as a first destination. I want to instead travel east.
Too often artists become defined by their heritage, location, upbringing or genre — seldom enough do we dissect their art itself, how it makes the artist and the audience feel. We rarely discuss the nuances in the music, the meaning of the words. Nair explores her multi-faceted artistry as a writer, singer and creative director as she evolves into the production of visual art. Connect with her via Instagram and tell us how she makes you feel.