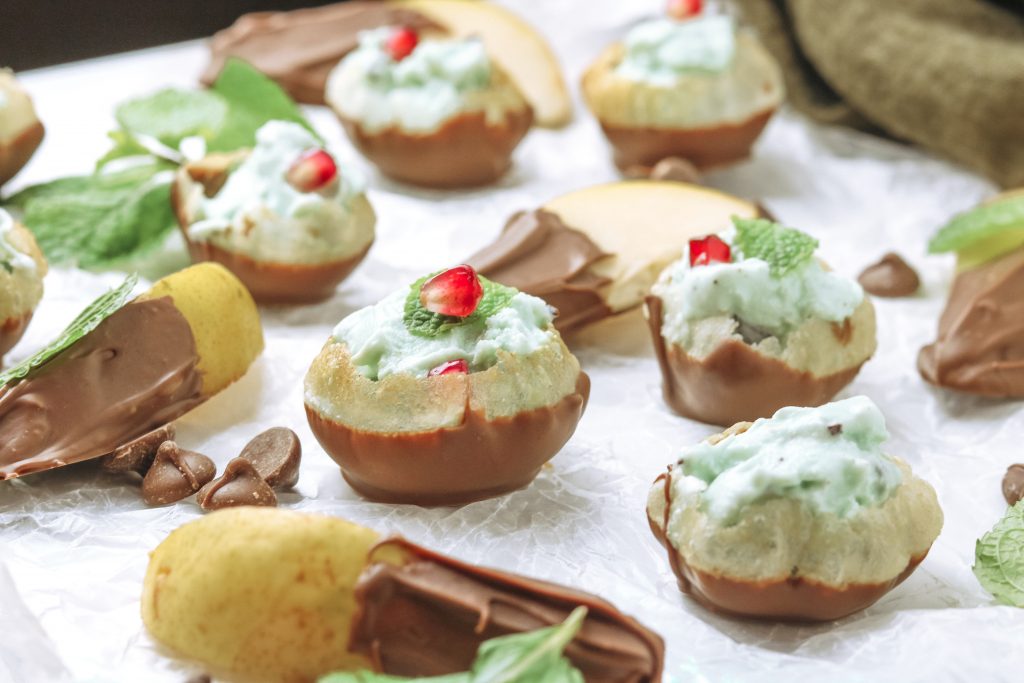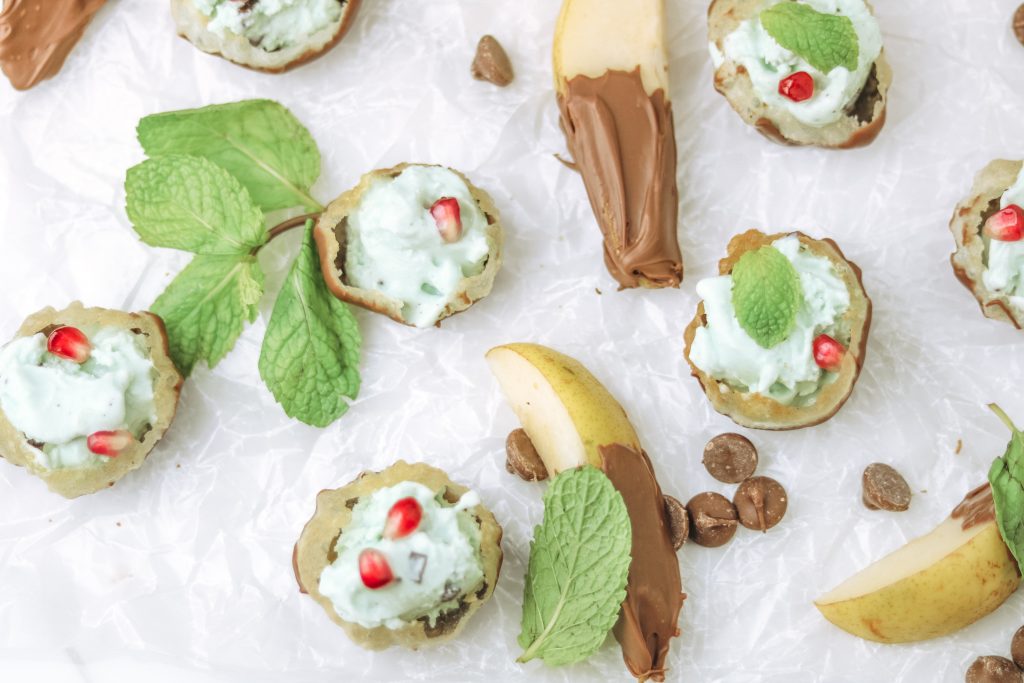 I've been hearing a lot about this new trend in India with "pani puri ice cream" and I was a little intrigued but also grossed out. My sister actually tried it when she was there a few months ago and she did not like it AT ALL. But the concept of pani puri for dessert really stuck with me. So, I decided to make a Chocolate Dipped Pani Puri!
Like most things, puris taste amazing dipped in chocolate. The saltiness from the puri goes so well with the sweetness from the chocolate (that's my favorite combo of all time). My mom actually makes puris at home, and we love them because they are smaller than the store bought ones and easy to pop in your mouth! However, store-bought puris go great with this recipe because they have a harder shell so it will be much easier when dipping into chocolate and poking holes later on. So feel free to use whichever you have access to!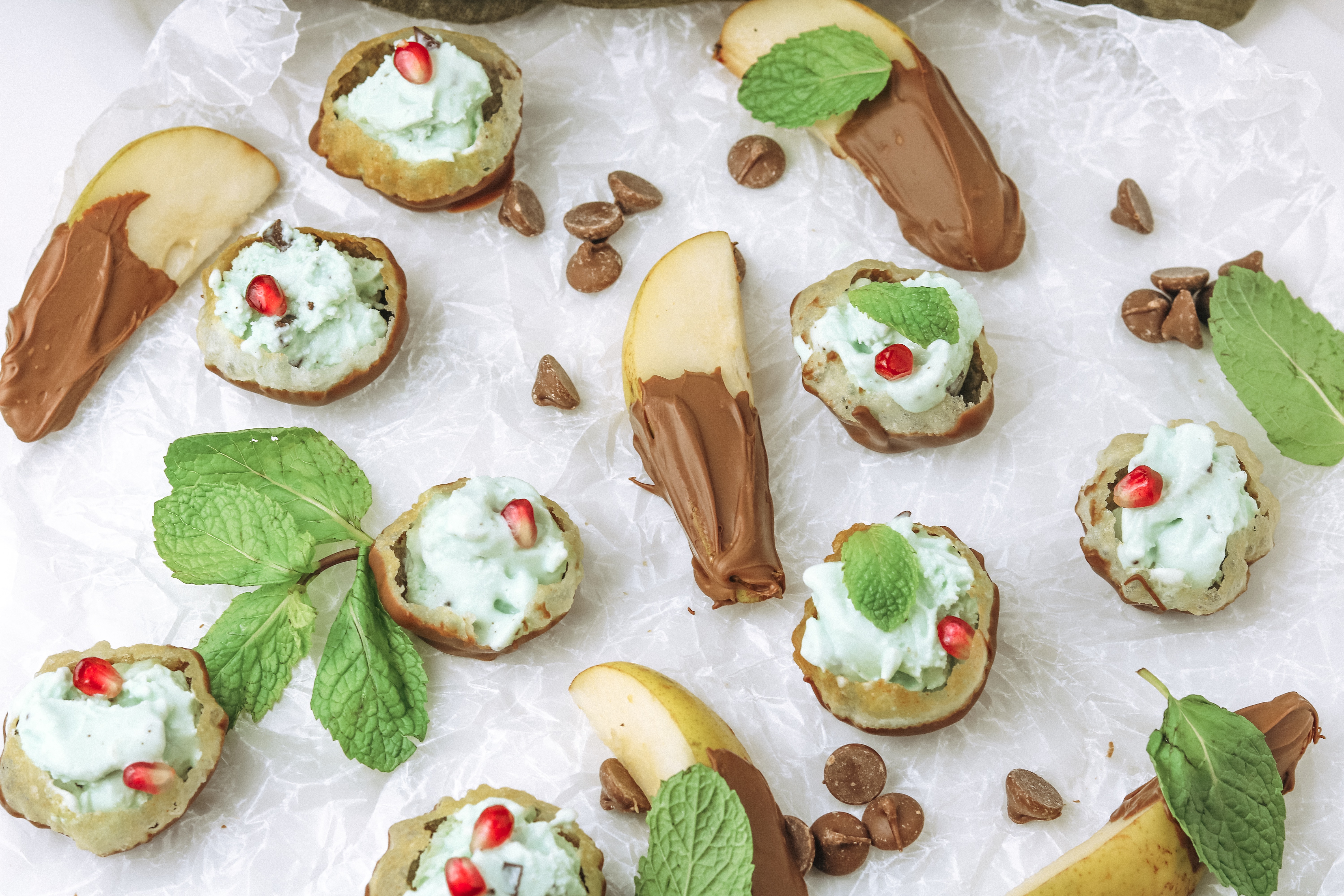 Since classic pani puri is made out of mint water, I wanted to stick to the mint theme. Talenti Mint Gelato is one of my FAVORITE flavors, so this was a no-brainer. I also love the containers because you can repurpose them to drink smoothies/juices from, or you can store nuts/snacks in them! Most grocery stores sell it, but if you are having trouble locating it, you can always use mint chocolate chip ice cream. If you have other ice cream laying around the house, feel free to substitute that in as well.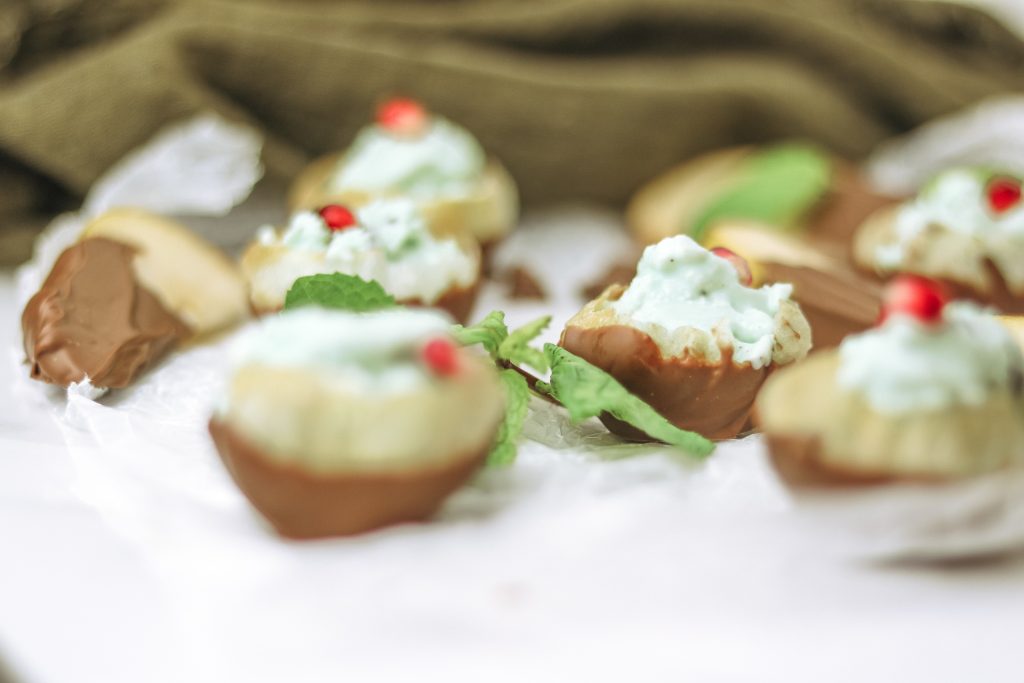 Since there's ice cream involved, gotta work fast when you are serving, but you can prepare the chocolate covered puris a couple of hours in advance. When you are ready to serve, just take them out of the fridge, scoop in some ice cream and serve on a tray. It's the cutest little dessert that probably will be eaten up before it gets a chance to melt :)
If you want to change it up a bit or if you are with a health-conscious group, you can always stuff the chocolate covered puris with your choice of fruit. Garnish with some powdered sugar and you're good to go! Hope you guys try my Chocolate Dipped Pani Puri recipe and let me know what you think! Any tags on pictures would be appreciated!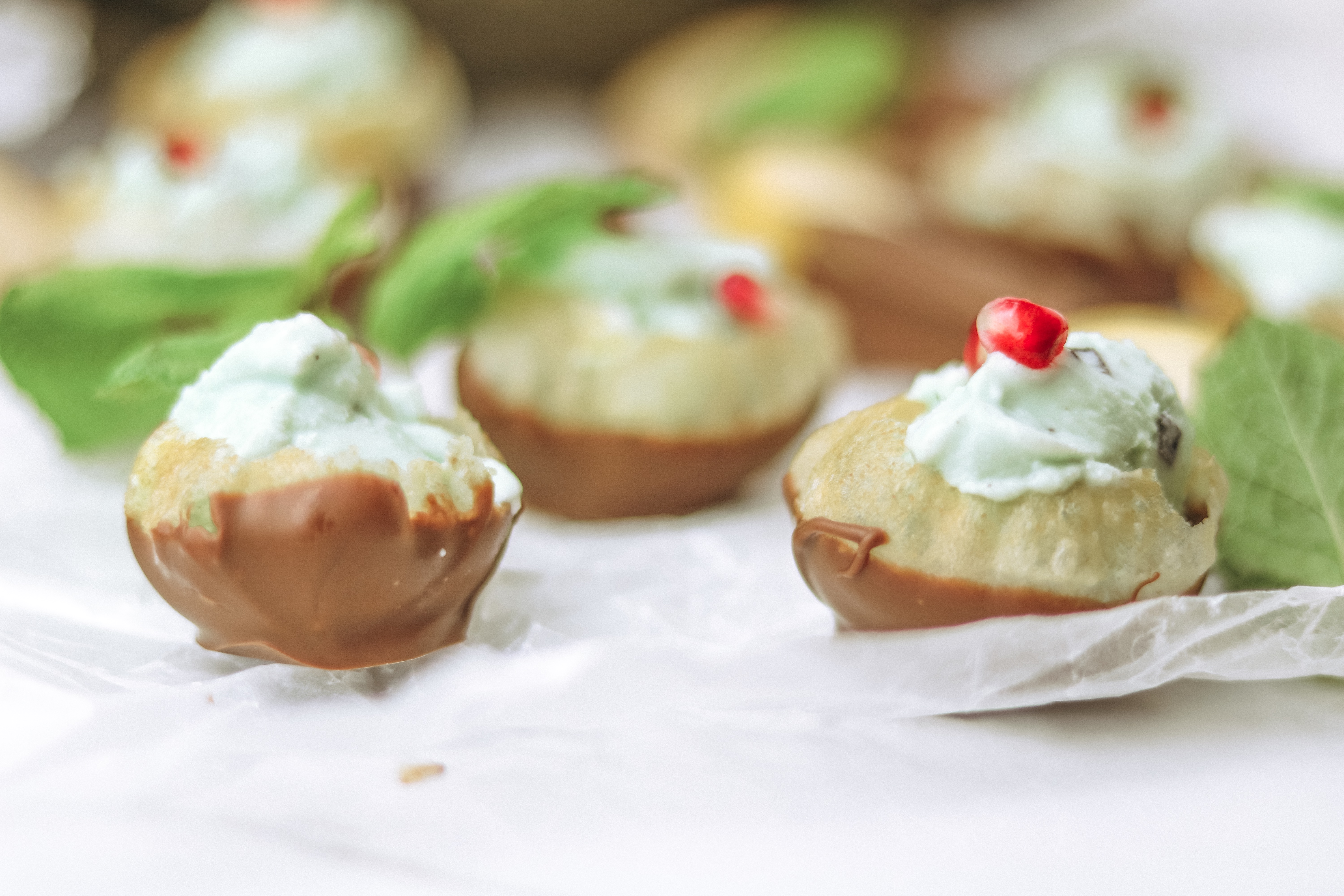 Ingredients
14 puris

½ cup chocolate chips

14 tbsp mint gelato, or ice cream

Pomegranate arils to garnish

Mint leaves to garnish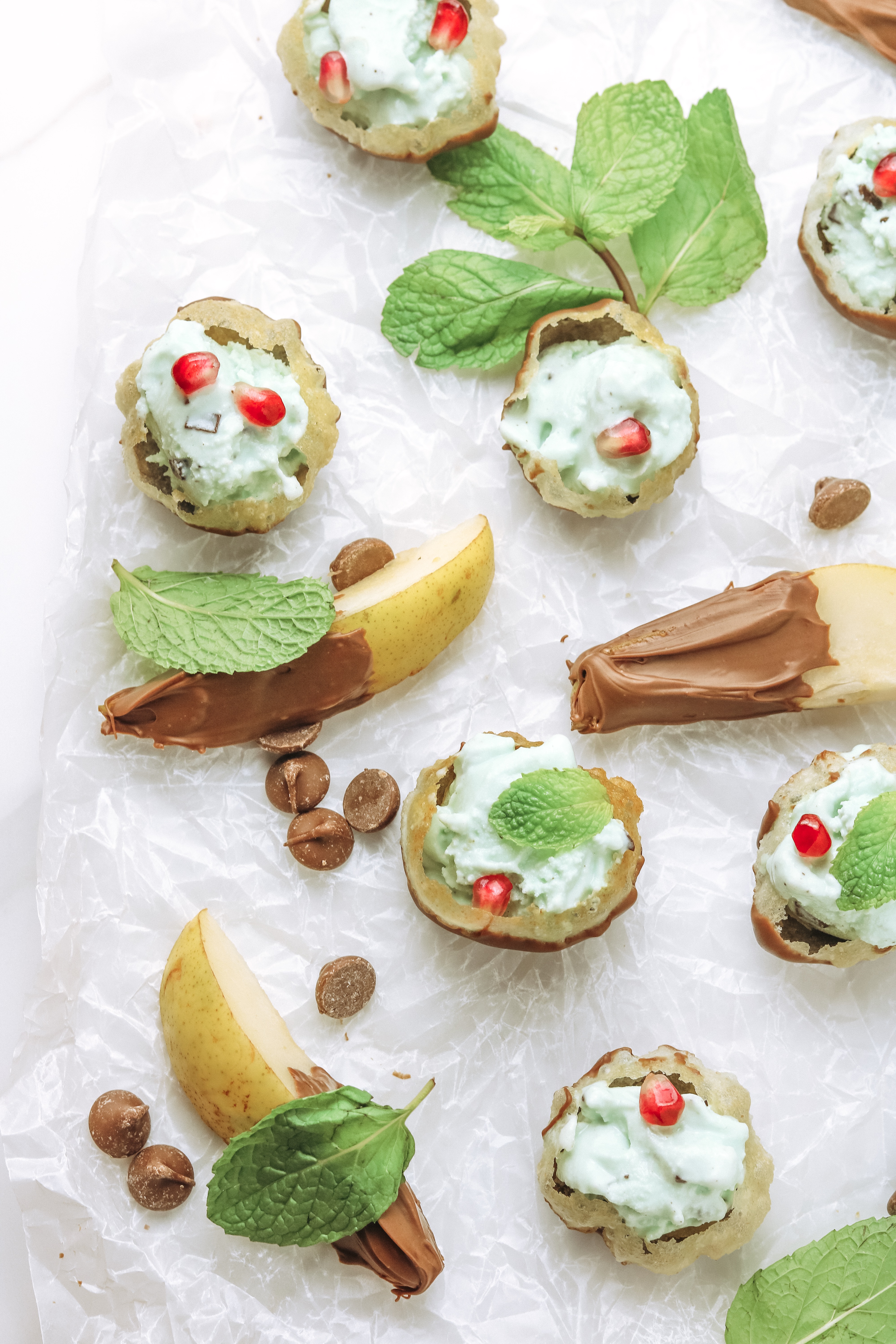 Instructions
Melt your chocolate chips.

Dip the bottom half of each puri and place it on wax paper. DO NOT POKE HOLES YET.
Let the chocolate dipped puris chill and harden up in the fridge for about 15 minutes.
Now, poke a big hole on the top of each puri.
Spoon in about 1 tbsp of mint gelato or mint ice cream in each puri.

Garnish with pomegranate arils and mint leaves.  

Serve immediately!