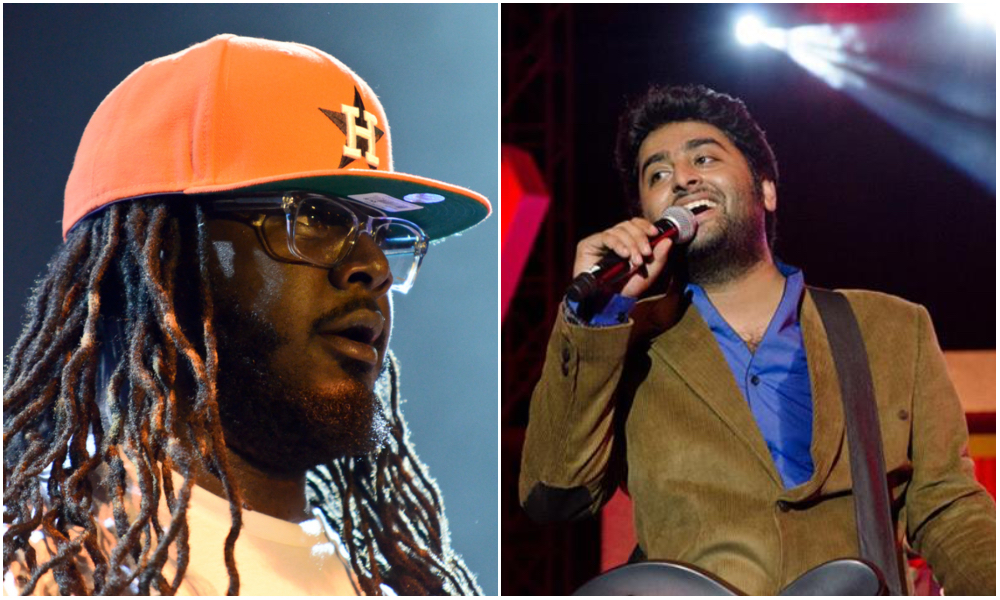 If you're wondering why T-Pain's latest single "That's Yo Money" sounds so familiar, it's because the melody has (allegedly) been pulled straight from "Tum Hi Ho," the smash hit from the 2013 Bollywood blockbuster "Aashiqui 2" that was sung by Arijit Singh. The catch? T-Pain refuses to admit that he was in any way influenced by the Hindi song.
In yet another iteration of the blame game played back-and-forth by Bollywood composers and the American music industry, Mohit Suri, the director of "Aashiqui 2," and Mithoon, the lyricist and composer behind "Tum Hi Ho," called out T-Pain on Twitter early Saturday morning after the American rapper released "That's Yo Money" on Friday.
Dunno why but this seems familiar ??? #aashiqui2 #tumhiho @TPAIN https://t.co/69NJvAujsT . It's a melody from Mithun's song buddy @Mithoon11 @raiisonai @itsBhushanKumar

— Mohit Suri (@mohit11481) December 15, 2018
Sir, the melody that you have used in your new song is my original work for a previously released Hindi film..The Label is looking into this.#tumhiho #Aashiqui2 https://t.co/5fnDf4sfg7

— Mithoon (@Mithoon11) December 15, 2018
Following Suri's and Mithoon's tweets, YouTube removed "That's Yo Money" from the site, but it appears that the platform has since allowed T-Pain to keep his song on YouTube — at least for the time being.
In response, T-Pain added more fuel to the fire by seemingly insulting the desi community, tweeting:
https://twitter.com/TPAIN/status/1073985253536985094
Brown Twitter? Suri clapped back, joined by another Bollywood composer Salim Merchant, to point out T-Pain's racist remarks.
Brown Twitter !! Sir is that what your response is .?? is this a apology or foolish ignorance .if you hadn't been so stuck up in your world and realised that this song has crossed over a billion streaming's .maybe you would understand #Shameless @Mithoon11 @itsBhushanKumar

— Mohit Suri (@mohit11481) December 16, 2018
What a pain Mr. T… how do you make music ? It's so important to be a good human being & your racism shocks me! https://t.co/VKPCrvZbUW

— salim merchant (@salim_merchant) December 16, 2018
This isn't the first time that T-Pain has been in hot water for allegedly stealing someone else's copyrighted music or has been involved in legal battles over general copyright issues. In 2013, the New Orleans jazz group "Batiste Brothers" sued him and other artists in a $100 million dollar lawsuit, claiming T-Pain's song "Freeze" was nearly identical to the band's song "Sportsman's Paradise."
It will be interesting to see what comes of this issue, which isn't the first time an American musician has been accused of copying a Bollywood song and vice versa. The Bollywood music industry itself has come under fire recently for failing to produce original tracks, relying on remakes instead. For example, films like the upcoming "Simmba" have recreated perfectly good tracks like "Aankh Maare" from "Tere Mere Sapne" and "Tere Bin" by Nusrat Fateh Ali Khan. Where have originality and creativity gone?
What do you think about "That's Yo Money" — does it sound too much like "Tum Hi Ho"? Do you think T-Pain purposely copied the Bollywood hit? Share your thoughts below!