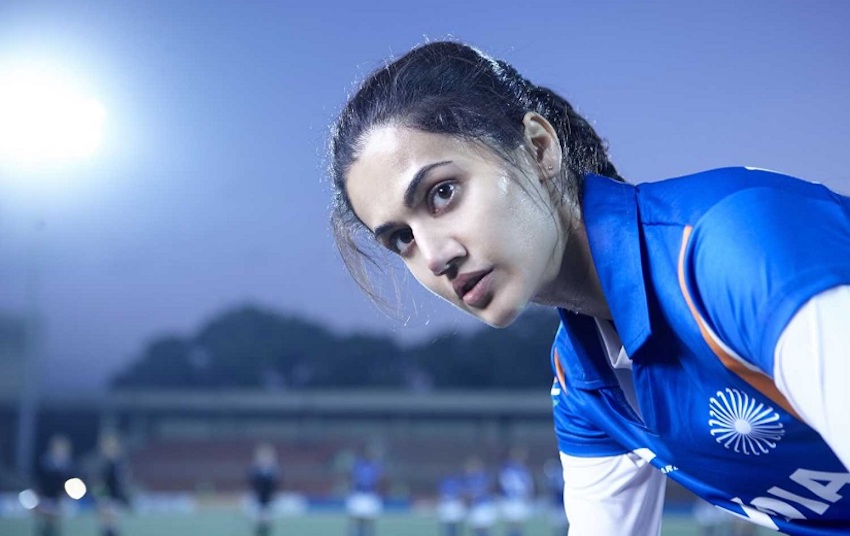 For those who of you have yet to see the new sports film "Soorma," there are certainly a few things the movie could have improved upon; however, lead actress, Taapsee Pannu, was clearly at the top of her game.
We wanted to know how Taapsee made things look so easy, so we sat down with her to talk shop, our mutual love for sports, what "Soorma" could mean for the next-gen of Indian hockey players, and how the film parallels her life.
Based on the trailer alone, you guys have got moves! Have any of you ever played before or was this all new for you?
I think it was new for all of us. Only Angad had played cricket before this but not hockey, I'm sure. So it was new for all of us and that's probably what got us all excited. That we get to play a new sport, at least for me. I'm a sports enthusiast so I enjoy learning and playing different kinds of sports. I got a chance to learn a sport and that too from the best. Sandeep Singh taught us himself — he was a coach for all of us so it made it even more exciting. For me, this is one big reason that I took up the film: that I got to learn hockey.
What was the most difficult part of the preparation for you: The physical fitness, the hockey skills, or getting the nuance of the character just right while doing all of that?
I think all of this. It's not complete unless all of this is touched upon. Even Sandeep was pretty particular that the stance, the move, everything had to be good because it's about his story and he didn't want the wrong communication to go out. He made sure everything was done properly. He was on the set when the hockey scenes shot to make sure that this all goes out perfectly, so a lot of credit goes to him.
How difficult is it to "drag flick"?
It's extremely difficult! So difficult that I still cannot really do it…sometimes just by luck it happens but I can't really be sure that every time I try it, it'll happen. It is quite a big challenge, but Diljit and Angad have picked it up really well so kudos to them.
Who is the best hockey player out of you three now?
I don't know, but it would be tough between Angad and Diljit…both of them have prepared hard for the film.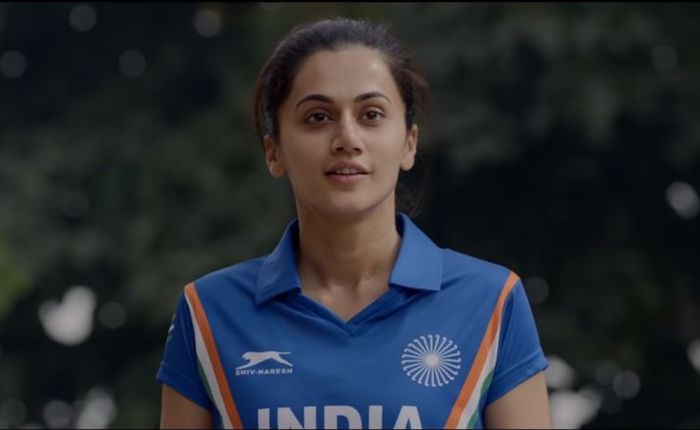 I'm a huge sports fan, team sports in general, both as a player myself and a fan. While there is something to be said for attaining personal bests, there is nothing like the feeling of winning as a team. I asked Taapsee:
The relationships you make on the field extend off of it as well. Are you friends now?
Of course! Angad and I have been friends since "Pink" and we continue our friendship now and hopefully, we'll reunite in the future again for a good script. We just hope we don't jinx our combination and it keeps going well. Same goes for Diljit. We really had a good time on set. All of our chemistry definitely shows in the film!
Taapsee, I first saw you kicking butt in "Baby" and then again in "Pink," and now you're playing a badass hockey player. Have you purposely cultivated these roles, and how have they inspired you in your real life?
Well I'm not really playing a "badass hockey player". Yes I'm a hockey player, but this one is not badass. Badass roles are coming up after this one! This one is actually a tigress on the field but off the field, she's coy, shy, and very mellowed down — a typical small-town girl of Shahbad. So you will not see a feisty girl off the field and that was the beauty and challenge of the character for me, since people often perceive hockey players, or generally any sportswomen to be feisty all around. That's just an assumption. Shaad sir wanted me to play it in a different way, so I played it unlike people's expectations of me given my previous roles. So this will be quite a surprise for people expecting me to be fiery off the field in the film.

I don't really plan it but I these are the kinds of roles that I get approached with, and I just take what excites me as a script. I choose the roles that I feel leave an impact amongst the audience when they walk out of the theatre.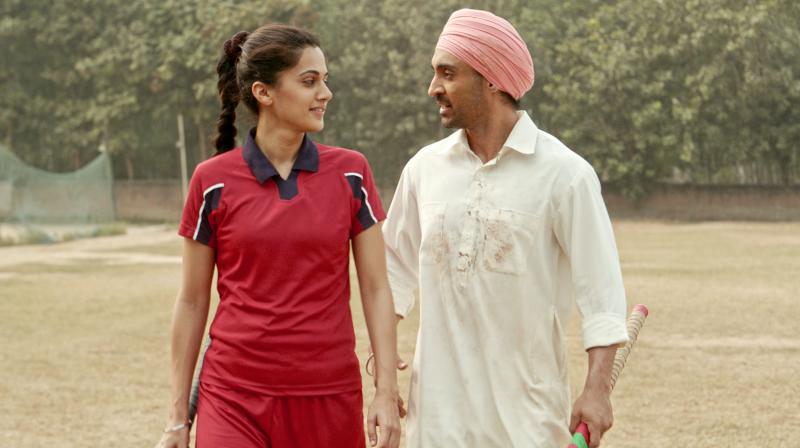 My dad and Thia Ji were serious hockey players in their college days in Punjab, and have segued their love from the field to the ice because India hasn't been doing too well these days, so I had to ask Taapsee:
India was a field hockey giant for so long; why do you think it fell off, and do you think it can ever return?
Even my dad used to be a hockey player — he represented DU, and of course, when he watches hockey matches with so much interest, I obviously feel that he wants India to win. I can totally understand that; I want India to win every sport even though I haven't played any of them professionally. I'm a patriot so I really would want my country to win, just like your dad and uncle.

I don't know why [field hockey] is not doing well, there are many reasons, but only the professionals can say why and how. But what I can say from our side, from the audience's side, and from an Indian citizen's side is that we have been ignoring this sport for way too long. When it was having its glorious days, we were all gung-ho about it but soon we drifted away. I think we need to show them our support and love probably so that they will feel that they are loved, people want them to win, and that they are our heroes too! This is what we can do from our side. From my side as an actor, I can do my bit by doing a film that glorifies them.
Do you think this film can inspire a new generation of Indian hockey players?
Well I hope so! This is probably our small way of bringing [hockey] to the forefront. I hope this shows our youngsters that it is a very demanding, competitive, and tough sport and it deserves the love and attention that it had before. I hope that it goes upwards for the sport after that.
"Soorma" means warrior in Punjabi and it is obvious how Sandeep Singh is a warrior. He fought through such incredible hardship. In what ways have you all been soormay in your own lives?
Well, I have fought a lot of odds in my own life like whether I should [even] take up this profession because that's not what my plan was for myself. Being open to experimenting, this was just for fun in the beginning, but, later on when I started loving it, I had to learn the craft. So many times I faltered in the beginning when I was working in the South Indian film industry, so many times I had to unlearn and relearn and understand what exactly was going wrong. I've really fallen down and been written off and tried to get up by myself.

I didn't have a 'godfather' to guide me, to tell me which way to go, who to work with, who not to work with, or how to approach things. Nothing. I had to be my own support system to pick myself up and go for it. I think that gives you the biggest strength and the biggest high – that you've done it all by yourself.

I don't think you could get that high with any amount of success. Today, even if I'm not the number one actress in whichever list or race, I'm extremely proud of the fact that whatever I've achieved, I've achieved on my own. So I think that's one way of looking at the 'Soorma' inside me.
"Soorma" is currently playing in theaters. Taapsee will next appear in Anurag Kashyap's "Manmarziyan," opposite Abhishek Bachchan and Vicky Kaushal.