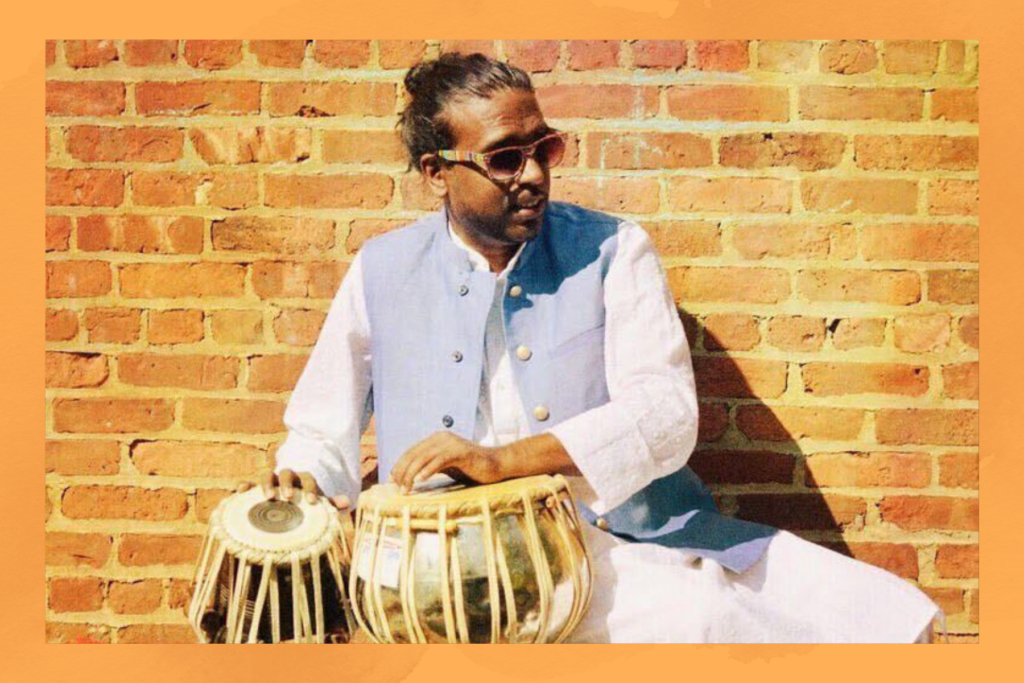 This spring, I watched Hartford Stage's production of "Dishwasher Dreams," an autobiographical monologue about South Asian immigrant experiences in America. Accompanying the comedic performance was Avirodh Sharma playing the tabla, a pair of twin hand drums originating from the Indian subcontinent. The instrument's unique percussive melody was instantly recognizable with its beats inciting feelings of childhood nostalgia. Tabla drumming is fundamental in classical and modern South Asian music, and its usage has transcended continents with the arrival of Indians to the Caribbean. After his tour, Sharma spoke to Brown Girl Magazine about his career as an Indo Caribbean musician, the history of South Asian instruments in Indo Caribbean music, and celebrating the similarities/differences of both musical styles.
Indo Caribbeans are often exposed early to a variety of music, solidifying it as a critical component of their multifaceted identity. Multiple genres of music were invented in the Caribbean such as soca, reggae and calypso that drew from Asian, African, European and indigenous heritage in the diverse region. Chutney music was specifically developed by mixing traditional Indian folk songs with local Caribbean soca and calypso rhythms. As the diaspora also clung to Indian culture through Bollywood, chutney musicians began to re-sing popular songs in English, fusing Caribbean beats and vocals into the original production. 
Lastly, Indo Caribbeans were heavily influenced by devotional musical practices seen in their temples, weddings and funeral processions. With parental roots in Trinidad and Tobago and Guyana, Sharma's musical journey began with a similar upbringing and was shaped from a young age.
Tell us about your background growing up and when you were first exposed to tabla?
"My early years were very impressionable as I would wake up at 3-4 years of age listening to my dad practice Indian classical music in Adarsh Nagar — New Delhi, India. Our home was like the West Indian Embassy. In the mid-1980s, students from the Caribbean would come on scholarships to study in various disciplines. My parents were one of the first set of students from the Caribbean to study in India, studying Indian music, language and Indian philosophy. Mangal Patesar, a sitarist from Trinidad, and scholars from Guyana would visit us, becoming a support system or an auxiliary for visiting students. My dad would take me to concerts of maestros performing Indian music in New Delhi. I would hear tabla but it was later on when I arrived in the United States that my love for tabla would take over my life."
Sharma expanded upon the duality of growing up with Indo Caribbean roots in the country of his ethnic ancestry.
"Imagine being a West Indian kid transplanted to India for 5 years. I grew up with Hindi as my first language and adjusted to the Indian way of life. Then, I heard chutney music at the age of 6 playing in the streets of Trinidad and Guyana after returning. I briefly went to school at Montrose Vedic School in Trinidad and Tobago. After school I would wait for my dad while he would teach Western classical music to high school students. This exposure and diversity of music and culture was already embedded in me at an early age and was waiting to metamorphosize in my later years."
Sharma's family uses their knowledge and experience to teach music. They founded The East Indian Music Academy in Queens, NY as a way to connect Indo Caribbean immigrants and their children to traditional art and music. While teaching at the Academy, Sharma learned tabla and sensed a shift in his own musical calling.
 How did you start your professional career?
"While studying with my dad and performing across the West Indian community in NY in the 1990s, I realized that tabla wasn't just a hobby but rather a calling. As I got older and started attending concerts with my father's students, I would see Zakir Hussain, Sultan Khan, Masters of Percussion and many leading artists touring. When attending these concerts, I felt an inner shift taking in the musical ambience and reactions from the crowd. If these musicians can make people feel something deeper with their music then so can I, I would say to myself. So in my late teens I started building the foundation and started working on my craft more intensely. Opportunities continuously came and I recognized that I'm in a unique position to flourish in the field of music.
What was the response to your music when you previously toured Europe and India? Were people surprised about your Indo Caribbean heritage?
"Performing in India and showcasing the art of tabla learnt and developed outside of India was truly remarkable. People in India were amazed and surprised to see that Indian culture and arts are so strong elsewhere. Knowing that our ancestors left India approximately over 170 years ago, here I am representing our people from the West Indies, playing in front of thousands of people embracing me with open arms.
Fans and music enthusiasts in Europe truly appreciate my performances. I use my platform (@avirodhsharma) to educate them about Indian music from the Caribbean and expose them to the rich history of tabla. I've performed in places like Switzerland and Italy where people are intrigued about the instrument and my journey."
While Indo Caribbeans enjoy music representative of their fusion background, they also use their appreciation of instruments, rhythms and vocals directly from South Asia as a special connection to the homeland of their ancestors.
Personally, Sharma states that his Indian performances are, "like returning home after hundreds of years being displaced."  
Through his dual identity, Sharma showcases how music has crossed continents and shaped Indo-Caribbean culture. He feels pride as an Indo Caribbean illustrating his mastery of traditional Indian drumming. 
In the opening act of "Dishwater Dreams," the transition from traditional thrumming to West Indian tassa rhythms is seamless For Sharma, "creating the right balance between improvisation and what's needed at the moment is the ultimate test of a good tabla player."
What would you like people to know about the influence of Indian instruments in West Indian music?
"Instruments like Dhan (dand) taal, Dholak, tabla, tassa, harmonium among others. have a unique style influenced by Creole, Spanish and Indian music in the Caribbean. Music like soca and chutney have these elements that are widely known. However, other influences like the tradition of Taan in Guyana, local classical music in Trinidad, or Baithak Gana music in Suriname truly highlights the origin of our people and defines the Indo Caribbean identity. The richness in composition and rhythm gives us a snapshot of our past and has great potential to musically evolve where I plan to spend time exploring with artists of these genres. You can still hear Bhojpuri songs in Uttar Pradesh that have similarities to what our grandparents and older generations sang during weddings or change of the seasons. We have a rich culture that should be embraced and we should encourage our people to dive deeper into our roots."
With regard to his Indo Caribbean heritage, Sharma finds it imperative that the "global community begins to recognize and appreciate our story." Through his composition and rhythm, he exemplifies the interwoven history of South Asian and Indo-Caribbean music. He hopes that his journey inspires other Indo Caribbean musicians to draw influences from their unique backgrounds and further create new musical and artistic paths. For more information regarding Sharma's tours, music and projects, please visit his website and Instagram.
Check out more of Sharma's work on his website or follow him on Instagram!