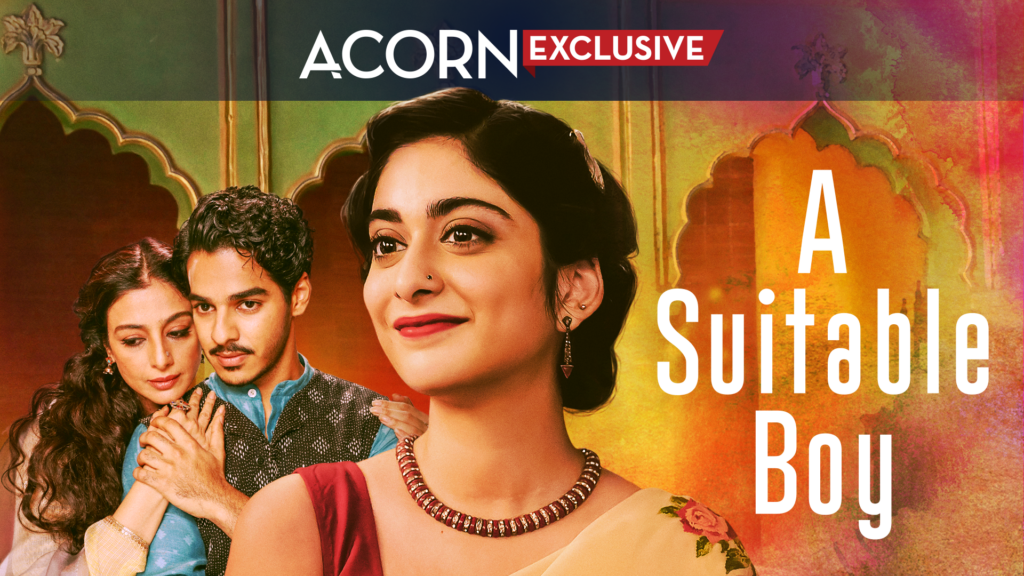 The classic novel by Vikram Seth, "A Suitable Boy" has been brought to life by Mira Nair and is now streaming on Acorn TV in the US and Canada, and on Netflix internationally. The 1300+ page book comes to us in six parts, with each episode an hour long. Originally released through BBC in July, the series stars Bollywood actors like Tabu, Ishaan Khatter, and newcomer, Tanya Maniktala.
Set after India's fight for independence, "A Suitable Boy" follows Lata (Maniktala), a young university student whose mother is looking for "a suitable boy" for her to marry, while she grapples with choosing between three love interests. A second story follows Maan Kapoor (Khatter) and his love affair with a courtesan named Saeeda Bai (Tabu).
https://www.youtube.com/watch?v=XWKRGTB5Irg
One of the most notable aspects of "A Suitable Boy" is the reuniting of Tabu and Mira Nair after more than a decade since working together on "The Namesake."  We were able to briefly chat with Tabu about the series and what makes working with Nair so special.
What made you want to do this series?
"Because it was the book that comes with so much popularity and love. And of course, it was Mira. And the character. And BBC. I had a fantastic combination of all. It was just the best thing."
Your character, Saeeda, is so empowering, what can you tell us about her?
"She's a courtesan, in the times India just had independence. She comes from a lineage of courtesans. She sings beautifully, she writes poetry, she reads poetry, she's such a fan of Ghalib. But she has a person inside her that wants to be loved and cared for. She wants to love. She falls in love with someone she shouldn't be falling in love with and she has her own intense journey in her own life, which we see. We also see her surrounded by music and beauty. Beautiful clothes. So much glamour and dazzle around her."
You're reunited with Mira Nair after "The Namesake" (13+ years ago), so I can only assume you like working with her. What is your favorite thing about working with her?
"She loves food. [laughs] Jokes apart, it's a whole experience to be working with her. When you're working with Mira, you're only working with Mira. She takes you in completely. She has an intense process of working. But the best thing about her, apart from the fact she's aware and socially conscious and knowledgeable about cinema is she has the ability to enjoy the process and have fun while working. She sees the fun in things. She's not the type of person to be so serious and solemn, you know. She is all there, having fun with what she's doing. She knows how to give people a good time while we're working. There will always be good food, dinners, it's just a celebration. It's always a celebration with Mira. Celebration of life, work, beauty, of talent, craft, creativity. She's a universe in herself."
What do you want audiences to take away from "A Suitable Boy?"
"I would like that the audience connects to the personal journeys of the characters. To me, that's more important for an actor, it's always the individual character that you're bringing to the screen. So if the audience can touch it and if the actor's performance or the director's work has touched a personal chord in people, I think that's what I would want."
Switching gears: What have you been doing during quarantine?
"Waiting for the quarantine to be over. [laughs] I've been doing what most people are doing… generally sanitizing, most importantly, reading a bit, writing a bit, trying to have a routine, keep up with yoga, walking in my building, speaking with friends, listening to scripts, a lot — on Zoom. Nothing exciting!"
Watch "A Suitable Boy" on Acorn TV now in North America (and Netflix internationally) for yet another stunning performance from Tabu and the rest of this talented cast.