It's been said that selecting a wedding dress is more than just a fitting, it's a process, a memory in the making. For desi brides, it's a process and memory times four (or six). When my best friend, Pooja, asked me to go bridal shopping with her in Edison, New Jersey, I jumped for joy and obliged. However, as the date grew closer, both of us were overwhelmed by the pressure of shopping for four wedding outfits. After all, these outfits signified the mark of a lifelong journey. Two days and pictures that would last forever.
"Trendy, affordable and quick," were her three magic words for her bridal outfits and shopping experience. We decided to do some research and reconvene at the end of the week before my flight home. In a moment of serendipity, I connected with Shashank, co-founder of Nazranaa, a bridal boutique in Edison, which caters to millennial brides and designs bridal fashion.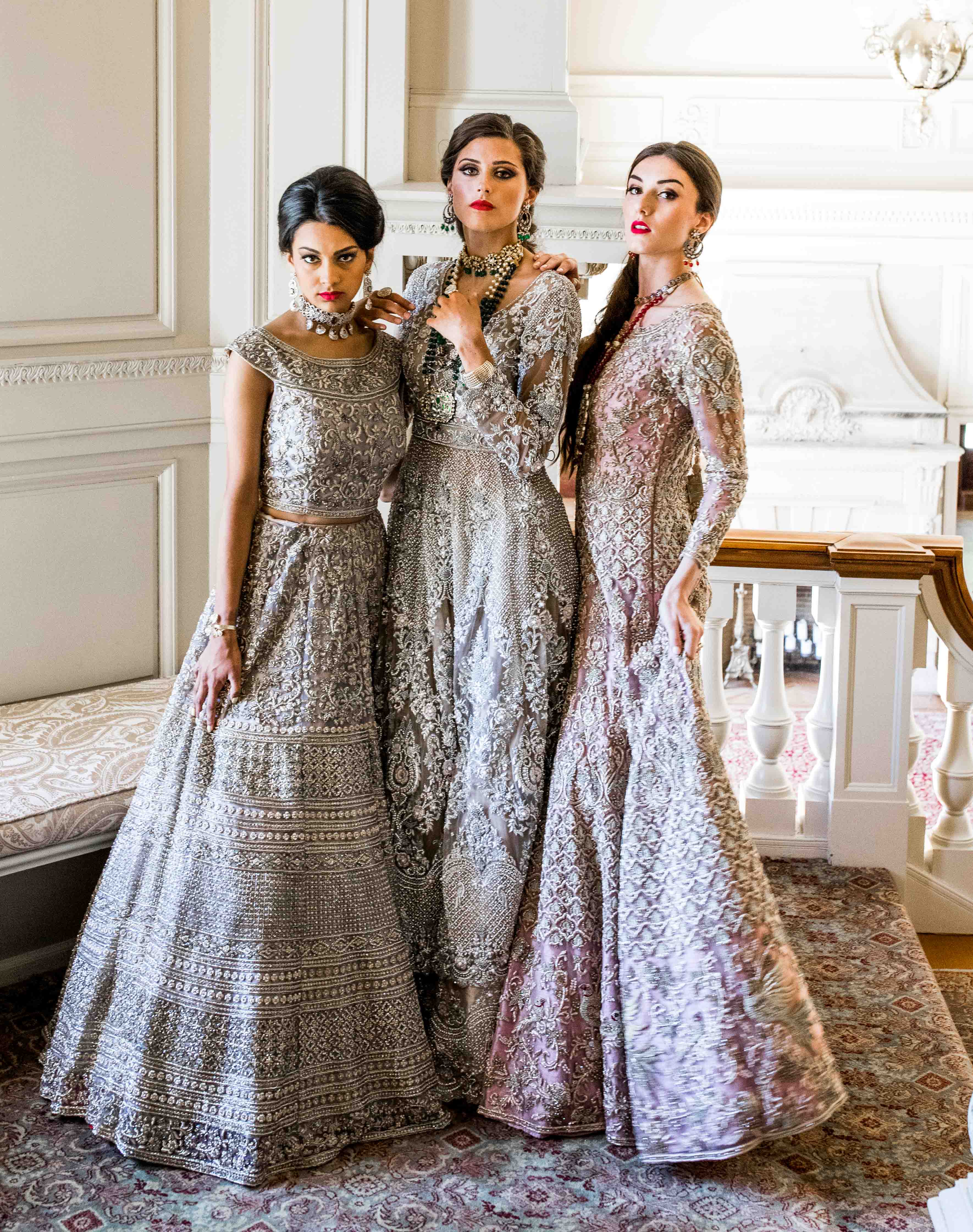 Their beautifully curated Instagram account got us in the door, but it was Nazranaas's excellent customer service that sealed the deal. Four hours, four outfits and a very happy bride later, I had Nazranaa's conception story down pat.
BGM: You and your sister Shivangi opened Nazranaa together a few years ago. How did the idea come to fruition?
Shashank: Our family has been in the clothing business for a while but never bridal. Nazranaa started in 2012 because we saw a gap in the U.S. market for quality bridal pieces where you can actually bring designs to life. Our goal was and is to create a space where we are not only product-centered but service-centered as well. We offer the services of a small boutique, while carrying a full inventory. Ten percent of our inventory is unique designs by Shivangi.
We also aim to make the buying process as seamless as possible. We would hear horror stories from our friends who bought clothes from traditional bridal stores in NJ. They would order online and get their items two months late, etc. If we say we will get you your order in 30 days, our goal is always to get it to you in 29.
View this post on Instagram
BGM: There are so many bridal shops in Edison. What sets Nazranaa apart?
Shashank: Our target demographic is women ages 19-34. We understand how to efficiently do business with young desi professionals in the U.S. Most of our customers are young professionals who can't take off work for too long. So we tailor our customer service to accommodate their schedules. In other U.S. stores the fashion is six months behind, but not at ours. We stay on top of trends by following our contemporaries like Sabyasachi and Manish Malhotra.  
In addition, our collection caters to fusion weddings. We saw how normalized fusion weddings were getting in the Indian community. Originally we just had a women's collection, but now we also have a full range of men's outfits. As long as you have time, we can customize a piece for you.
BGM: What are popular trends for fusion weddings?
Shashank: Lehengas and saris with trains for Muslim and Christian brides. The most common fusion sari pattern for Indo-Western weddings is a heavy white and silver sari with an extended pallu.
BGM: That's lovely. Nazranaa adds a unique spin to desi bridal wear. Speaking of a unique spin, you have a new reality show on the channel, Aapka Colors, Nazranaa Diaries. How did you venture into the world of bridal reality television?
Shashank: The idea for a reality show was developed three and a half years ago. There is no one else in our space doing a television show like this. There is so much drama that ensues with Indian bridal shopping! I hired a freelancer to shoot an episode and pitched it to television networks. When no one responded, we posted the pilot on YouTube. The feedback we received allowed us to make our next episode better.
View this post on Instagram
We pitched the episode to vloggers such as Canadian makeup artist, Mona Sangha. Mona gave us a shoutout on her channel and within three days we got 60,000 views. The video solidified our position and once again, we pitched the show to networks. Serendipity kicked in when we reached out to Aapka Colors for advertising for our new store. I asked the rep if the network would be interested in our show and he immediately got his boss on the phone. A meeting took place the next day and the rest is history.
If it's anything I've learned from my interview with Shashank it's that putting in the work and continuous pitching can never go wrong. It works in business and it works in life. Thank you to the whole Nazranaa team for giving us bridal shopping options besides India. As Shashank pointed out, we have no time, but Nazranaa does.
Nazranaa Diaries airs on Aapka Colors at 8:30 PM EST (USA/Caribbean), 7:30 PM EST (Canada) and 10:00 PM PST (USA, Caribbean & Canada) every Sunday.