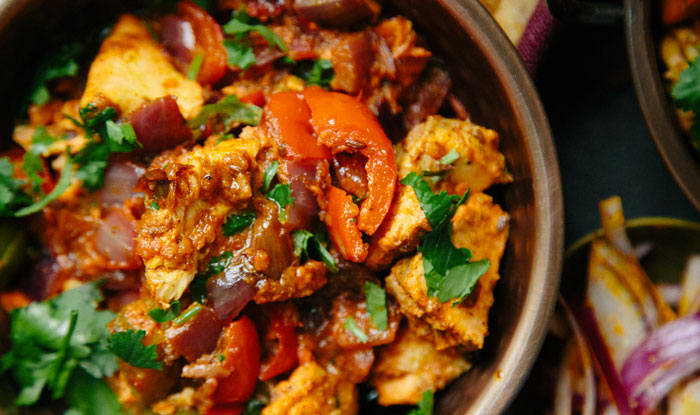 by Palak Patel
This post was originally posted on The Chutney Life and republished with permission.
Hello you wonderful people! Today I'm sharing with you guys a recipe I make all the time: tandoori salmon. I initially came up with this recipe because my father-in-law loves salmon and he wanted to incorporate some healthier meals into his weekly routine of Gujarati food. I probably make it just a WEE bit different every time, but it ALWAYS turns out just as good!
Real tandoori dishes are made in an actual tandoor (clay oven), which cooks meats to the perfect tenderness while lending a slightly smoky flavor. I don't make this salmon in the tandoor (since I don't have one, obviously) but it still delivers all that great flavor!
Side Note: Someone get me a tandoor PLEASE. K. Thanks.
Ok, now back to the good stuff!
This tandoori salmon can be served as lunch, dinner or even as an appetizer when you are hosting some guests. You can also bake this in the oven to make it even healthier! Happy Eating!
Tandoori Salmon
INGREDIENTS
3 Salmon Filets (about 6 oz. each
1 1/2 teaspoons cumin seeds
1 Bay Leaf
1 Star Anise
4 Peppercorns
2 tablespoons oil
1 tablespoon minced garlic
1 tablespoons minced ginger
1/2 red onion, medium diced
1/2 red bell pepper, medium diced
1/2 green bell pepper, medium diced
1 teaspoon Swad Tandoori Masala
1/3 cup cilantro, chopped
1/2 lime, squeezed
Salmon Marinade
1/3 cup plain yogurt, full fat
1 teaspoon coriander powder
1 teaspoon Swad Tandoori Masala
1 tablespoon ground cumin
1 teaspoon garlic powder
1/2 teaspoon turmeric powder
2 teaspoons fennel powder
1/2 teaspoon garam masala powder
Salt to taste

INSTRUCTIONS
Check salmon for any bones. Rinse with lemon juice and pat dry. Season both sides with salt and pepper.
In a shallow dish or bowl combine all of the marinade ingredients and mix well. Add salmon and gently rub marinade into salmon filets.
In a medium-size pot, heat 3 tablespoons of oil over medium-high heat.
When oil is hot, add cumin seeds, bay leaf, star anise, and peppercorns.
Once the spices sizzle, add onions and peppers. Cook for 5-7 minutes until softened.
Add garlic, ginger and tandoori masala. Continue to stir over medium heat.
Add salmon filets to the pot, laying them on top of the onions and peppers. Add all of the yogurt marinade to the pot as well.
Cover pot with a lid and let cook on medium/low heat for 20 minutes.
Uncover, check for doneness and add chopped cilantro and squeeze of fresh lime. Check taste for salt or additional spice.
Serve hot with rice, naan or enjoy by itself!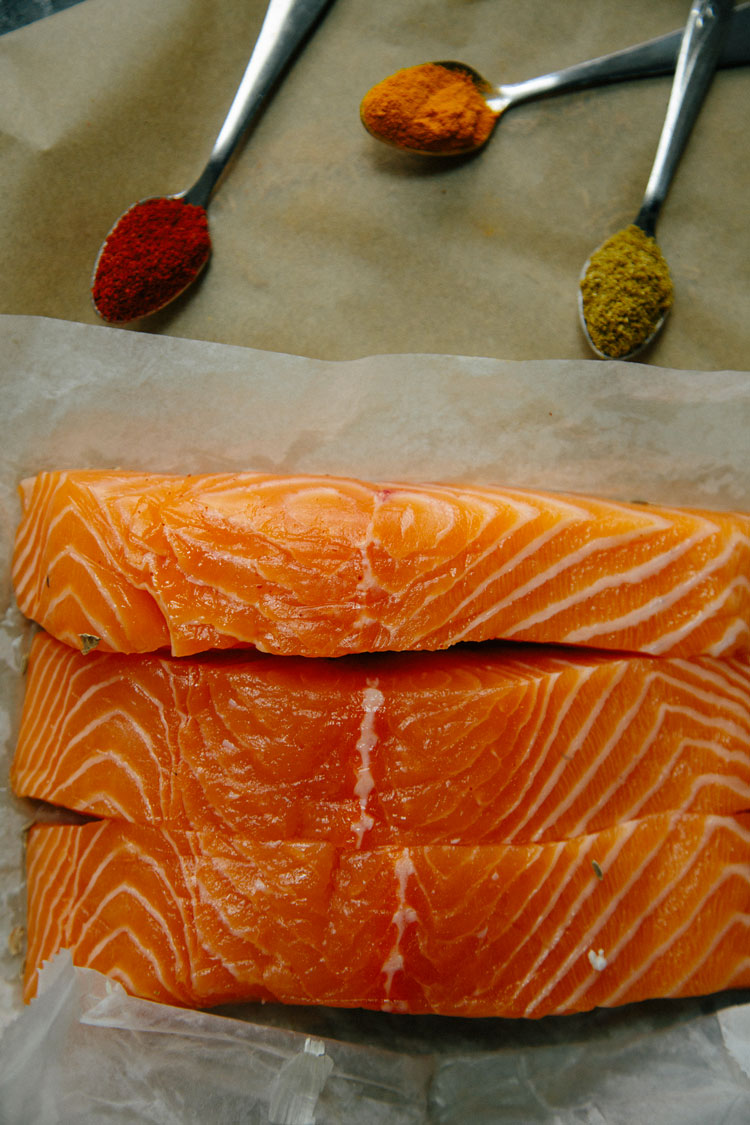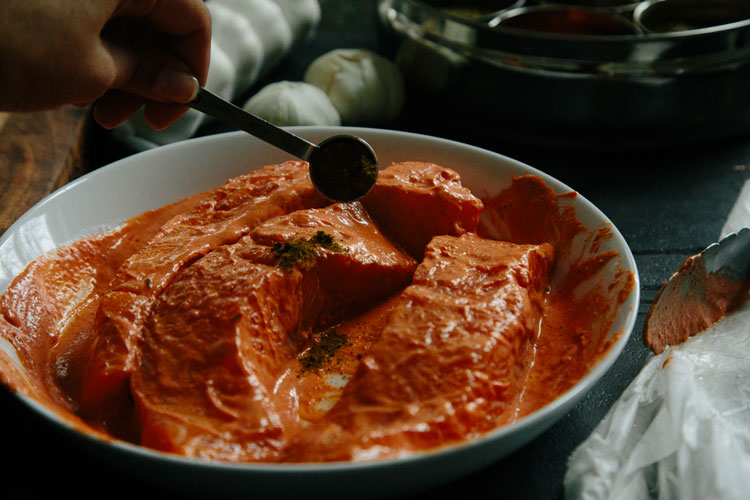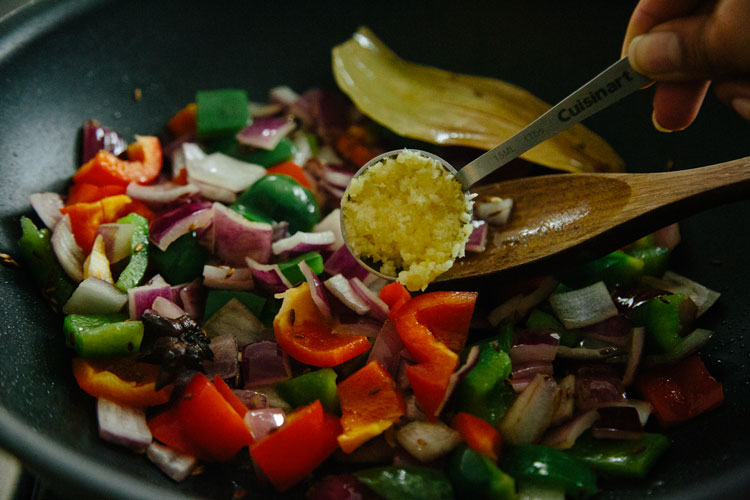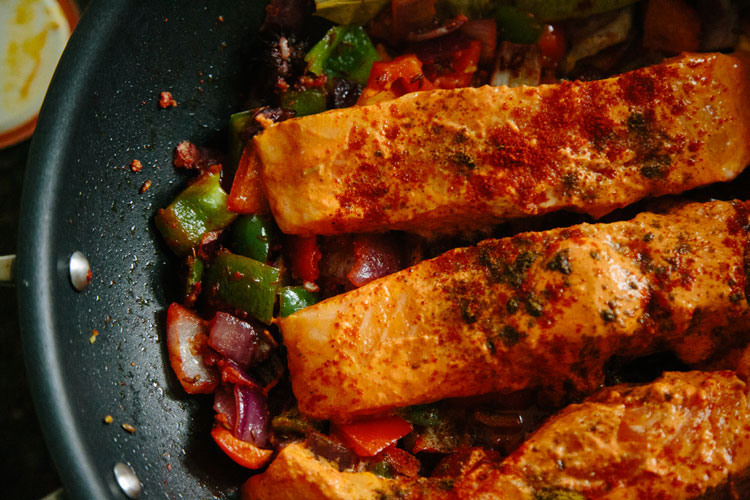 [su_divider]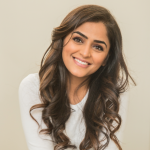 Palak Patel is a passionate home cook and food blogger who has an affinity towards creating dishes that provide a fresh and modern take on the familiar flavors of Indian cooking. Her belief that food can empower us, heal us, and most importantly connect us, is the driving force behind her blog. She especially loves sharing recipes that incorporate global flavors with locally sourced and seasonal ingredients.