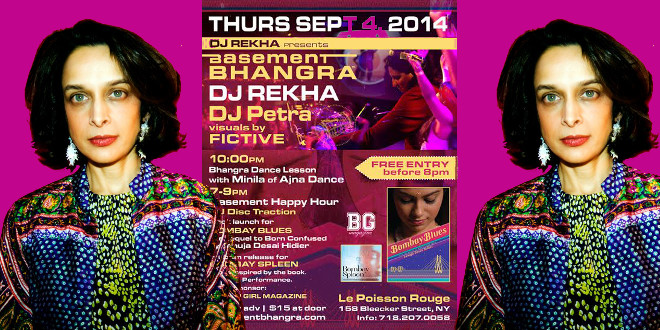 The 'BOMBAY BLUES' (book) & 'BOMBAY SPLEEN' (album) Release Party:
Thurs., September 4
Basement Happy Hour 7-9pm
Book launch for "Born Confused" sequel,  "Bombay Blues"
"Bombay Blues," a novel by Tanuja Desai Hidier,
+album release for Bombay Spleen songs inspired by the book
Reading, Performance
DJ Disk Traction
Free entry b/f 8pm Media sponsor Brown Girl Magazine
Basement Bhangra in the main space to follow
at 10pm w/ Bhangra Dance Lesson by Minila of Ajna Dance
DJ REKHA + DJ Petra on the decks all night
Visuals FICTIVE
 $10 adv | $15 at door
Le Poisson Rouge – 158 Bleecker Street, NY | Info: 718.207.0058 | www.basementbhangra.com

Advance Praise for "Bombay Blues":
"[Desai] Hidier quietly revolutionized YA literature with Born Confused, and this sequel indicates she's intent on a repeat. Dense, lyrical, full of neologic portmanteaus and wordplay: This is a prose-poem meditation on love, family and homecoming… A journey worth making" —Kirkus Reviews, starred review
Author and songwriter Tanuja Desai Hidier broke new ground in 2002 with her literary debut "Born Confused," the first-ever South Asian American young adult novel, and in 2004 with "When We Were Twins," her album of original songs based on "Born Confused" (featured in Wired Magazine for being the first-ever "booktrack").
Set in the context of NYC's bhangra/underground club scene the summer heroine aspiring photographer Dimple Lala turns seventeen, "Born Confused" — hailed by Entertainment Weekly and Rolling Stone as one of the best young adult novels of all time — gave voice to a new multicultural generation.
Its long-anticipated sequel,"Bombay Blues," explores everything this generation faces today, with a heady mix of uncertainty and determination, despair and inspiration, haunting loss and revelatory love.
Tanuja's musical accompaniment to the novel, Bombay Spleen: Songs based on Tanuja Desai Hidier's novel "Bombay Blues," draws from the themes of "Bombay Blues"—love, home, cultural history, and the mapping/unmapping of identity— with the musical narrator's personal journey paralleling that of Dimple's, as well as that of Bombay's development itself, from its beginnings as seven islands later reclaimed to become the city we know today.
Produced by Dave Sharma, featuring Atom Fellows and Marie Tueje and special musical guests including world-renowned trumpet-player Jon Faddis and bassist Gaurav Vaz (of The Raghu Dixit Project), "Bombay Spleen's" dozen tracks were recorded in NYC, London, and Ghent.
During the "Bombay Blues" (book) & "Bombay Spleen" (album) Release Party, hosted by DJ Rekha and Scholastic, Tanuja will do a 'rock-n-reading'—a reading from her novel "Bombay Blues" and short acoustic set from her accompanying album, "Bombay Spleen" (with Atom Fellows)—followed by a book/album signing. Then comes DJ Rekha's legendary dance party, Basement Bhangra, on Thur., Sept. 4, 2014 at Le Poisson Rouge on Bleecker Street, NYC. Doors open 7 pm.  Free entry until 8 pm.
The information above is provided by DJ Rekha.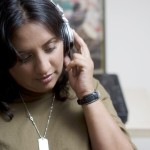 DJ Rekha is a British born, New York City based DJ, curator, record label owner, educator and activist. Called the "Ambassador of Bhangra" by the New York Times and named one of the most influential South Asians by Newsweek, Rekha is among the first DJs to merge classic Bhangra and Bollywood sounds into the language of contemporary electronic dance music. Since establishing herself on the club scene with her inaugural event, Basement Bhangra nightclub in 1997, Rekha has produced some of the longest running and most successful parties in New York including Bollywood Disco, and Mutiny. Her weekly podcast, Bhangra and Beyond can be heard on www.breakthruradio.com