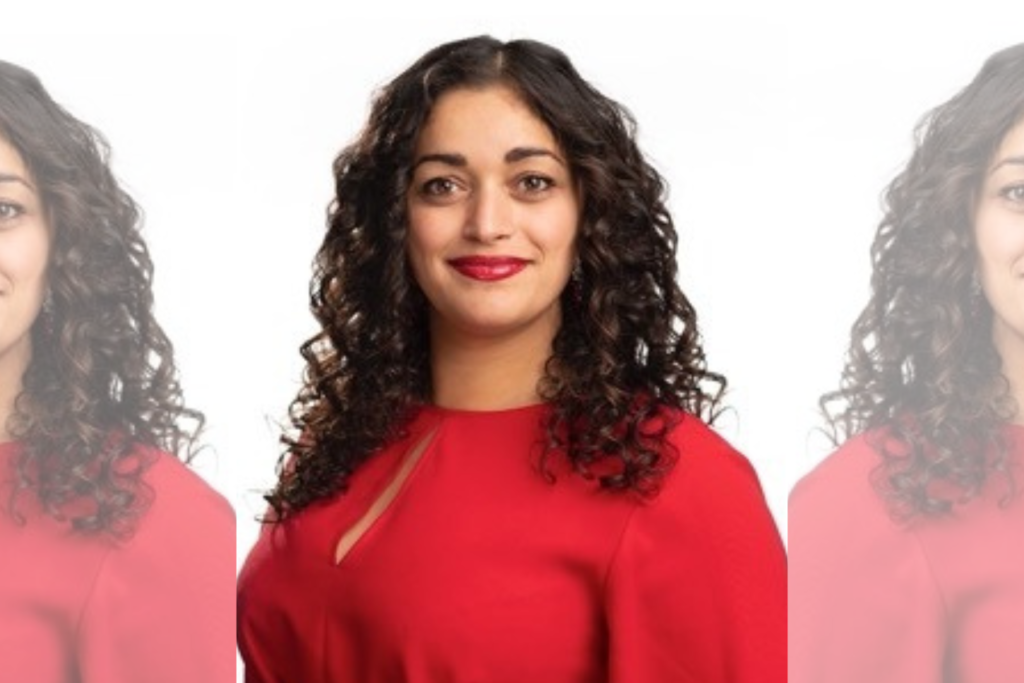 The synergy between society and technology is critical to the human condition. Immersive technologies or technologies that integrate the physical world with virtual simulated content are creating distinct, engaging experiences for users to interact with others and consume information. Asha Easton, a UK-based technology leader, is at the forefront of immersive technologies' endless potential as the next frontier in transforming the way we work, socialize and learn. Easton forges connections to respond to problems through innovation while uplifting people from underrepresented backgrounds into the tech space.
Born to an Indo Guyanese mother and British father in Toronto, Canada, Easton's unique background and early exposure to a plethora of diverse travel experiences piqued her interest in global affairs.
While at University of Western Ontario, she noted, "I studied international relations and policy analysis with the intention of working in the foreign service," but later, "moved to Europe and worked mainly in business and consulting." 
Ready for a career change in her late 20s, she purchased a one-way ticket to San Francisco and re-trained/networked in the tech space before returning to Europe. 
Easton's work focuses on collaborating and expanding upon the access and usage of immersive technologies. Principal examples include: Virtual Reality (VR), which requires a headset or device that enables users to immerse themselves in a computer-generated environment; Augmented Reality (AR), which enhances the real world in real time by overlaying digital or sensory elements; Mixed Reality (MR) and haptics, which utilize technology to transmit tactile information. Together, this continuum of technologies falls under the umbrella term Extended Reality (XR). 
What is your current position?
I am the head of Immerse UK, the government's innovation network for immersive and metaverse technologies at Innovate UK KTN. I work to grow U.K.'s immersive tech (VR/AR/Metaverse) ecosystem by making connections across private companies, academics and the government to help make the industry ecosystem across the country less fragmented. Our work includes, but is not limited to, building partnerships between companies and academics, and helping them access research and development grant funding from the U.K. government, facilitating connections with private investors to help U.K. companies to scale, and acting as a delivery partner on various U.K. government programs aimed at growing the XR ecosystem.

Last night at the US debut of @miro_shot's live #VR concert SIMULACRA at #SXSW ?#XR #immersive #music #innovation pic.twitter.com/Y738FQrFTX

— Asha Easton (@AshaMarie18) March 15, 2022
Easton also helps organize XR-focused economic trade missions to various countries and convene meetings with key industry stakeholders to determine the direction of travel for the industry.
Promoted to lead the organization in April 2020, Easton navigated COVID and post-COVID recovery at a time when businesses struggled with losing vital resources. With her aid, Immerse UK transitioned from a fully-funded government innovation network to an industry-led membership organization with partial government funding. Within the organization, working groups such as Funding & Finance, Creative Industries, Academic, Virtual Production, International and COVID-recovery were created. Specifically, Easton's knowledge of international relations helped her work with the Innovate UK KTN International team to contribute to economic missions in several countries. In addition, she has helped write industry reports and spoken on XR-related topics at tech events, conferences and festivals.
Summarize some of the organization's successes.
We are about to scale our work considerably. Successes include co-authoring  the "UK Immersive Tech: VC Investment Report" with HTC ViveX that featured 31 highly innovative, fast-growing, immersive tech ventures that have already raised significant amounts of VC and angel investment. Since the report was published a year ago, five out of 10 featured companies have raised a further £105M, eight of the '21 to watch' have raised a further £51.34M, and one of the '21 to watch' has been acquired. We also published the "2022 UK Immersive Economy Report" in September 2022, which was funded by Innovate UK.
Easton has witnessed the rise and impact of immersive technologies in sectors such as medicine, education, entertainment, public policy, economics and manufacturing. She believes that these fields will continue to rapidly develop with technological advancements and that utilizing technology is at the forefront of the future, particularly with younger generations.
Technology aided us heavily during the coronavirus pandemic, but significant disparities still plague the world. How can the tech industry contribute to positively helping these problems?
There are two examples from the XR industry of how tech can actually help connect us. XR technologies enable a sense of presence that doesn't exist when meeting in 2D platforms. Running virtual XR events has a massive carbon saving compared to in person events of the same size. This is something we demonstrated in 2021 during COP26, when we delivered a COP26 event on the virtual reality platform Engage. The use of XR technology to help mental health problems (i.e. PTSD, anxiety and more) has been widely researched for years and is being used today to treat patients. I'm on the board of a startup working to enable therapists to easily work remotely with their clients in their secure platform.
Immerse UK is partnered with Exponential Destiny, an educational non-profit of young entrepreneurs from under-resourced communities who have been upskilled in XR, to facilitate the SDG Metaverse Prize competition with the United Nations. Its purpose is to find and reward student-led teams, who actively use XR technologies to bring awareness to the United Nations' Sustainable Development Goals, which are seen as a blueprint for a healthier, safer and more sustainable future for all. 
Adopted by the United Nations in 2015, these integrated, universal goals focus on tackling the globe's largest challenges such as poverty, education, climate, hunger, gender equality and overall economic and social inequity. XR technologies and their pedagogies create new insight to coordinate policy, manage resources and brainstorm solutions for each development goal. 
How do you see society relying on immersive technologies in the future, and what do you believe are its next steps?
I believe the next generation of the internet will consist of seamlessly interconnected 3D virtual worlds (which will link with our current 2D virtual identities) and will be accessible via headsets, in addition to computers, with the immersive headset-based versions providing richer, deeper experiences. 

In the same way that people today might own a smartphone, a tablet, a laptop, and a PC and use them all for different purposes — I believe VR & AR hardware will become a natural addition to our daily lives, each for their own purpose.
In addition to her work with Immerse UK, Easton holds a number of different board positions at various startups, non-profits, XR innovation labs and VC funds. She is a co-founder of the XR Diversity Initiative, and is passionate about employing XR in diverse audiences to create social impact.
FOV Ventures launched last week! The new go-to European fund for ambitious #Metaverse founders.

I'm proud to join as an advisor, and look forward to helping shape their #diversity initiatives.

Congrats @haynes_dave & @prajahalme ??#XR #VR #AR #VC #funding pic.twitter.com/1rDdnJZOSl

— Asha Easton (@AshaMarie18) March 14, 2022
What is the XR Diversity Initiative and why was it created?
The XR Diversity Initiative was created to help upskill people from underrepresented backgrounds with immersive tech skills to help them get into the XR industry. We run introductory workshops for people who may not have access to the latest VR/AR equipment, which can be cost-prohibitive to many people, and teach them to build rapid prototypes within a day. 

XR technology is the future of computing, and we believe XR experiences should be built by a diverse range of people.
How would you advise Indo Caribbean women to break into the tech field?
You do not need to have technical skills to work in the tech industry. There are tons of non-technical roles (i.e. strategy, partnerships, HR, marketing and more) so if you have these kinds of skills, and already enjoy what you're doing, know that they are transferable skills. If you do want to transition into a technical role, remember that you:
Learn by DOING. What you BUILD matters more than a degree or diploma. Create a portfolio. Build interesting and innovative things. 

Show off what you're building in the community. Network like crazy. Get feedback on your work. Keep building and expanding your network. 

Build prototypes with other people. Quality work speaks for itself and if you become known for it, people will come to you with work, not the other way around. 
The amalgamation of Easton's work has not gone unnoticed. She was recently shortlisted at the TechWomen100 Awards in the United Kingdom. Her future intentions include starting permanent workshops at Immerse UK, focused on diversity and inclusion, accessibility, ethics and sustainability.
Loving that @renatodecastro_ from @RMA_Advisory built The #Metaverse Experience into his #LEAP22 keynote talk from the main stage ??#innovation #XR #VR #AR pic.twitter.com/NM0wKfiO4T

— Asha Easton (@AshaMarie18) February 3, 2022
Do you have any long-term goals specific to South Asian and Caribbean empowerment and development?
I don't have any long-term goals specific to South Asian and Caribbean empowerment and development, as I always work to empower people from various underrepresented backgrounds. However, there is one project that I'm supporting that is specific to the community called Project Dastaan.

Project Dastaan, an Oxford University-based, three-part virtual reality venture that reconnects migrants displaced in the 1947 Partition of India, Pakistan and Bangladesh to their ancestral homes through VR, has been touring the U.K. with screenings of their award-winning VR documentary Child of Empire. The tour began at the Victoria & Albert Museum in London where viewers were invited to watch during a South Asian-themed Friday Late. It then went on to BFI: Southbank in London where their feature film Lost Migrations, had its world premiere, which sold out within minutes of it going live. 

Immerse UK has teamed up with Project Dastaan, with support from Arts Council England, to deliver a white paper about the project's production and the tour's technical challenges to serve as a case study for future immersive practitioners, particularly from diverse and first-time creative backgrounds.
View this post on Instagram
Upcoming tour dates:
9 January – 29 January 2023: Delhi Partition Museum
30 January – 19 February 2023: Amritsar Partition Museum
With its multi-sensory approach, XR technologies are being used to spur creativity and drive positive change in a multitude of everyday and systemic challenges. Its capacity to create new applications and interconnect the world is never-ending.
Easton works at the intersection of multiple innovations within the industry and aims to exemplify inclusion when developing solutions and fostering ideas. As someone who transitioned to tech, she believes that people with a myriad of skills and experiences are essential in advancing the field with their ingenuity in a society where technology holds vast influence. 
To learn more about Easton's work, follow her on Twitter and LinkedIn.