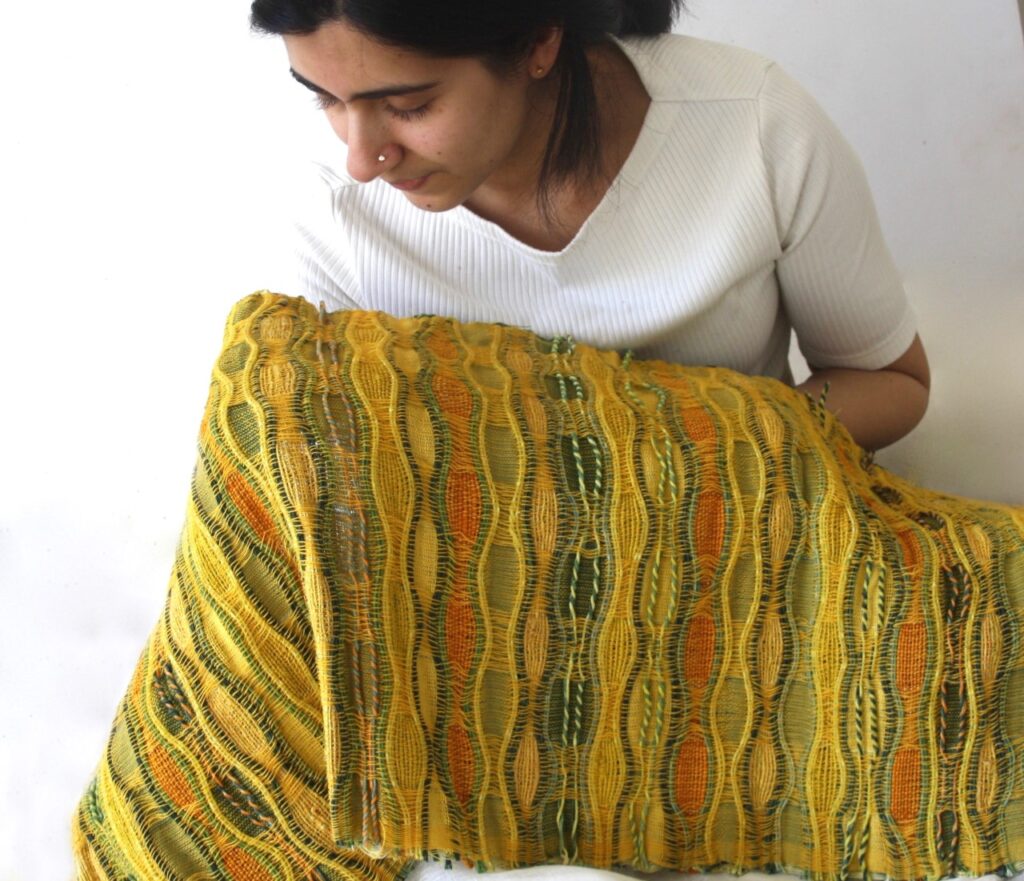 Over the last year, the COVID-19 pandemic has forced all of us to make significant lifestyle changes. The all-pervasive change has been the wearing of masks that restricts our sense of smell, a sense that we usually take for granted. Pallavi Padukone, a New York-based textile designer and artist, is exploring the unique combination of scent and textiles. The idea of using fragrance for its therapeutic qualities and its connection with nostalgia and memory was one that resonated with her. Reinterpreting the fragrance industry, her experimental sensorial collection, Reminiscent uses natural ways to integrate and infuse scents into handmade textiles through weaving the fabric with fragrant yarn and embellishments.
View this post on Instagram
Her initial source of inspiration was the calming effect of a small pouch of lavender while being cooped up in her apartment during the lockdown in 2020. This gave her the idea to further explore the concept of scents for wellness and how they can be expressed visually through color, patterns, and textures. Reminiscent, she believes, is her way of using textile art to condense time and distance and reconnect with nature, nostalgia, home, and identity.
Her current collection is dedicated to fragrances she associates with her hometown of Bangalore in India. The sweet-smelling jasmine from the flower markets close to her home, sandalwood scented talcum powder on her grandmother's dresser, the smell of clove and spices wafting from the kitchen and the petrichor-like scent of the vetiver root (khus), reminiscent of Bangalore's summer showers. As part of her research, she conducted surveys to record the relationship individuals had with fragrance and their link to memory, emotion, visual imagery, color, and texture.
Each chosen fragrance from her collection represents a different color palette and using pigments like cutch, turmeric, beetroot, walnut, etc., is translated through handwoven and embroidered wall hangings and tapestries. The idea of the fragrant yarn itself, she felt, opened more doors to possibilities regarding textile techniques. Collaborating with nature, through trial and error, she was able to develop a natural coating for yarn and beads to capture scents, using beeswax, natural resin, essential oils, and natural dyes. The testing phase for the coated yarn involved sampling weave structures and embroidery techniques that were best suited for the medium. She kept a record of swatches as a test of the materials' durability and how long the scent and color last when exposed to heat and light. 
Pallavi's work is guided by culture and craft, using techniques of hand weaving and embroidery. She integrates hand-spun recycled silk sourced from old saris mixed with scent-coated cotton for her weaves and embroiders on organza silk. She is drawn to the way sheer fabrics interact with light to visually evoke the ephemeral experience of fragrance. With vetiver, she incorporates the fragrant root itself. It releases the most divine petrichor-like scent when activated with water. She has been inspired by the traditional Indian use of 'khus' as a natural air cooler, where it is matted and wet felted onto windows, using embroidery as a technique to tame the vetiver root while retaining its natural wildness.
View this post on Instagram
The scents on these textile pieces in her collection continue to remain anywhere up to three months, depending on their exposure to heat and light. She finds beauty behind impermanence as a reminder of its completely natural state. Part of her ongoing exploration is also innovating with new ways of replenishing the fragrances. At a time when wearing masks is the new normal, and we take our sense of smell for granted, her textiles pay tribute to this powerful sensorial experience and its effect on mental and physical wellness.
Pallavi's work was exhibited as part of New York Textile Month last year and was featured in The Times of India, Colossal and Mental Floss Magazine.
---
The opinions expressed by the writer of this piece, and those providing comments thereon (collectively, the "Writers"), are theirs alone and do not necessarily reflect the opinions of Brown Girl Magazine, Inc., or any of its employees, directors, officers, affiliates, or assigns (collectively, "BGM"). BGM is not responsible for the accuracy of any of the information supplied by the Writers. It is not the intention of Brown Girl Magazine to malign any religion, ethnic group, club, organization, company, or individual. If you have a complaint about this content, please email us at Staff@browngirlmagazine.com. This post is subject to our Terms of Use and Privacy Policy. If you'd like to submit a guest post, please follow the guidelines we've set forth here.