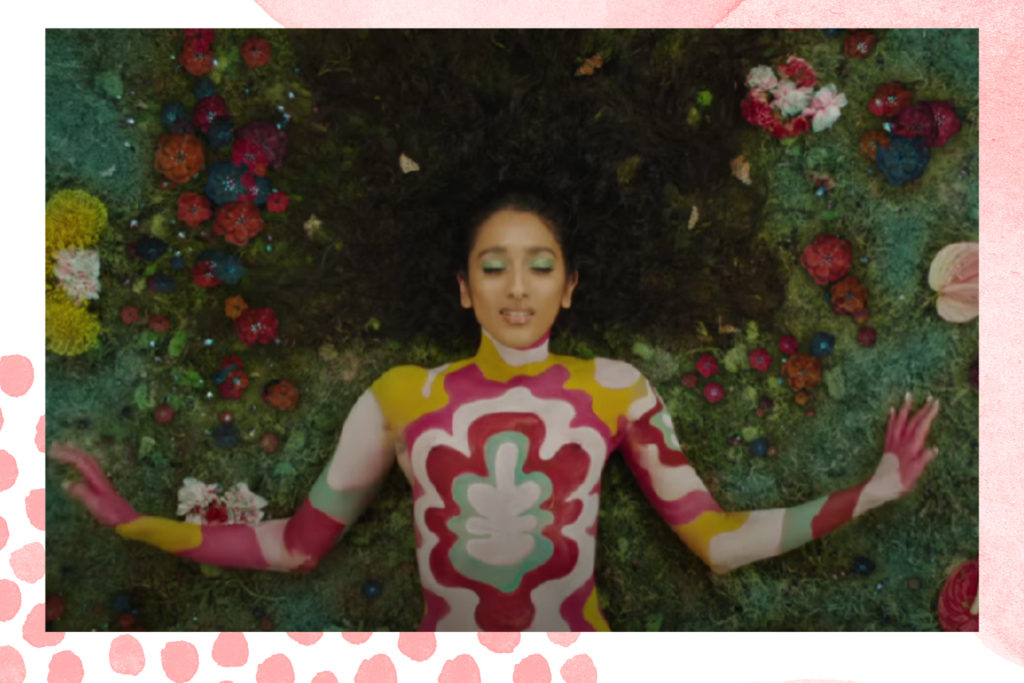 She smiles when she sings, hits the high falsettos, and creates a healing community full of love and vulnerability. I can only be talking about Raveena Aurora whose voice melts us over soft bass licks and psychedelic guitar grooves. She is ultimately uplifting planet earth through her sonic vibes. I took some time this past weekend to go on a listening journey of Raveena's work. I was transported to a world full of bright colors, vibrant energies, and dreamy vibes.
Firstly, my listening journey of Raveena's music started with her performance on the COLORS YouTube channel. The way she grooves to her own beat is truly captivating. The comments section is full of fans alike who are in love with her energy and honest lyrics. They are so proud to see a South Asian woman speaking her truth.
Secondly, my listening journey continued with Raveena's "Sweet Time" which is a part of her debut EP Shanti. Some of my favorite lyrics from this track are, "I'm lost in melody, harmony and new family. They wrap me up in a cocoon." The music video truly captures Raveena's themes throughout this song of love and vulnerability. We see a community of women of color supporting one another regardless of their backgrounds.
Thirdly, Raveena continues to be a role model for individuals around the world on her debut album Lucid. In her song "Stronger" we see Raveena dig deeper into her past personal experiences. "I was so naïve to think a man could be stronger than me." In her song Nectar she says, "Stretch marks on my thighs, Skin shades of earth. Knots in my hair, It's real, Don't fear it." Raveena continues to showcase brown excellence through her lyrics and sonic compositions. She is ultimately uplifting individuals of all backgrounds.
Fourthly, "Headaches" from her Moonstone EP, depicts how beautiful and damaging a new relationship can be at the same time. Audiences are captured by relatable lyrics like, "She's the kind of girl who will Fuck you up. I'm the kind of girl who will Love too much." The music video stars Hitomi Mochizuki and Raveena Aurora playing the roles of each other's partners in the relationship.
Fifthly, Raveena brought a ray of light to us during the Covid-19 pandemic with live performances. The video consists of the songs Headaches, Close 2 U, and Feel Like Makin' Love (Roberta Flack Cover). What I love about the video is the chemistry between Raveena and Aaron Liao. They easily play off each other's energies during this live performance.
Throughout my listening journey of Raveena's projects, I fully immersed myself in her themes of togetherness, love, and vulnerability. Her aesthetic of the '70s and '80s old school Bollywood combined with her euphonious voice are a match made in heaven. In Raveena's own words from her NPR Music Tiny Desk Concert, "Any live space that I do I just want to cultivate this feeling of softness in the room and community."
Photo Source: YouTube