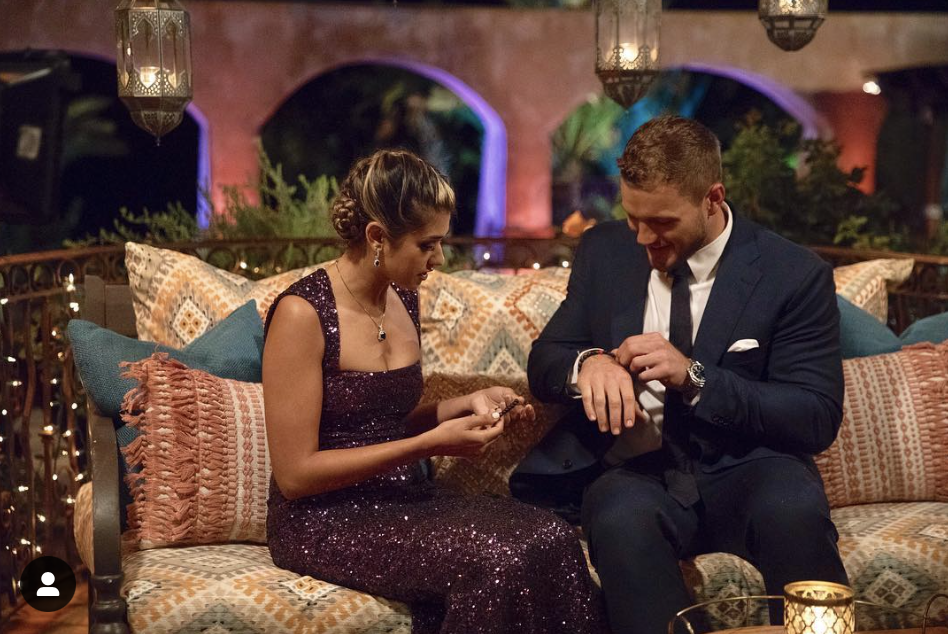 In the summer of 2020, the global racial reckoning tidal wave had submerged reality television "The Bachelor" franchise, which spans several spin-offs and a plethora of international editions, was no exception. Following controversy after controversy regarding its handling of race-based issues, past contestants of colour are hoping for a seismic shift in not only the show diversifying its future casts, but by also increasing its portrayal of diverse love stories – love stories, which are representative of the melting pot that is America. 
One such past contestant is the stunning and graceful Kirpa Sudick, who placed fifth on Colton Underwood's season of "The Bachelor." I was able to have a long-ranging conversation with the half South Asian dental hygienist about the future of the franchise, her time as a biracial contestant and much more. 
Why did you go for "The Bachelor" and when you were cast for the show, were you actively thinking about how you were going to be portrayed as an Indian-American woman and as a woman of color?
I actually applied for "The Bachelor" as a joke with my friends! I had just gotten dumped, and I went online and quickly filled out their application – I never really thought much of it after. A few later weeks, the show asked me to come in, which was shocking to me! In terms of how I was going to be portrayed as a woman of color, I don't think I really thought much of it; it is possible that I was a bit naïve, but I genuinely wasn't concerned about how I would be portrayed or protected as a brown woman on reality TV. After the show aired, people started entering my DMs and things got tough, I think that's when I fully understood the weight of being a woman of colour on national television and on a massive show like "The Bachelor." 
I remember you having a really tough time in terms of social media bullying after the Women Tell All because of the Cassie-Caelynn storyline*; were you edited fairly and were the DMs racially abusive? And how did you protect your mental health after the show started airing?
*Kirpa had sensibly reiterated group concerns about Cassie and Caelynn's intentions with Colton, including their intention to actually get engaged to him 
Unfortunately, I don't think I was edited fairly – the contract contestants sign before going on the show literally states that editors can edit people any way they want (this includes splicing audio, franken biting) and people enter the show knowing that it's a possibility that you can be edited poorly; I never thought that I would go through such a situation just because of how I am as a person and the choices I made during the show. The Women Tell All wasn't actually as hostile and terrible, but the way it was produced and depicted made the entire situation much worse. It was unfortunate to be portrayed in a really reductive manner and in all honesty, the Cassie-Caelynn situation wasn't such a big deal! What was disappointing was that my edit would eventually be translated into how Americans would view Indian women in general – there was so much more to me than being a peripheral part of the show's drama. 

The DMs – they were tough. People were so upset about the whole Cassie drama and I was getting horrible DMs; all I could do was block those people and not read the messages. I would remind myself that these people only saw 10 minutes of me. I was also lucky enough to be surrounded by love. 
View this post on Instagram
What does this entire Chris Harrison situation, the "Bachelor Nation racial reckoning" and the franchise taking accountability mean to you as a brown woman?
I'm really hoping that the people at the top of the figurative food chain (such as executive producers) seriously take this opportunity to make real, long-lasting change; it shouldn't just be putting a temporary band-aid on its race-related issues; things like "Oh let's put Matt as "The Bachelor" to hold people off for now" and other knee-jerk reactions shouldn't be the solution. Actual change means protecting women of color in the editing room and showcasing diverse love stories; accountability also means equal screen time for contestants of color and hiring more producers/editors of colour. I'm happy that they have Michelle Young as one of the next Bachelorettes and having Tayshia was amazing too! I'm hoping Katie's and Michelle's season show all their contestants fairly and equally. 
I wanted to talk about quite a sensitive situation, which was about Colton Underwood's ("The Bachelor" Season 23's lead) harassment and stalking of his former partner, Cassie Randolph. You were on his season and I was wondering whether there were any red flags in terms of controlling toxic and frankly terrifying behavior?
The whole situation with Colton and Cassie was incredibly unfortunately – my heart goes out to Cassie and I can't imagine how difficult and terrifying this must have been for her. I also hope that Colton gets the mental health help he needs. I never did notice any red flags with Colton, he was always very kind to all of us; although, it's important to highlight that things are very different off-camera. 
We've barely had any South Asian women* on "The Bachelor"* or its spin-offs – do you think a lot of this has to do with casting directors not taking applications from such contestants or can it be a cultural chasm between South Asians and a reality tv based on dating? Also, do you ever think we might get a South Asian Bachelor or Bachelorette anytime soon?
*So far, Marikh Mathias, Kirpa Sudick, Serena Pitt have been the only South Asian women cast on "The Bachelor." 
 I think the low representation of South Asian contestants may be because of stigmas relating to being on a show like "The Bachelor" – I just don't think there are many South Asian women applying and this might be because of families disproving. I'm being optimistic here – I do believe that if there were more brown women applying, we might see more onscreen – it would be so nice to see authentic portrayals of South Asian women! When I applied, my mom (who is Indian) had more reservations than my dad; she was quite concerned about the editing aspect of it. 

In all honestly, the representation of South Asian women in general TV has been disheartening – they are relegated to the secondary roles, the "second choice" to the white woman, they're always the demure, silent one. These stereotypes are really harmful and hurtful. 

I'm definitely hopeful with seeing a South Asian lead! Maybe we'll see some meaningful change soon. 
Onto lighter questions! Who are your closest friends in Bachelor Nation, and will we be seeing you in "Bachelor in Paradise" this summer?
Sydney and I are in touch! I talk to Alexa and Elyse – we'll touch base and always check in with each other, which is great. In terms of Bachelor in Paradise – no! I'm in a great relationship (with her boyfriend Taylor). 
Your Instagram page shows that you're somewhat of an Air fryer connoisseur! What is the best Indian snack to make in an air fryer?
Samosas! I still haven't tried other Indian foods in the air fryer, but the samosas turned out really good. 
Favorite Indian food?
Honestly, rotis – I loved making aloo rotis with my Grandma growing up. They're so delicious with lots of butter with them 
What are your future plans and career goals? Any new projects?
Currently, I'm working as a dental hygienist. But I'm also writing a children's book with my brother; we had a friend illustrate it and it's about a little girl with anxiety. I think the idea of the book stemmed from the fact that South Asian and immigrant communities, especially kids, do face a lot of pressure. To add, South Asian communities have attached stigmas towards mental health issues – so this is our small way of destigmatizing mental health issues and letting the community know that it is more than okay to ask for help. Also, I'm eventually transitioning out of dental hygiene towards the life & health coaching space. 
Last, but definitely not least – best dental tip?
Oh – if you don't have an electric toothbrush, get one now. 
Luckily, I have an electric toothbrush. 
After this article was written, "The Bachelor" Season 23 star Colton Underwood came out as gay. In response, Kirpa stated, "I'm really happy for Colton. I'm glad he's in a place where he's at peace and happy and healthy and that he can be his true authentic self." Kirpa also remains in support of Cassie and her healing.
---
The opinions expressed by the writer of this piece, and those providing comments thereon (collectively, the "Writers"), are theirs alone and do not necessarily reflect the opinions of Brown Girl Magazine, Inc., or any of its employees, directors, officers, affiliates, or assigns (collectively, "BGM"). BGM is not responsible for the accuracy of any of the information supplied by the Writers. It is not the intention of Brown Girl Magazine to malign any religion, ethnic group, club, organization, company, or individual. If you have a complaint about this content, please email us at Staff@browngirlmagazine.com. This post is subject to our Terms of Use and Privacy Policy. If you'd like to submit a guest post, please follow the guidelines we've set forth here.