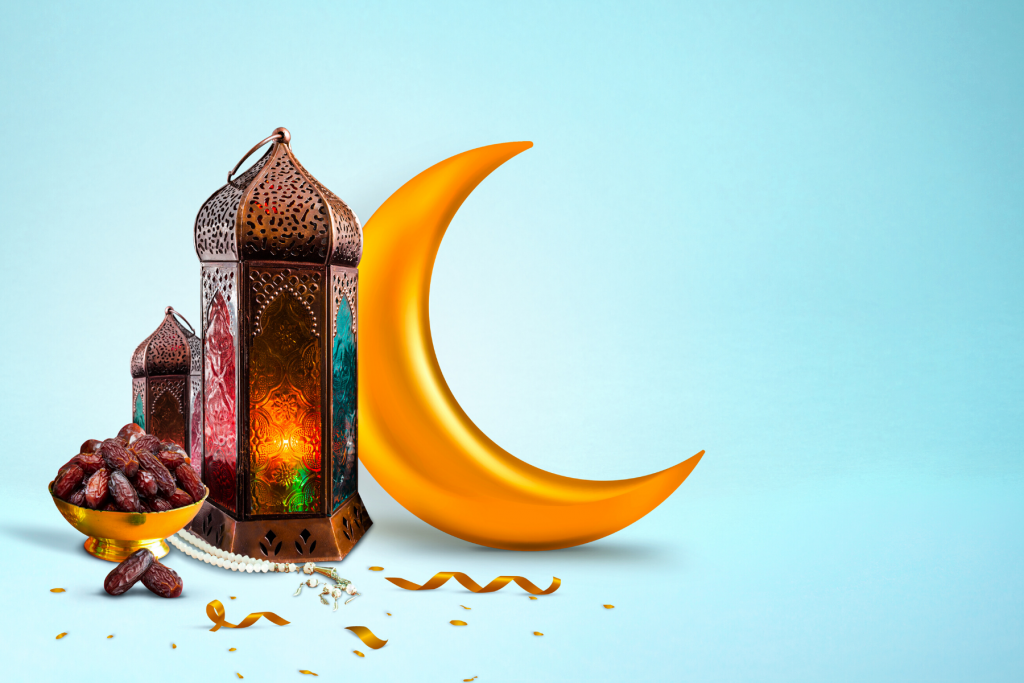 Coronavirus has uprooted the way we live — it's changed the way we work, grieve, interact and even worship. Ramadan is a particularly special time of the year for Muslims around the world with the social and familial aspect playing a big role. With restrictions in place, that sense of community is starkly absent with no gatherings for iftar or visits to the mosque.
According to Al Jazeera, the World Health Organization (WHO) has advised using virtual alternatives, where possible, for social and religious gatherings. Month-long Ramadan bazaars with stalls selling food, drinks and clothes, usually busy sites, are not allowed in Malaysia, Brunei and Singapore.
It can also be quite isolating for those who live alone. However, there have been some positive reflections on observing Ramadan during the coronavirus pandemic. While Muslims are required to wake up in the very early hours in order to eat before their fasts begin, remote working means that they're not as sleep-deprived. Kadija Nakhli, an email and direct mail Marketing Manager in London said,
I'm fasting, and I love this time of the year and always have growing up. Ramadan means family to me and the Muslim community coming together and having feasts together as well as helping others out that are less fortunate. This Ramadan I miss breaking fast with my family and going to the mosque to pray Taraweeh. On the positive side, I am waking up for Suhur as usually I don't when I have to wake up for work – I refuse to disturb my sleep!
This sentiment was echoed among other people I spoke to in addition to the fact that Muslims observing this month now have more time to sit down and read the Quran (holy book) which is encouraged. This gives those observing the fast the chance to pray five times a day and work on their own personal spiritual connection in their own way. Journalist Noor Tagouri shared her progress learning the 99 names of Allah on Instagram, which was a great way to get others involved.
View this post on Instagram
With more time to get introspective, there is also more time and opportunities to give back. Charity or Zakat is especially important during this time as we remember others around the world that lack food and water on a daily basis even after Ramadan. This year with the Coronavirus pandemic, there is almost even more urgency to give back to communities and support frontline workers as best as we can from our homes.
Noor Hadi, one of Britain's youngest Imams and an Islamic Educator has been working with Ahmadiyya Muslim Youth Association (AMYA) to do just this.
At the Ahmadiyya Muslim Youth Association, we have partnered up with several councils across the country and organisations such as charities and food banks to assist the vulnerable and elderly who are in self-isolation or have been affected by the virus. We have been providing a shopping service for those who are not able to go out and do it themselves, we also pick up medications and other essential items. Since the lockdown, we have assisted over 9,000 households in this capacity. We have been making donations to food banks as well as making deliveries to the vulnerable on behalf of some of those food banks and councils. We ensure that all our volunteers follow all safety procedures including having basic PPE and following social distancing norms. We have also tried to assist the most vulnerable in society by providing meals for the homeless. This is a still ongoing effort and we try our best to assist them where we can. We have also expressed our support for frontline staff working in dangerous conditions in hospitals by providing over 1,000 warm meals to NHS staff. We have also been able to donate over 1,600 PPE to front line staff including the NHS and care homes.
View this post on Instagram
Their efforts also extend to frontline staff where Hadi says,
We have also expressed our support for frontline staff working in dangerous conditions in hospitals by providing over 1,000 warm meals to NHS staff. We have also been able to donate over 1,600 PPE to front line staff including the NHS and care homes.
Giving back becomes even more of a priority during Ramadan, however during the current pandemic, emotions are heightened with the restrictions, as well as the fatalities. This hasn't dissuaded volunteers though.
During the month of Ramadan, there is a massive spike in our zeal and efforts to do good. As God promises greater rewards and blessings during the month of Ramadan therefore people do even more good deeds with extra passion. The whole atmosphere among our volunteers and youth leaders shoot in vibrance and will to help others. – Noor Hadi
Breaking fasts with family and friends is one thing people have had to get used to not doing this year, but wanting to make the same foods you share has proved to be difficult for some with a lack of ingredients available at supermarkets. Yaseenah Chetty, a mother to a one-year-old, spoke about the struggle to make Ramadan treats because of a shortage of flour as an example. Being able to hold on to some traditions, like the food consumed after, has meant going to multiple shops just to get the ingredients to make Ramadan recipes.
Just like AMYA's volunteers have found ways to make Ramadan rewarding given the restrictions, Chetty has also found a little light during this month of worship too.
The alternative is to do food drops, we are all making iftar foods in our homes and sending them to each other on different days.
This sense of community is evident in different ways and no doubt the Coronavirus pandemic will expose new ways for us to evolve mentally and spiritually. For me, I've loved the time at home to spend with my family and connect in ways that my daily commute wouldn't allow. I've been cooking more with my Mum, spending time in our garden with my Dad and basking in the sunshine with my grandma.
Not only have there been individual and collective benefits to observing Ramadan during a pandemic, but there is also the possibility of long-lasting effects by rallying together and playing a proactive part in the wider community as AMYA's Hadi explains, 
The work AMYA is doing helps create future leaders within the Muslim community, helps train individuals up from an early age and gives them direction. It instils the sense of love for one's nation within the youth group and helps them continuously give back to society. We have a foundation of 24 regions and 157 local chapters covering over 55 main cities and towns in England, Scotland and Wales. This allows us to be ready for whatever comes our way and to be able to help with large groups of volunteers. We train and develop our youth from an early stage so that when things like the floods or this pandemic hit us, we had foundations and a pool of volunteers along with resources, which allowed us to help over 8,000 households in the UK.
This is especially important when it comes to tackling Islamophobia that has led to hate crimes and negative stereotypes surrounding Muslims. Hadi took note of a report conducted by Hope not Hate, which revealed that more than a third of people in the UK believe that Islam is a threat to the British way of life. Hadi believes that the work AMYA is thus crucial and important to show to the wider community that Muslims in the UK are those who live to serve their neighbours irrespective of faith, gender, culture, or religion. 
As Ramadan winds down and comes to an end, Eid will look very different in many Muslim households across the world. While gatherings won't take place, this year we've been given the time that many of us wish for in order to do better and be better.
It was during isolation when the Holy Prophet (peace be upon him) first connected with God, so we try to follow the same practice and use the time to ourselves to help enhance our spirituality, morals and worship. It is wrong to think that Ramadan simply means to abstain from food and drink, in fact, the true spirit of Ramadan is to progress in one's own character and righteousness. – Noor Hadi
If this isn't a sign then I don't know what is.