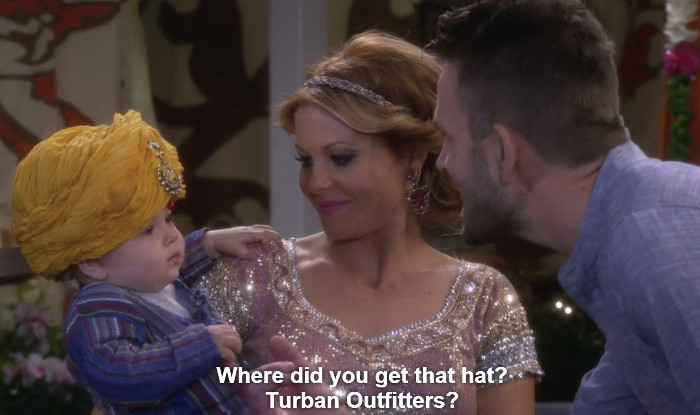 "Fuller House" was going great. I was truly enjoying it. Would I be up at 5 a.m. binge watching if I didn't enjoy it? It was really good—right up until it attempted to showcase Indian culture in Episode 11 ("Partnerships in the Night") by having the characters throw an "Indian-themed" party. 
In the episode, D.J.'s boss, Dr. Harmon, is retiring from the veterinary clinic they run because he is moving to an ashram in Mumbai to give up all materialistic pleasures. So, to celebrate, they throw him an Indian-themed party—not a casual, backyard, fun, American-type party, but a full-blown Indian-themed one with a decorated cow.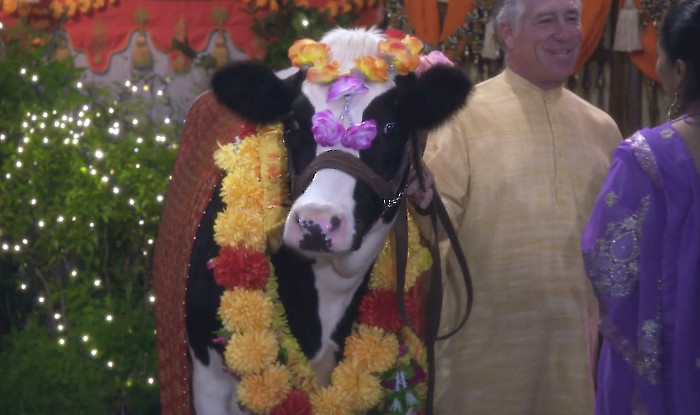 [Photo Source: Screenshot via Netflix/Fuller House (Episode 11, 'Partnerships in the Night')]
In another blatant example of cultural appropriation, thousands of years of rich history and heritage are reduced to a party theme for white people's amusement and consumption.
And why not have any people of actual Indian descent present to showcase what is their own instead of a cheap and poorly executed imitation by people who have no connection to India whatsoever?
White people, especially those in Hollywood, want so badly to wear our culture as a costume because it's pretty, but they never want to carry all that it means to be a South Asian in the western context—in which we are constantly reminded we don't belong. Once again, white folks in positions of power will do what they want to do without any consideration for marginalized groups. Their talk of supporting people of color is just meaningless chatter when they prove to be false allies. Solidarity is a myth.
I can't believe no one stopped to think "hmmm, this might be a bad idea." How low is the bar set? Pretty low, it seems. People are not even trying to hide their microaggressive behavior and outright racism. They'll just do it and fuss when they get called out as if they're the real victims. I am just tired of it all. Tired, and demanding change. And I don't even want to hear the "paying homage/showing appreciation" excuse because of how blatantly inaccurate so much of it was.
It was laughable and stupid; I don't even know how many WTFs left my mouth while watching. It made me uncomfortable and disappointed, and honestly, unless your culture has been exploited like mine has been countless times, you don't know how it feels to see this happen time and again without ever witnessing steps in the right direction.
If you're a fan of the show, great, but don't try to defend this. Be critical of the media you consume and if something's wrong, then say so. Don't be complicit. And if I see another white girl in a sari, lehenga, salwar, bindi, tikka etc. without asked to wear it…lawd hold my jhumkas.

Please stop pretending you have the right to play in our culture and then throw away like it was party decor when you're done. Stop claiming deep connections and ties to India just because you had one brief encounter with it. Stop reducing us to stereotypes and erasing our complexities. Just stop.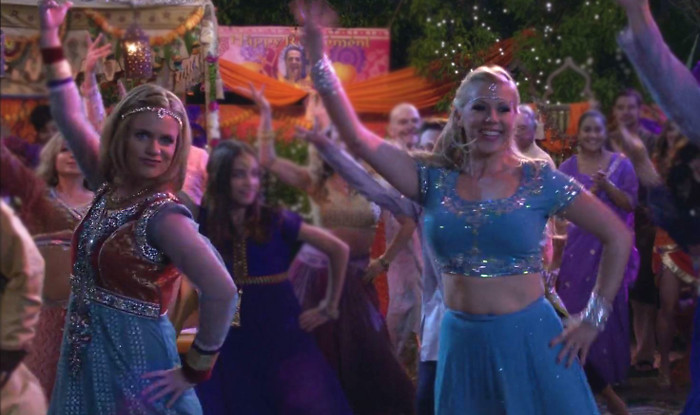 [Photo Source: Screenshot via Netflix/Fuller House (Episode 11, 'Partnerships in the Night')]
The game is up and you are not the sahib. If you try to clap at me with some nonsense excusing this, I will clap back—hard. I fight for my culture and peoples like my life depends on it, make no bones about it. 

Bottom line: we'll gladly share who we are—if you'll let us be the ones to show you what is ours instead of having people continually steal it.
---
Miranda Deebrah is an Indo-Guyanese writer and storyteller based in New York. Proud of her roots and heritage, she is an advocate for South Asian voices not yet heard and the stories not yet told. She is passionate about the arts and their ability to create change in the world and hopes to make her own contributions through her work. Her interests include traveling, reading biographies, spending evenings at the theatre, reenacting choreography from Lady Gaga's music videos, taking flying trapeze lessons, and making all kinds of magic happen.