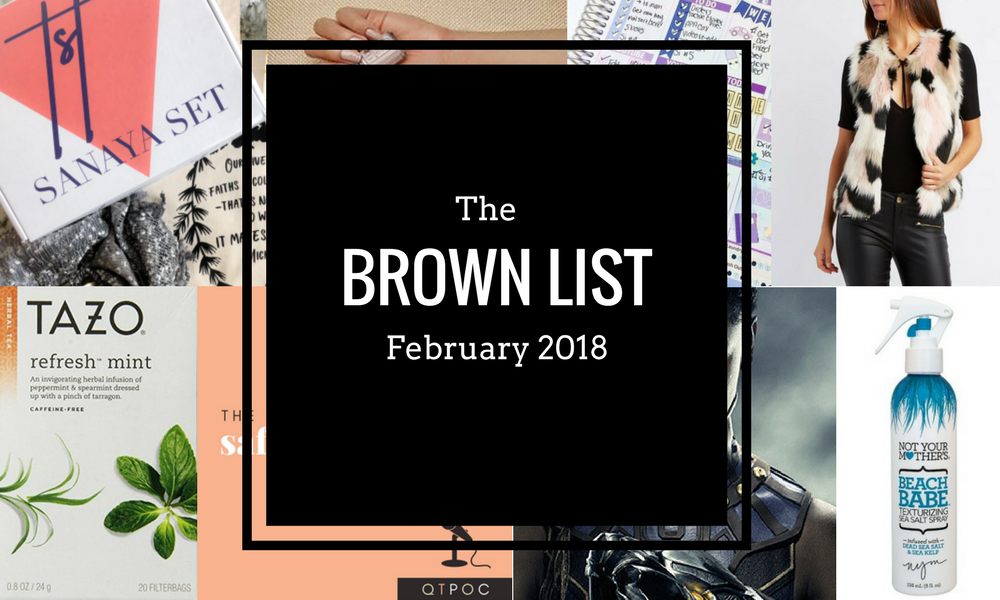 Love is in the air! Whether you're snuggling up to bae or a nice gallon of ice cream, you'll be falling for our February staff picks. Pamper yourself or the light of your life with these dreamy DIYs and exciting new products! Our staffers put in extra care into this month's Brown List, so get ready to feel the BGM love.
1. Refresh Mint Herbal Tea by Tazo
[Refresh Mint Herbal Tea by Tazo/Photo Source: Amazon]
Cozy up to a warm cup of Refresh Mint herbal tea this winter.
BG Abha raves: "These have been my latest obsessions."
Herbal teas have major health benefits and you can enjoy them cold or hot. This minty tea from Tazo is perfect for unwinding and binge-watching Netflix. You can get a box from your local grocery store or online at Target, Walmart and Amazon.
2. Podcast of the Month: "The #SafeWordSociety Podcast" by SafeWordSociety
The #SafeWordSociety Podcast/Photo Source: Sticher
BG Sheena loves a good podcast. Her current favorite is from SafeWordSociety, a visibility company for LGBT+ people of color.
"Their podcast is curated by two queer women of color (QWOC) aimed at empowering other queer and trans people of color (QTPOC)," she said. "They always invite QTPOC who are doing entrepreneurial/cool things in a creative space. SafeWordSociety conducts very empowering conversations. They create important dialogue on how we can push society forward and creates visibility for communities that don't always have representation in the media."
If you want a bit of knowledge and a ton of life inspiration, then check out the #SafeWordSociety podcast on iTunes, Spotify and Sticher.
3. All Natural, DIY Eyelash Volumizing Hack
[DIY Eyelash Volumizing Hack/Photo Source: Flickr]
BGM's in-house makeup artist, Jasmin, is constantly working up new DIY's and hacks for us. You won't believe how excited we were when she taught us her all-natural eyelash thickening hack.
It's easy to do and can work wonders to improve the quality of your eyelashes. All you have to do is wash an old mascara wand. Then, dip it in cold-pressed castor oil (Jasmin gets hers from Amazon). Apply it 1 to 2 times per week and you can expect fluffier, stronger lashes in no time.
4. Beach Babe Texturizing Sea Salt Spray by Not Your Mother's Brand
[Not Your Mother's Beach Babe Texturizing Sea Salt Spray/Photo Source: Target]
BG Saumya is impressed with Not Your Mother's Beach Babe Texturizing Salt Spray.
"I have thick, unruly hair that operates in this grey area between straight and curly. I have loose, frizzy waves. I've always wanted something that will allow me to wear my hair to be natural without looking overly poofy. After picking up this spray on an impulse, I finally tested it out last year, when I was getting ready for a date after a workout. I didn't have enough time wash and straighten my hair beforehand so I used the sea salt spray. True to its name, it gave me that beachy, tousled look. Also, my waves were much more well-defined and I could finally work my hair's natural volume to my advantage. Now, I use the Beach Babe Texturizing Sea Salt Spray all the time, either when my hair's damp after a wash or even when it's dry and not straightened. As a bonus, it smells wonderful!"
You can get a bottle of this amazing sea salt spray from the Not Your Mother's Brand's website, Walmart, Ulta, and Amazon.
5. Nail Color of the Month: Topless and Barefoot by Essie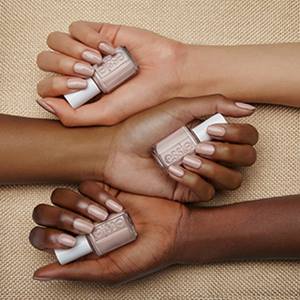 [Nail Color of the Month/Photo Source: Essie]
Spring is almost here and this season, we're all about the neutrals! Whether you need a good color for long acrylic nails or just something that's office appropriate, Topless and Barefoot are the perfect shades. You can pile on the gems or go all natural because these colors are good for every occasion.
6. The Sanaya Set
[The Winter 2018 Sanaya Set/Photo Source: The Sanaya Set]
Let's face it: the world is going to shit. And it's our mental, physical, economic, social and medical health that are impacted the most by these trying times. Yet, as all BG's do, we always overcome.
Our CEO, Trisha, is breaking down boundaries and the definition of "lady boss." When she's not fighting the good fight, she likes to recharge and cleanse negativity with her Sanaya Set box.
If you've been on the hunt for a subscription box service that's run by women of color while, at the same time, filling your life with items you actually want — then this is what you've been looking for.
The Sanaya Set is a seasonal subscription box that offers a wide range of ethically sourced bath/body, food, clothing, accessories and beauty products. The winter Sanaya Set features the book "We Should All Be Feminists" by Chimamanda Ngozi Adichie.
Also, 10 percent of Sanaya Set profits go to Planned Parenthood, one of the U.S.'s largest and most effective public health organizations. It specializes in sexual and reproductive health and helps countless people get the healthcare they need. So if you want to treat yourself, and the world, then order your Sanaya Set today!
7. Movie of the Month: "Black Panther"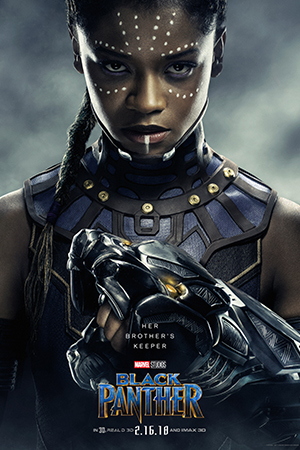 [A version of the "Black Panther" poster featuring Letitia Wright/Photo Source: Disney Movies]
Black History Month is in full swing and the arrival of "Black Panther" couldn't come at a better time. With a cast of almost all black actors, this is taking #OscarsSoWhite and flipping it on its head.
BG Marina is excited to see it. "I normally stream or find a way to watch movies for free, because I have neither the money nor the ability to sit down at a theater to watch them. But this time, I am taking my entire family and paying full price for 'Black Panther' tickets. I truly believe in this movie; I love all of the Marvel movies. Also, I did some reading and found out that Wakanda, the primary location of the film's plot, has a defense force that's all-female and super badass. I recommend everyone go see this movie and support all of these amazing actors. I feel like watching this movie in theaters should be a prerequisite to calling oneself an intersectional feminist; it's just that good on every level."
Click here to get tickets to a "Black Panther" viewing near you. Also, if you haven't already, check out the breathtaking movie trailer.
8. Desi Shepherd's Pie
[Mouthwatering desi shepherd's pie/Photo Source:  Flickr]
Let BG Pooja teach you how to make this bangin' desi-style shepherd's pie. It's perfect for a cold night in with your boo (or Netflix)!
Ingredients:
1 lb of ground meat (chicken, beef or lamb) or meatless veggie crumbles
1 medium onion, chopped
1/2 small onion, thinly sliced
3 small tomatoes, chopped
1 teaspoon garam masala seasoning powder
1 teaspoon ground turmeric
1 teaspoon ground cumin
1/2 teaspoon ground coriander seeds
1/2 teaspoon ground chili
1 medium sized bag of frozen vegetables (a pea/carrot/corn mixture is best)
4- 5 large potatoes (Russet potatoes and Bamberg potatoes are best)
5-6 tablespoons milk
1 teaspoon ghee, melted and an extra 1 teaspoon of ghee
2-3 garlic cloves, thinly sliced
Crushed red pepper or finely chopped green chilies to taste
1/2 teaspoon mustard oil
1/3 cup fresh cilantro, chopped
Salt and sugar to taste
Directions:
1. Making the keema: Add ground meat into a hot pan. Brown the meat while mashing it with a potato masher. Discard any extra liquid from the pan and set the meat aside. Saute onions and tomatoes until they both soften and onions because golden colored. Add the desired amount of salt and a tiny sprinkle of sugar. Add garam masala, turmeric, cumin, coriander,  and chili powder. Add more salt if needed. Mix in cooked meat, add contents of frozen vegetable packets and simmer the mixture until cooked. The keema should not be runny or contain any gravy; however, it should still be moist.
2. Preheat oven to 400 degrees F.
3. Making the mashed potatoes: Microwave potatoes with the skin on until cooked (typically about 8 – 10 minutes). Remove potato skins. Brown onion and garlic slices with extra ghee. Add milk, ghee, browned onions and garlic, and crushed red peppers/green chilies. Add mustard oil if desired. Mash all ingredients together in a large bowl.
4. In an oven safe dish, place keema in an even layer. Press down and firmly pack layer with a spatula or broad spoon. Top keema layer with potato mixture and smooth out out this top layer. Place dish in oven until the top has a golden brown color (about 30 minutes). Garnish with cilantro and serve.
9. Multicolor Faux Fur Sweater Vest by Charlotte Russe
[Be stylish and environmentally friendly in this faux fur vest!/Photo Source: Charlotte Russe]
Depending on where you live, the last few weeks of winter may be raging on. But have no fear, we've got the gear to keep you warm!
BG Saumya is falling head over heels for faux fur vests.
"I bought a black BCBGeneration faux fur vest in 2016 because it had a level of chic I thought I could never attain. I spent very little time wearing it that year because I didn't know if it would go with my outfits. However, in 2017, I threw all caution to the wind and just threw the vest over all my outfits. It was then that I realized my faux fur vest added an extra glam factor to whatever I would wear and kept me incredibly warm! Unfortunately, they sold out of the vest that I got, but here is something similar from Charlotte Russe. This faux fur best is a lot more affordable than the one from BCBGeneration while being just as durable and warming."
Get yourself one of these on-trend vests by clicking here.
10. Productivity Hack: Use a paper planner in 2018!
[#PlannerGoals with this Erin Condren agenda/Photo Source: Pinterest]
You promised yourself that you would get your life together in 2018.
BG Abha has the best advice: "get an actual paper planner with lots of colorful plans to stay organized and keep track of those never-ending assignments!"
Finding a good, easy to use planner is the best place to start. Write your goals, daily tasks, and deadlines. Draw doodles. Use your planner how you want and make it fit your lifestyle! There are a wide range of designs and layouts to choose from. You can go for a super fancy and decked out style, or just something minimalist that gets the job done.
Check out these planners from the ban.do, Lilly Pulitzer, Erin Condren, and Mead to get an idea of what works best!