5
min read
by Rachna Hukmani – Follow @whiskeystories
Whenever a topic intrigues me, I look to the usual places to find out more. Blogs, podcasts, plays and, naturally, Buzzfeed.
In this highly scientific search, I recently stumbled upon a 10-myth-memed story about losing one's virginity. One, in particular, jumped out at me; the notion that "everyone is doing it" is just a myth and that no one actually cares if you're still a virgin. This blanket statement seemed to suggest that it doesn't matter—or shouldn't matter—at any stage in your life. In theory, this should be true.
Only it isn't or movies/books like "Twilight" glorifying your first time with the perfect person (you know that's one of the many reasons you're team Edward) wouldn't exist. Alternatively, sex comedies like, "40-Year-Old Virgin," where the quest to finally get him to do the deed wouldn't communicate a sense of urgency. After a certain age, the pressure is on. Or at least it is in Western cultures.
This is what attracted me to Pooja Mallipamula's play, "The Deed is Done," as well as her desire to understand why it is important for some people to be seen as having sex.
As Indian women living in the United States, we are at constant odds. We want to be independent, feel we are living life to its fullest and having experiences that allow us to know ourselves better. Some of us are lucky to have parents who want that too and encourage us to live life on our own terms.
Of course, all that adventuring usually doesn't include exploring our sexuality. Our families/peers may want us to express ourselves as long as we don't do it sexually. At least, not until marriage. Often that results in us having sex and feeling like it ought to be a secret from our families/peers. Like we've done something wrong.
Or us not having sex while convincing ourselves that's our own choice. That we are too busy to have sex or looking for that particular moment, a particular person, that perfect timing, that perfect outfit (which could admittedly also be a side effect of watching too many Bollywood songs), the right candles etc. The list is endless.
These go hand in hand with a range of emotions and actions, some of them comical and some somber or sad.
What I love about Mallipamula's "The Deed is Done" is that she very artistically explores these emotions and actions surrounding virginity and sex. Based on real-life stories ranging from an excitingly descriptive camp counselor adventure, a threesome, a very sweet monologue about an Indian man saving himself for marriage to heartbreaking stories of rape, lack of consent and more—the stories she brings forth are real, raw and vulnerable.
"The Deed is Done" is narrated by Mallipamula herself,  and she starts off by telling you her own story with the perfect balance of bravery, humor, and curiosity. For me, the curiosity of her journey is the best part. It is not only endearing but also impressive since this type of playful curiosity isn't really encouraged or approved of among women in many cultures. As a result, she draws you in right from the get-go.
She, in turn, provides a great premise for two very talented actors, Lance Merlo and Hannah Abney, who play multiple characters. Both are very impressive in bringing depth to their characters so successfully, that you feel there is a part of you in at least one of the stories.
Merlo is extremely versatile. Whether he's re-telling a heart-wrenching, not altogether consensual story of a 16-year-old gay male's one-night stand with a 35-year-old man, or a light-hearted video game playing nerd who swiped right on Tinder, he does so seamlessly with ease and poise. I am also impressed with his ability to use physicality to add dimension to his characters. This is why my personal favorite, of his acts in "The Deed is Done," is his subtle portrayal of a Hindu man who chooses to wait until his wedding night. Merlo does this with just the right amount of humility and innocence that I almost forgot that he isn't actually Indian.
Abney is equally talented and diverse in her range of characters. Her emotional portrayal of a rape survivor left me speechless while her slapstick reenactment of a woman losing her virginity on a beach had me laughing out loud. The actress' ability to hold a room with grace, confidence, and strength is not something one sees very often. My personal favorite is her in-depth portrayal of a 65-year-old Iranian woman reminiscing about her first time during the 1970's and the cultural obligations of marrying that person. I grew up in countries where that was certainly the norm and encouraged, and feel that many South Asians could relate to this mindset. This one really drew me in.
Bringing it all together is the wonderful direction by Katherine Elliot. I had the pleasure of interviewing the cast of this play as well as speaking to Elliot myself. The cast cannot speak highly enough of her and I see why. Having seen the play, I see how her insights into bringing the characters to life, to the nuances of lighting, to where the cast positions themselves in relation to each other makes, all the difference.
So, what is this play's message? Speaking to Mallipamula, the cast, and their director, the consensus is about owning your sexuality, feeling at peace as you explore your sexual orientation and letting go of any societal pressures. Most important of all, it is about bringing forth a sense of community. That we are not alone and we should feel comfortable telling our stories.
I agree. I would also like to add to this and tell you if you are reading this and you are still a virgin, go easy on yourself. It'll happen. Also, there is no such thing as "a" first time. Truth be told, there are many first times. Each partner is a new experience. A new opportunity to learn something about yourself. So just think of all of us as virgins to the partners we have to yet to explore. We are a community.
As Mallipamula continues to write and explore more projects through her production company, American Brownie Productions, I am looking forward to seeing a version of "The Deed is Done" come back so you all can catch it. We, at Brown Girl Magazine, certainly hope she does so we can talk to the cast and team more! So, can we all do it again soon?
[su_divider]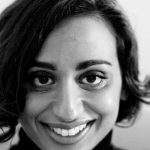 Rachna Hukmani lives in NYC and is very passionate about writing about her Greek/Indian upbringing. The youngest child of 5 siblings, she has a lot of witty anecdotes to share and loves storytelling. In fact, she is the owner/founder of Whiskey Stories. Having worked in the whiskey industry for several years, she is well-versed in the art of whiskey making, barrel aging, and mixology. Whiskey Stories is more than a whiskey tasting class. It is a sensorial immersive experience that combines her passion for storytelling as well as pairing obscure whiskies with other artists talents ranging anywhere from authors & musicians to actors & comedians. It is unlike any other whiskey class in NYC! (Bio Photo Credit: © Katarina Kojic Photography)