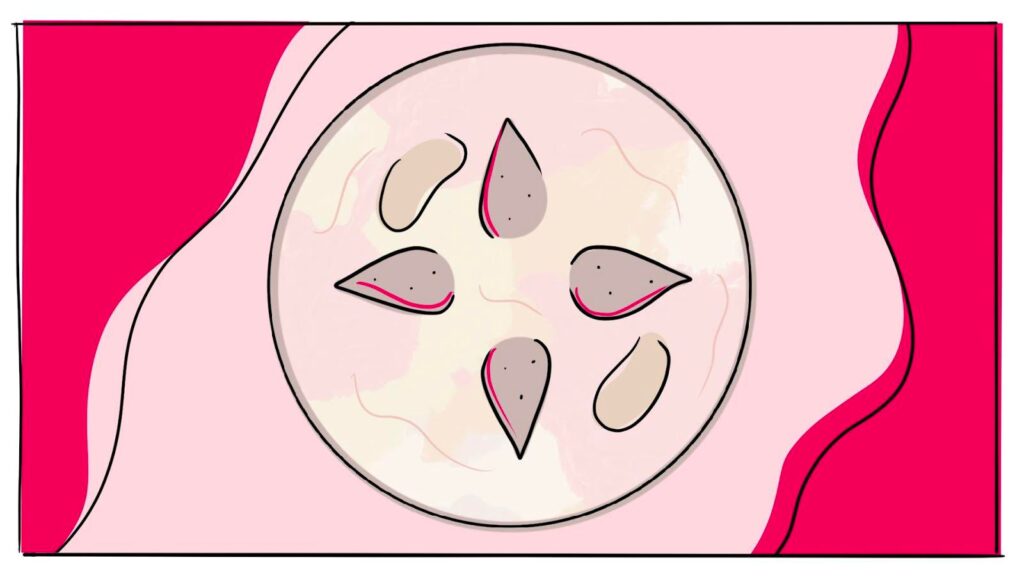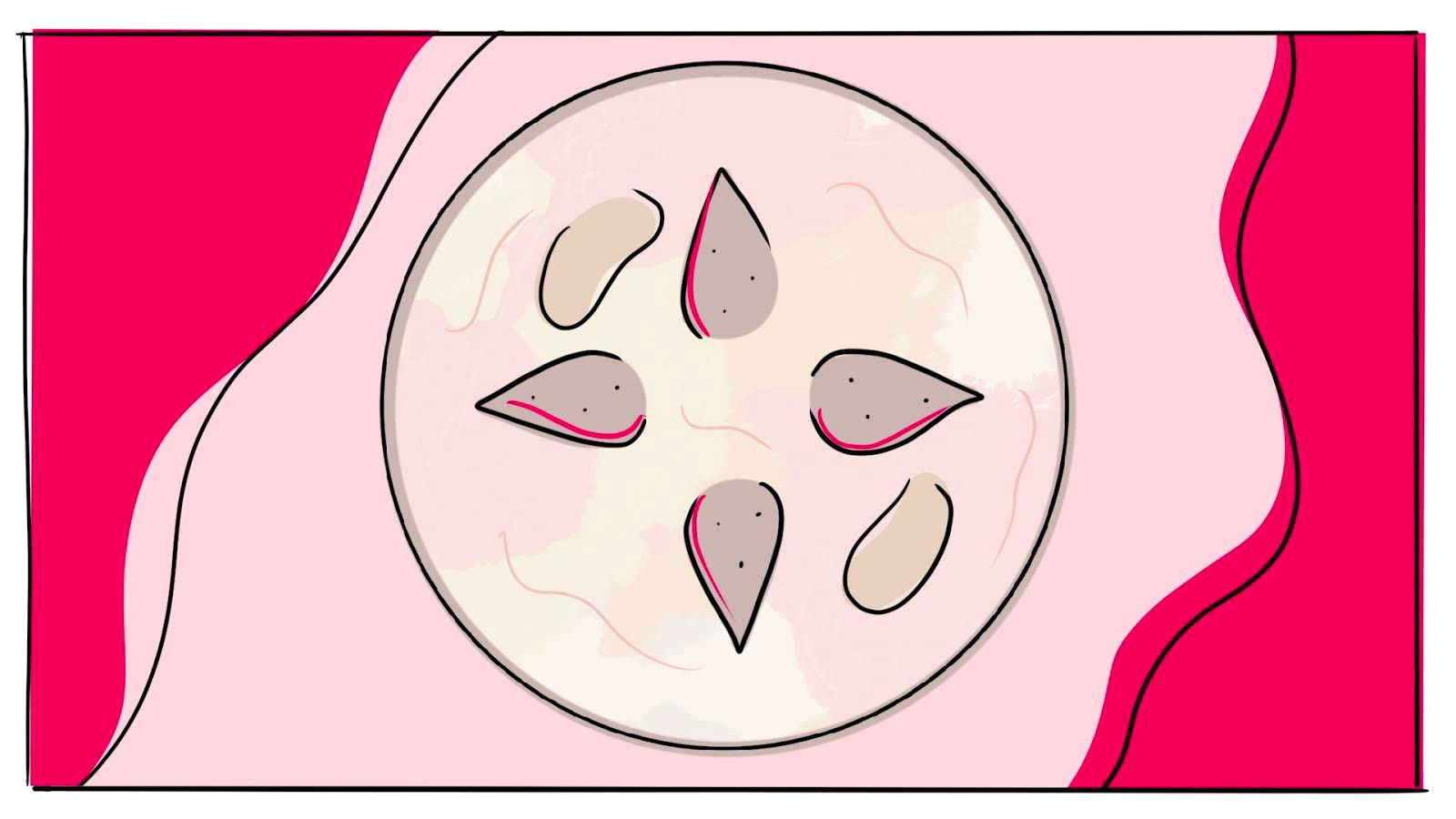 In honor of women's history month and Ramadan, we are publishing this short story by award-winning author Adiba Jaigirdar. We had the pleasure of interviewing and connecting with Adiba in the midst of the pandemic, and she has remained a supporter and a friend of the literary vertical and Brown Girl Magazine. This short story by Adiba encapsulates the spirit of friendship and community in a time of celebration. Adiba's next book 'Do and Donuts of Love' will be out on June 6, 2023. 
It's not Ammu yelling my name over and over that wakes me up on Eid morning, it's the sweet aroma of payesh, floating up from the kitchen, through the floorboards, and making my mouth water.
It only takes me a few minutes to roll out of bed and down the stairs, peering at the massive dish of payesh right in the middle of the kitchen table. It's what I've been looking forward to for all of Ramadan — Ammu's famous payesh recipe.
"Safa, don't you dare touch that," Ammu calls from where she's standing, by the stove, making a fresh batch of porotas for our Eid breakfast.
"But it's been so long since…" I start to plead, but Ammu cuts me off.
"Get dressed, get ready, and after Eid prayer, we can have some payesh," she says, though her voice has already lost some of its fervour. When I glance at Ammu, she has that familiar look of nostalgia. Unfortunately, I know exactly what she's remembering.  "If only it was the payesh that your Nanu used to make…" she says softly.
I heave a sigh, and say, "okay, I'm going to get dressed," before slipping out of the kitchen as fast as I can. In our house, you can't really talk about payesh without Ammu's long-winded story. It always starts with how she wishes we had the 'real' payesh recipe that our family — the Jahangirs — have been known for around Bangladesh, since the Mughal era. It's the recipe that's been passed down for generations in our family. That is until, after our Nanu unexpectedly passed away two years ago, the recipe seemed to disappear.
This is where Ammu's long-winded story ends: her bitterness that her older sister has the recipe but refuses to share it with Ammu.
Now, we can only have Ammu's payesh. Even though she has spent the past two years trying to recreate our family recipe, she insists that there's something missing. A key ingredient that made our Mughal-descended recipe famous around all of Bangladesh. So, Ammu's payesh comes with a bitter footnote — a strange kind of loss that people outside of our family would probably never understand.
Back in my room, I shut the door and take a deep breath. Because today isn't just any ordinary Eid. Today is the day that I reunite my family.
But Ammu doesn't know that yet.
I fling open my wardrobe and pull out the dress that I had bought online weeks ago. It's a long violet kameez with floral stitching running down its length. Silver embroidery lines the cuffs of the sleeves, and the ends of the dress; making it sparkle when it catches the light. It's perfect.
Better yet, it's part of a matching set.
My phone pings just at that moment. As if, my partner in crime can read my mind.
"Ready for today?" Marwa's text reads.
My hands hover over the keyboard for a moment. And even though my heart is beating a little too fast in my chest, I type back "totally ready," and put the phone back on my bedside table. I'm hoping that acting like I'm totally confident in our plan will actually make our plan 100% successful. But truthfully, I'm not sure how Ammu will react once everything is in motion. And I'm not sure if I'm a good enough liar to convince her.
But if all goes to plan, by the end of this Eid day, Ammu's payesh story is going to get a lot shorter. And Marwa and I won't have to hide our friendship any longer.
With that thought in mind, I change into my Eid dress.
#
"I don't understand this Eid party business," Ammu complains during the drive from the mosque to the community center, where the bi-annual Bangladeshi Eid party always takes place. "In Bangladesh, there aren't any Eid parties. It's just visiting your family and friends; not this 'party purty' with virtual strangers."
"Yes, Ammu, I know," I groan, glancing out the window and trying not to roll my eyes. I know that will lead to an entire lecture about not being respectful to my parents. "If you made up with Khala then we could…"
Ammu cuts me off by glancing back at me with a stone-cold glare that I'm pretty sure has the ability to kill. It's the same glare she sends my way every time I even mention that she has a sister. That I have a khala. That these people exist and live in the same city as us. That we could be celebrating together, but the years-long feud between our families has kept us apart.
"No more talking," Ammu declares, staring straight ahead. She's clutching the dish of payesh to her chest now as if it's her lifeline. Considering how much she has sacrificed for her payesh, I guess it kind of is her lifeline.
But, as I glance out the window at the rush of trees and cars and buildings zooming by, I can't help but think about what our Eid celebrations used to be like. And wonder how Ammu is so okay with letting all of that slip through her fingers.
The buzz of my phone distracts me from my thoughts.
"We're here!" The text from Marwa reads.
"We're five mins away," I text back quickly, before glancing at Ammu. She has her lips pursed — obviously still annoyed that I dared to bring up Khala on a day as special as this. My heart beats a little faster at the thought of what she'll say when she spots Khala at the party. She hasn't come to one of these parties in the two years since their fall out, and it's thanks to Marwa's spectacular lies that she's there now. Not knowing exactly what's waiting for her.
I can tell the party is already in full bloom as soon as we pull into the parking lot. There are barely any spaces left. And the inside of the community centre is like a burst of colour. Whoever decorated the place for our Eid party did a marvelous job. There are multicoloured balloons and streamers hung up around the room. A giant banner on one wall reads 'EID MUBARAK!' and the other side of the room is filled up with kids' drawings from the annual Eid art competition.
"Too many balloons," is Ammu's only observation as she shoves one of them aside in order to place her payesh on the large table, in the middle of the room. It's already filled with different dishes — but I know everyone's dying for Ammu's payesh specifically.
I heave a sigh and glance around the party. Through the throngs of people hugging and cheering and laughing, it's not easy to spot two people. But I do. In one corner, closed off from everyone else, stand Marwa and her mom. Khala doesn't look happy at all, though she's wearing an expensive-looking sari and a full face of makeup. And Marwa is looking around impatiently. She's wearing a salwar kameez that matches mine perfectly — except instead of violet and silver, her outfit is blue and gold, perfectly complementing her bronze skin.
When Ammu's back is turned, I wave to Marwa. Her face breaks out into a grin as soon as she sees me. She waves back, before motioning to her phone. My own phone vibrates with a text.
Marwa: "Meet me by the bathrooms in two minutes."
"Ammu, I…have to pee," I say.
"You couldn't have gone before we came here?" Ammu says with a sigh. "Okay, go." She waves me off. But just as I'm leaving, I notice that she's already trying to push her bowl of payesh on our Bangladeshi neighbours. Not that the payesh needs much pushing. It may not be the recipe descended from the Mughals — but it's still pretty damn good.
"You're late!" Marwa says as soon as I'm in her earshot. She pulls me to the little corner just by the bathrooms — almost completely out of sight.
"Ammu wanted to talk to way too many people after the Eid prayers," I say. "I tried to stop her, but you know what she's like."
"Stubborn," Marwa mumbles under her breath. We both know all too well about that. "Did she bring the payesh?"
"Would it be an Eid party without it?"
She smiles, even though I can tell her heart's not quite in it. Just like me, she's nervous about the plan. About how both our mothers will react — after declaring each other enemies years ago and refusing to even be in the same room together. All because of a dessert recipe.
"What if this doesn't work?" Marwa asks the question that we're both thinking about. After all, convincing both of our moms to bring their payesh to the same Eid party so that people can taste them both and show our mothers how it doesn't matter who has the family recipe or not, seems like a good idea — in concept. In execution, it has way too many chances of falling apart. There are so many factors that Marwa and I just can't control.
But after months and months of trying to come up with some way to get our moms to reconcile, this was all we came up with. Once upon a time, our moms were so close that they named their two daughters — born within months of each other — after the two hills in Mecca. For years, we grew up side-by-side, like sisters more than cousins. Until our parents decided they would ruin all that. Over a dessert that non-Bengalis think is as simple as rice pudding.
"It has to work," I say, with more conviction than I'm feeling. Marwa nods in agreement.
"Was she suspicious?" I ask.
"Not even a little bit. Once I convinced her that Khala had gone back to Bangladesh to celebrate Eid and that she had the chance to showcase her payesh recipe, it was easy. She wanted to get here early to scope out the best spot for her payesh," Marwa says, rolling her eyes, but I smile. Because that's exactly the kind of thing Ammu would do too. The two of them are so alike — and that's exactly why this feud has kept up for so long.
"Even if this doesn't work," I say slowly after a moment. "We're not going back to being friends in secret." It's been too many months of secret phone conversations and text messages. Too many days where I've lied to Ammu about meeting a friend from school, just so I can see my cousin. When before, it was sleepovers every week and seeing each other every day. A friendship that seemed boundless.
"We're old enough to fight them back on it," Marwa says, not sounding convinced at all. Bangladeshis don't talk back to their parents…but ours are being ridiculous. They have been for too long now.
So, I gave a determined nod, and the two of us step away from our corner, and back to the main room in the community centre. Where all hell broke loose.
In the middle of the room stand our two mothers — both wearing their new Eid sarees that are now in disarray. They're in the middle of a screaming match, either unaware — or uncaring — that everybody in the room, around them, is watching them with wide eyes. This is definitely going to be the gossip topic of the year, doing the rounds on all the 'Auntie/Uncle' WhatsApp and Facebook groups.
"Ammu!" Marwa calls rushing up to her mom, while I make my way over to mine. "Stop! Everybody's watching!"
"You told me that she wasn't going to be here. You lied!" Khala says, sending such a powerful glare toward Ammu that I'm surprised she doesn't wither away.
"Yes," Marwa says, even though I'm shaking my head at her vigorously. "Safa and I planned to bring you both here, so you could see how ridiculous you're being. Right, Safa?"
Everybody's staring at me now. Except for Ammu, who has taken all the power of Khala's glare and turned it towards me.
I shift uncomfortably from foot to foot for a second before slowly nodding my head. "Yes…Marwa and I planned it. You both brought your payesh, you can see how it doesn't matter. People are going to love both of them. They're…"
"You brought payesh?" Ammu's voice is a whisper, but somehow it seems to envelop the whole room.
"Of course, I brought my payesh," Khala says, propping her chin up defiantly.
Ammu turns to the table where all the snacks and desserts brought in by various people are laid out. There's a bowl of chotpoti, plates of shingara and shomucha, boxes of roshogolla and kalojam. But right on the edge is a dish filled with payesh that is definitely not ours.
"Ammu, no…" but I'm too late. Before I know it, Ammu is striding towards the payesh faster than she's ever walked before. She grabs hold of the dish, and it's almost like the entire room is collectively holding its breath.
She glances over at Khala, but there's no wicked grin on her lips, no evil glint in her eyes. She almost looks…sad.
"You should have given me the recipe," she says, her voice so low it's a surprise we hear her. "I deserved it as much as you did."
Khala frowns, stepping a little closer to Ammu. "I should have given it to you?" she asks. "You're the one who kept it from me."
"What are you talking about?" Ammu asks. "Ma told me that she gave you the recipe years ago. And after she passed, I asked you for it. You said you wouldn't give it to me."
"I said I couldn't give it to you!" Khala cries. "Because you were rubbing it in my face. You were the one Ma gave it to. She told me so."
"Ma said…"
"Wait!" I exclaimed, stepping forward. Normally, I would never raise my voice like that to Ammu, but this definitely doesn't count as a normal situation. "You mean neither of you ever had the recipe?"
"She did!" Ammu and Khala say at the same time.
"Nanu lied to you both!" Marwa chimes in.
"Why would she lie?" Ammu asks.
"Why would I lie?" Khala asks. "And why would I keep the recipe from you?"
Marwa and I exchange a glance. All of these years, our moms had been fighting a feud that they shouldn't have been. But Ammu is right. What reason would my grandmother have for lying to them both? For pitting them against each other?
"Do you think Nanu lost it?" Marwa asks. "Or…maybe that the payesh recipe descended from the Mughals is just a story."
"It's not just a story," Ammu protests, shaking her head stubbornly. "The Jahangirs are descended from the Mughals."
"But did the Mughals make payesh, or even eat payesh?" I ask.
"I don't remember seeing any payesh in Jodha Akbar," says Marwa, like a Bollywood movie is the best factual reference for our family history.
"If you never had the payesh recipe…what is this?" Ammu asks, glancing down at the bowl she's holding.
"It's my own payesh recipe…I made it in memory of the one that Ma made."
"I made mine in memory of the one that Ma made too," Ammu says softly. "But…I don't understand." She shakes her head, glancing down at the ground like that will have all her answers. "Why did Ma lie to us? Why would she lie to us?"
Khala's eyebrows scrunch up like she's deep in thought. But for just a moment. "Do you remember when we were kids?" she asked slowly. "And our Nanu used to make the payesh, before Ma ever did?"
"I remember," Ammu says with a nod.
"When I used to think of Nanu, I used to think of the smell of cinnamon," Khala says. "Because…"
"That's what her payesh used to smell like," Ammu finishes off, glancing up to meet Khala's eyes. "But Ma never put cinnamon in her recipe."
I'm not sure what transpires between them in that moment, but it's like all the years of enmity that didn't need to exist vanishes just like that.
"So there was no payesh recipe?" Marwa asks, glancing between our two moms, looking a little distraught. I can't blame her. To think that we've built our entire family identity around this and our pride for this famous payesh recipe that goes back generations.
"Maybe once upon a time," Khala says. "But…I don't know when it got lost. Maybe it was our Nanu who lost the original recipe."
"Or…maybe it was Ma," Ammu says. "And that's why she lied to us."
"I don't think we'll ever know for sure," Khala says.
"But…now we have these two payesh recipes," Ammu glances down at the dish still in her hands. But instead of looking sad or even angry, she looks happy. Happier than I'd seen her in a long time. "Do you want to trade our recipes?"
"Yes!" Khala exclaims excitedly.
And I watch as Ammu and Khala saunter off arm-in-arm to celebrate Eid, catch up on their lost years and — most importantly — trade their payesh recipes.
"I can't believe our plan worked!" Marwa says, coming up to me with a glint in her eyes.
"Our plan didn't work," I point out. "Our plan didn't even start before Ammu and Khala started going at each other's throats."
"Yeah, but…they would have never had that conversation if we hadn't tricked them into the same room, right?" Marwa shrugs her shoulder.
"I guess. I think we can take credit for this. We've earned it." It definitely feels like our victory watching Ammu and Khala talk and laughs, as if those two years of separation never even existed.
Marwa grins and loops her arms through mine. "Shall we try some of the famous non-Mughal payesh?" she asks.
"We should, especially now that we have two recipes in the family." And as we wander off to fill up on the tastiest dessert in the world, I think about how Ammu's payesh story is definitely going to be a lot longer next year.
Artwork by Aisha Shahid