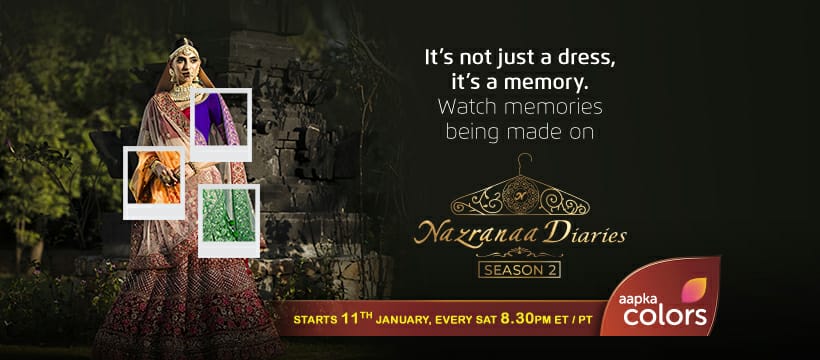 Have you ever walked into a bridal store and had the "this is it" feeling. This is where you will find all your wedding outfits? Well, I have, but I wasn't the bride. 
View this post on Instagram
I discovered Nazranaa, a fusion bridal boutique catered to millennial desis in the U.S., through their Instagram account. When the co-founder Shashank reached out to me to watch season one of their reality show, Nazranaa Diaries (the first-ever of its kind in the U.S.), I immediately fell in love with the store's concept. Luckily, I soon found a reason to go.
"Nazranaa is my dream bridal store, Priyanka," said my best friend Pooja.
Shashank obliged and invited us to his store in New Jersey. And yes, we found all four of her bridal outfits. From in-store assistance to tailoring Nazranaa's customer service was "first-class."
Today, Nazranaa has expanded from their flagship store in New Jersey to India and is launching season two of their reality show, Nazranaa Diaries. And Shashank is here to answer all of our bridal and business questions. 
Be inspired! I hope you get some great ideas for your wedding outfits. Lastly, have fun and enjoy the show!
Nazranaa: The Reality Show
Firstly, congrats on season two! Filming is not easy with a thriving business. What's new in season two?
New brides, new stories! We were able to dedicate an entire episode to one couple who allowed us to feature more details of their shopping process. We also added a mirror to have a different look of the bride in each shot, a technique that has made our show brighter in terms of production value.

This year the color gray is trending a lot. A bride wearing a grey or blush (pastel colors) gown for her reception is just breathtaking.


Nazranaa: The Business
2. Nazrana is expanding in India and America. What a journey you're one. Congrats to you and the whole team. 
We started this company with our father's expertise in the Indian clothing business in 2012. Then, my sister Shivangi and I had to gather immense knowledge in terms of generation's vision for desi clothing. We merged the traditional look with our generation's fusion wedding look to create pieces that are fashionable and suitable for weddings in the U.S. Our priority is maintaining a high quality of Indian fabrics and embroidery, which we are successfully doing. After becoming the biggest desi bridal clothing store in the U.S., we recently expanded the business in India. We decided to expand our India unit to accommodate the demand from our US expansion. 
3. What's your biggest challenge working in India? I imagine the work culture is different
The biggest challenge is the time difference after working all day, you need to start a second shift of coordinating with the team back home. The plus point, though, is that our work mostly happens in our factories. This makes it easier to have control and access of the supply chain. 
Nazranaa: The Mission
4. What do you want people to take away from season two of Nazranaa Diaries?
Be inspired! I hope you get some great ideas for your wedding outfits. Lastly, have fun and enjoy the show. 
View this post on Instagram
Nazranaa Diaries' season two is available on Youtube and the channel AapKa Colors.  Starting January 11th in the USA every Saturday at 8:30 p.m. ET/PT and in Canada every Sunday at 7 p.m. ET & 8 p.m. PT.