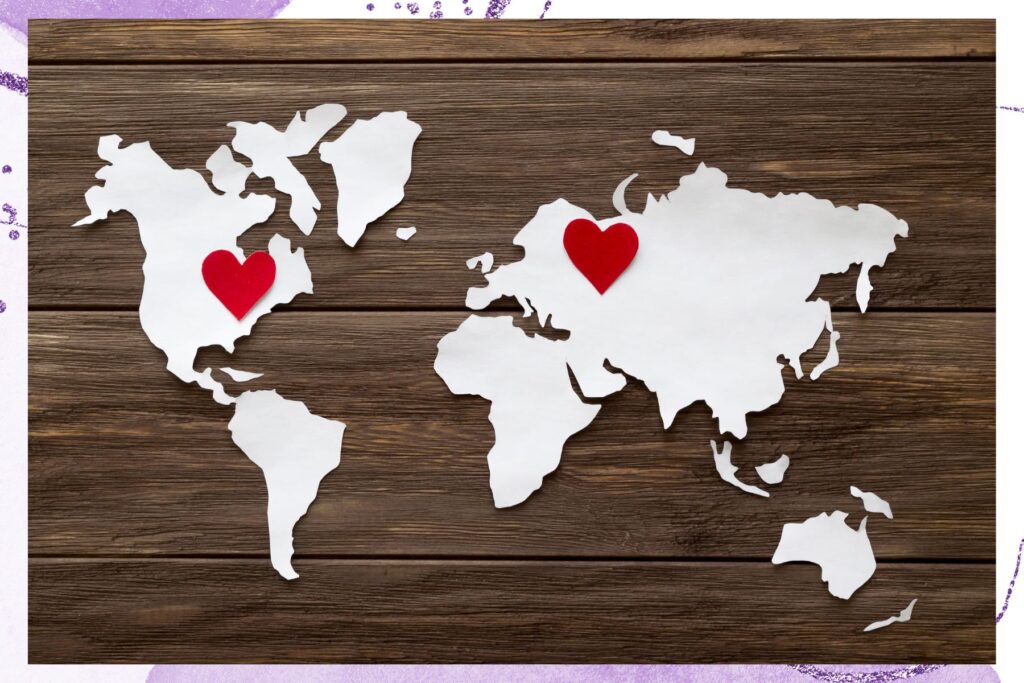 These days, the phrase, "love knows no bounds" doesn't seem to hold true. For many couples, specifically, those in long-distance relationships, the lengthy and complicated immigration process can keep lovers apart for six to 24 months. Well, aside from the thousands and thousands of miles of the deep ocean in between. I've been there; I have been an immigration attorney for 10 years and I found love abroad (my wife was living in the UK when we met).
I was flying across the Atlantic every few months so, as you can imagine, dating was quite expensive (though she quite liked the fact that for our first intentional visit, I paid several thousand pounds for a global migration conference as an excuse for flying over).
Marriage immigration is complex and costly. The eligibility and procedural requirements are confusing and require multiple long and complicated application forms over the course of six to eight years: from fiancé(e) or spouse visa through adjustment of status process, the Removal of Conditions Application, and thereafter applying for U.S. citizenship.
To put it in perspective, many immigration applications end up being 200-300 pages long. For you to know exactly what you need can be either extremely expensive — using an attorney, who typically charges $2,000-$12,000 per application (not including government-filing fees) — or time-consuming learning how to DIY. If you opt for the latter, it is quite scary to have to figure out the requirements and procedures and follow up with case status checks in hopes of finally getting some peace of mind that your case is progressing as it should. 
The worst part? The grueling wait. Waiting while not knowing how long until you can bring love home; waiting to start a family — the next chapter of your life. You keep hearing people say, "life is short!" and you thought that you finally found a partner you want to spend it with. Unfortunately, life (bureaucratic procedures) get in the way. 
The combination of distance and long immigration processing times puts our next chapter 'on pause' while we do everything we can to bridge the gap — the gap that effectively challenges our ability to build a 'real' relationship. Or did it? Is there a test for this kind of thing? I mean, apparently, the U.S. Immigration Service (USCIS) seems to know what a "real" relationship is and tests ours against some "standard" to determine if it is genuine enough to grant a fiancé(e) visa or spousal green card. What makes a strong Fiancé(e) or Spouse visa application? I've experienced love; I am human. What do they want from me to bring my partner home?
I have been a U.S. immigration lawyer for over 10 years and I myself found love abroad and firsthand had to go through the process of bringing my spouse home to the United States. My wife is an NRI who grew up in the Philippines and lived in London where we met (more on how our meddlesome Indian families instigated our "meet-cute" in a future article). Having recently gone through this journey, and having helped hundreds of immigrant couples over the years, it became obvious that there had to be a better way. It should not be expensive, unaffordable, or overly complicated for you to bring your loved one home to become a family. 
When we were apart, we did everything from waking each other up in the middle of our respective nights, with the time difference, to one partner falling asleep with the other on the phone. We watched movies together on Netflix. We made travel plans and talked about what the future would look like. We craved each other and expressed our love daily, maybe even hourly.
The future can be uncertain for any couple, but perhaps even more so for those in a long-distance relationship. When one partner is waiting for a spousal visa or fiancé visa, there can be a lot of anxiety and stress about the process and wait times. Even one mistake can set the whole process back months or even years and, if you are not familiar with the process, there's always the overhanging uncertainty of whether or not the visa will be approved altogether. 
In today's globalized world where borders are becoming less relevant than ever before, largely thanks to technological advances which allow individuals across countries via Facetime, WhatsApp, and Skype chats without having left home, there is more of a need for a streamlined immigration tech platform that helps "modern" couples who are dating long-distance with the help of technology.
View this post on Instagram
The number one reason Fiancé(e) visa or Spouse visa applications are denied is lack of documentation evidencing your relationship/intent to marry. This article shows what evidence you can provide USCIS to prove you have a genuine relationship and thereby strengthen your visa application. OurLoveVisa.com is an immigration attorney-designed platform that provides free tools and features to help couples going through the U.S. K-1 or marriage visa process plan, manage, and track their immigration journey. Many couples going through the K-1 fiancé visa process, or CR-1/IR-1 spouse visa process, have found its relationship timeline tool, which is as easy to use as Instagram, helpful in building their application. The best part: it's free to use. The OurLoveVisa.com platform was built so you can focus on what is truly important, your relationship!
The long, unreasonable immigration processing/wait times are definitely another topic for discussion and, as time goes on, I will continue to share and elaborate on my and my wife's joint and individual journeys through marriage, immigration, and closing the gap from our long-distance relationship. In the meantime, I hope the information provided will bring value to you and your journey.