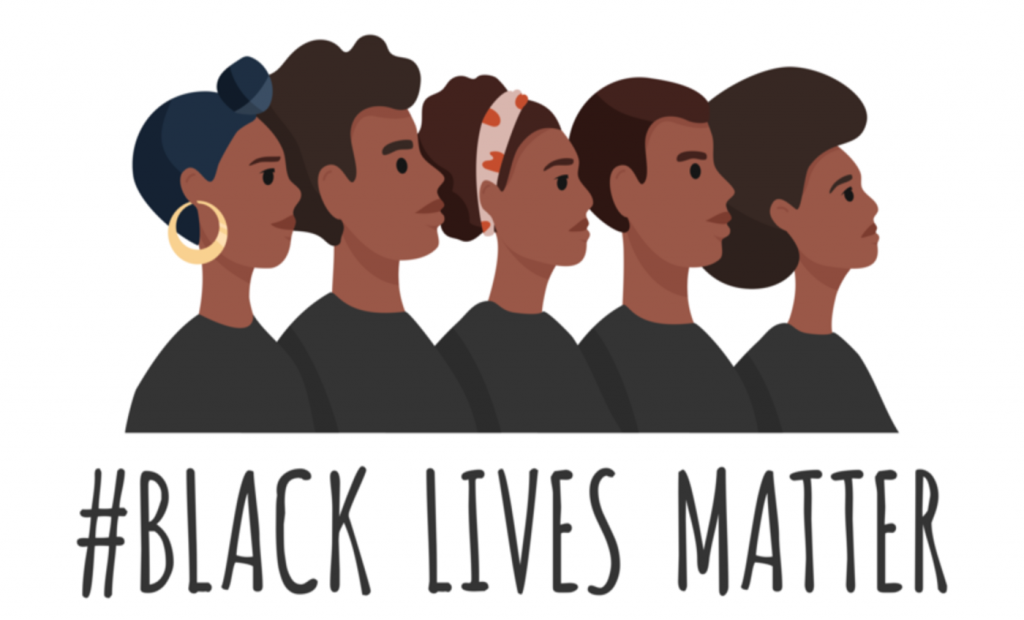 1.
A crime occurs
On Twitter, under the 'For You' section, I found a video that was both unbearable to watch and impossible to look away from. Like many people, I was chilled by the parallels to Eric Garner's death. A quick google revealed that Eric Garner was murdered nearly six years ago. Six years of "I can't breathe."
Outrage about the lack of meaningful change took over social media. We said their names. Not just George Floyd but also Breonna Taylor, Shukri Abdi, Tony McDade, Iyanna Dior, Belly Mujinga – too many names.
People went to the streets and social media in what felt like near equal measure. My Instagram feed became a stream of stats on Black oppression over the centuries.
In London where I live and Canada where I'm from, we expressed solidarity with the protestors in the US before realising we had our own problems. In the U.K., a report on the impacts of COVID-19 on Black and other ethnic minorities showed that we are overrepresented in the mortality statistics. In Canada, we mourned Regis Korchinski-Paquet, a Black woman who fell to her death after police were called to her home in Toronto.
Each successive day, more people were posting about the Black Lives Matter movement.
2.
A hashtag is born
#BlackoutTuesday arrived seemingly unannounced.
Instagram has become my primary resource for racial injustice. On it, I had found a proforma letter to send to my MP demanding that the U.K. cease the sale of riot gear to US police departments. I learnt about the right places to donate. I was educated about not only white privilege but also about the internalised racism in South Asian communities.
On #BlackoutTuesday, this information was suddenly replaced by black tiles. I was told the intention was to express solidarity with the Black lives. Part of me was touched to see black tiles on the unexpected timelines of my baby cousin in Bangladesh, the working-class white kids from elementary school and the posh boy I met through work.
3.
The hype is real
As the day continued, #BlackoutTuesday posts became increasingly ridiculous. There was the fitness influencer who posted a black tile with no caption, not daring to directly associate with the movement. The mega-brands with no Black people in their ad campaigns or boardrooms posted them as well. Even the Bollywood actress who has never spoken up about the persecution of Muslims in India (and promoted skin whitening creams) got in on the action.
It was weird.
Some people continued to post oblivious selfies and photos of humdrum banana bread.
I saw a tweet that day from someone bragging about how her entire timeline was black tiles. The implication was that, if yours wasn't, you were following racists.  
4. The backlash
Midway through that Tuesday, the backlash began. Some expressed concerns about the black tiles co-opting #BlackLivesMatter, obscuring information about the movement. Others called it performative activism.
Many noted that while 28.5 million Instagram posts were posted as #BlackoutTuesday, there were only 13 million signatures on the petition calling for justice for George Floyd.
When people posted with #BlackLivesMatter, they were asked to take it down and re-upload without the hashtag. Some did, many more couldn't be bothered.
5. Vive la révolution?
It's been over a few weeks since #BlackoutTuesday, otherwise known as 'the day white people realised racism exists.' A segment of people on my feed have moved on and photos of food, selfies and the holidays we used to go on have returned.
The rest, not so much. Some of them are political, Extinction Rebellion-loving, Trump-hating friends who would always have continued to speak about the issue. Others are new to this. Something about George Floyd and this moment have made them realise systemic racism is real and they need to take action to defeat it.
There have already been some wins. Minneapolis has committed to dismantling its police force. New York is seeking to reform the NYPD budget. Statues of slave owners have fallen in Virginia, Alabama and the U.K. Governments are being forced to respond and affirm that Black lives do indeed matter.
The protests are continuing in my city and in more cities around the world each day. Donations are coming in, not least from K-pop stars. Uncomfortable, fumbling conversations are happening. BLM still dominates my social media. I want to believe those that briefly dipped into the fray with their black tiles are continuing the fight in their own way.
I am, fittingly, reminded of a friend's Instagram post: "A revolution has many lanes – be kind to yourself and to others who are traveling in the same direction. Just keep your foot on the gas."
View this post on Instagram
---
The opinions expressed by the writer of this piece, and those providing comments thereon (collectively, the "Writers"), are theirs alone and do not necessarily reflect the opinions of Brown Girl Magazine, Inc., or any of its employees, directors, officers, affiliates, or assigns (collectively, "BGM"). BGM is not responsible for the accuracy of any of the information supplied by the Writers. It is not the intention of Brown Girl Magazine to malign any religion, ethnic group, club, organization, company, or individual. If you have a complaint about this content, please email us at Staff@0mq.349.myftpupload.com. This post is subject to our Terms of Use and Privacy Policy. If you'd like to submit a guest post, please follow the guidelines we've set forth here.