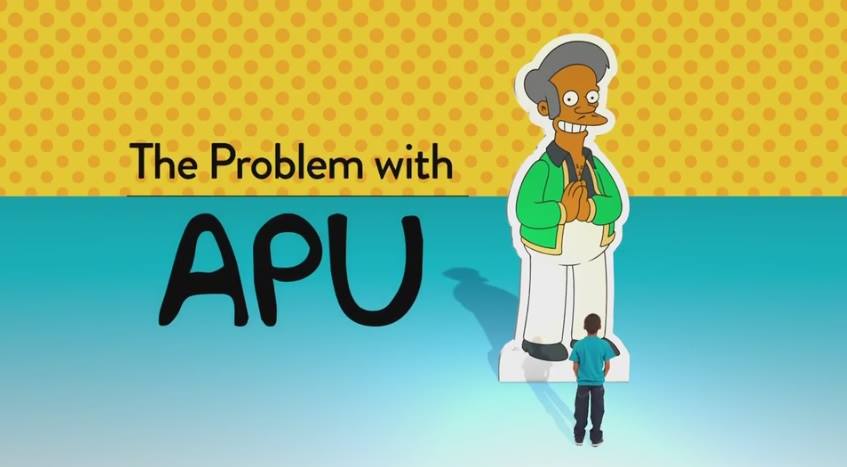 by Liya Thachil – Follow @liyabobiya
On a rather blustery evening, folks gathered in the Time Inc. building for an exclusive screening of "The Problem with Apu," a documentary made by a well-known comedian, filmmaker, podcast host and actor Hari Kondabolu. Hosted by SAKHI—a New York City-based nonprofit working to end violence against women since 1989—the evening comprised of viewing the film, which followed a panel discussion moderated by essayist Aditi Natasha Kini, and three panelists including the host of the "See Something, Say Something," podcast Ahmed Ali Akbar, TV Guide features editor Krutika Mallikarjuna, and WNYC's race and immigration reporter Arun Venugopal.
Throughout the documentary, Hari tries to make sense of a cartoon character that came to define the stereotype of being desi in this country, and how it affected his life personally.
https://www.facebook.com/363555160766556/videos/363558387432900/
But the core quest of the documentary was getting answers from the voice of Apu himself: Hank Azaria. He interviewed notable desi leaders, actors, and comedians, from the former Surgeon General Vivek Murthy to Kal Penn, on the consequences of Apu. All who were interviewed shared various tales of bullying and teasing due to this character. From random people mimicking the popular phrase "Thank you come again" in a horrendous accent, to just being called Apu, it is clear the emotional scars are still present in all of us.
The film is rich with humorous moments, from Hari's own parents teasing him about his Apu-like haircut to uncomfortable white people when they learn Apu is voiced by a white man (I personally enjoyed the latter). In essence, Hari shows us Apu represents a white America. Actors like Aasif Mandvi, Maulik Pauncholy, and Sakina Jaffrey shared stories of auditioning for jobs that catered to the stereotypes. These stereotypes exist because there is no one who is desi in the writer's room. The crux of the film lies behind whether or not Hari will get that sit down with Hank Azaria, because, as we see, the traits of Apu were created by Hank. Hari believes Hank must be held accountable for his portrayal. It was revelatory and provoking and is definitely deserving of a viewing, especially for those of us who like to say we are "woke desis" (perhaps that is only me?).
The panel discussion later followed a lively discussion about the bigger problem in front of us: how we are defined by white America. Hank, as the white man who voices Apu, in a way, opened the Pandora's box because he decided how a South Asian immigrant should be seen by the world.
It became clear that all of the panelists believed that to solve this issue of representation requires more desis to enter the realm and write and produce these shows and films that tell our stories. We, as a minority, tend towards detachment because we focus on careers that provide stability and money, so any sort of outrage is justified as "well it isn't really affecting me."
However, the panelists did a great job demonstrating that us pushing for more representation in the media is well needed because otherwise, our children will also have to deal with Apu jokes.
So, the morale of the discussion: the only way to evolve past him is to create and show more stories that overshadow and overwhelm Apu to the point that he no longer matters.
For you desi-Americans working on that script in your local coffee shop, keep writing and pitching!
Sakhi and The Asian American Association of Time Inc's The Problem With Apu Screening & Panel Discussion from Sakhi for South Asian Women on Vimeo.
---
Liya Thachil is the co-founder of WESTxEAST, which is a retail brand aiming to provide South Asian inspired basics. It was created because of the need she and her co-founder, Tania Chackumkal, discovered for sari blouses, petticoats, kurtas, etc. They believe the silhouettes of the subcontinent should be more globally embraced. WxE aims to be a movement towards style beyond borders. Liya is an avid collector of vintage saris and believes all women should own at least one Kanchipuram sari.