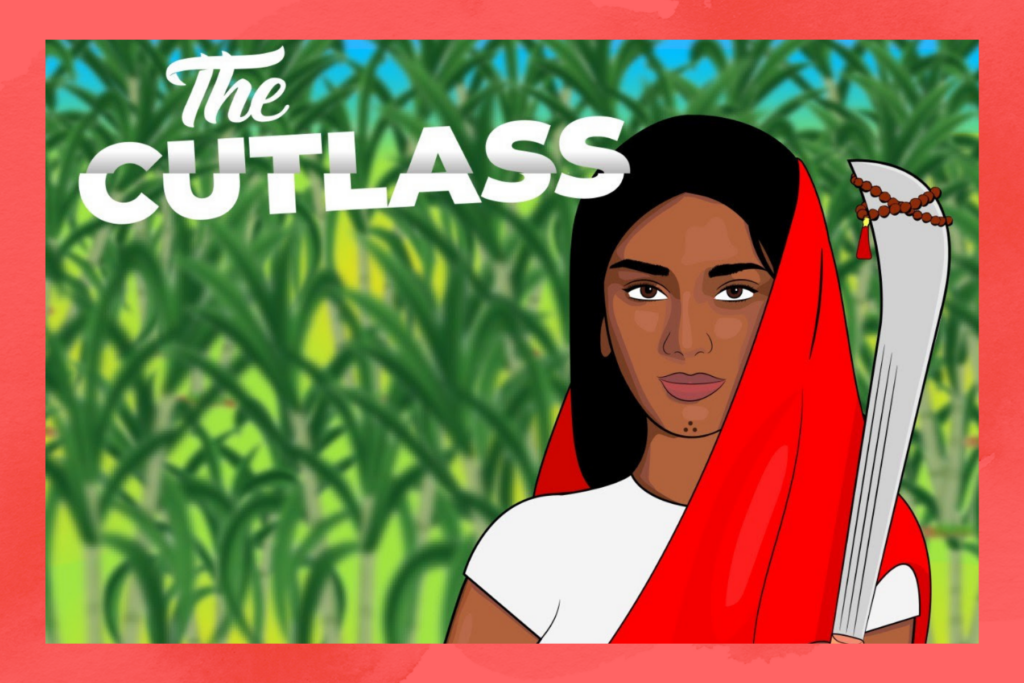 Like many of us, Vinay Harrichan was contemplating community, family, legacy and time throughout the pandemic. In August 2020, he launched The Cutlass, a podcast and social media platform. Applying over six years of independent research into Caribbean history and culture, the platform is dedicated to shedding light on Caribbean languages and background. It's one of the only platforms to illuminate the linguistic origins of indentured people.
In a year, the podcast has gained more than 7,400 followers on Instagram and 1,600 on Twitter. 
Harrichan saw Indo-Caribbean spaces develop on social media during the pandemic. But, he noticed a lack of in-depth discussions about language, history, religion and culture — partially because nobody teaches those topics. 
When he launched The Cutlass, he didn't know what the platform would communicate. At first, he shared work from Indo-Caribbean artists. Then, as people across the Caribbean began connecting, they showed interest in other topics, like Indo-Fijian and Indo-Mauritian history.
View this post on Instagram
"That's when I really started to lean more into the history and language," Harrichan said. Having taught himself Hindi and Hindustani, a linguistic mix of Urdu and Hindi that was encouraged by British officials in 19th century India, he began translating popular Caribbean songs like "Mor-Tor." Suddenly, people knew the meanings of songs they had sung for decades and their enthusiasm solidified his focus.
But he didn't expect the platform to grow as swiftly as it did. His work reached people in South Asia and "back home," in the Caribbean. Young people were also enthusiastic about learning Indo-Caribbean history. Recently, he launched a Discord group, where he teaches formal lessons about languages of indentureship. Soon the platform will include "standardized courses" that pair with audio lessons on the podcast. 
Harrichan dedicates The Cutlass to Indo-Caribbeans and other descendants of indentureship because the communities have vast, barely-touched histories. He aims to represent and start conversations among these groups. Consequently, he believes the information has helped reshape people's opinions of themselves and their communities.
"I've been very adamant about telling people to not refer to Bhojpuri or Hindustani as 'broken Hindi' or to not refer to our Creole dialects as 'broken English.' Because, truthfully, our indentured ancestors had rich cultures but lacked words to pass down the information," Harrichan said. 
Online, The Cutlass defines itself as progressive. To Harrichan, that means it decenters colonial history and presents all aspects of Caribbean experiences, from the music and aesthetics to the domestic violence and unfair labor systems. He's been interviewing elderly Indo-Caribbeans who lived through it so their stories can provide anecdotal evidence for Caribbean cultural practices and their origins. Despite the perception of senior community members as traditional and prejudiced, they've been progressive too. 
"I think it is so important that we continue to have conversations with older people because we may have our own biases towards them," Harrichan said. Their discussions showed that elders are more open-minded than we may think. So, he hopes to inspire young people to talk to their older family members and learn about their experiences. He believes their stories are valuable because there is no cut-off age for shaping the future.
View this post on Instagram
Running The Cutlass demands work: cross-referencing stories with information from Caribbean literature, collaborating with Trinidadian linguists and creating content. Harrichan, the sole contributor, worked and attended graduate school full-time at launch, so the process has been challenging. But knowing what's at stake — old Caribbean languages dying out — motivates him. 
Already, few people understand the languages — further detachment would make it near-impossible to teach younger generations. To prevent that, he's making knowledge that he gained from researchers accessible to youth via social media. 
Looking forward, Harrichan hopes to continue The Cutlass. "I'll always want to give back to the community because it's very important to me that we continue to hold on to these customs and traditions," he said.
The Indo-Caribbean community is young, however; it's only about 200 years old and ever-changing, Harrichan said. While he can't predict where the platform will go, Harrichan plans to create an archive of elderly Caribbean people's experience, instruction materials for languages of indentured people and a book of wedding traditions. 
He also wants to spotlight women's stories: child marriages, the history of Indo-Caribbean women's clothing and their methods for social elevation. 
The Cutlass logo and title are tributes to his Nanni and Ajee (maternal and paternal grandmothers, respectively), who passed away when he was young. But they also symbolize Indo-Caribbean heritage. He believed, "our ancestors would have used it to cut sugar cane or grass when they first came to the Caribbean, but it became a relic that was preserved over time… It stayed with us."