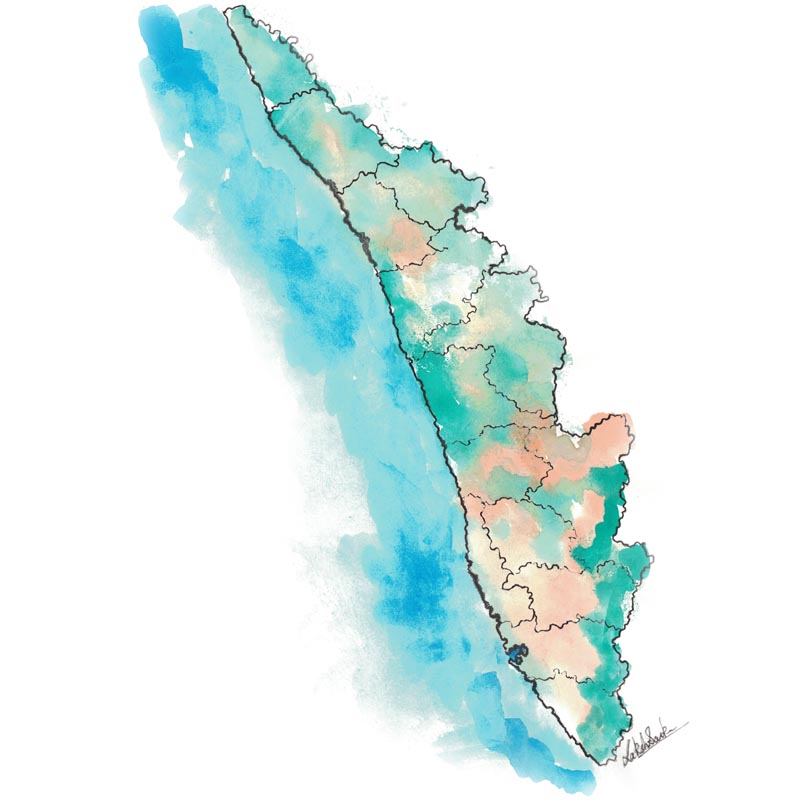 The death toll in Kerala has exceeded 350 people and more than 200,000 people have been left homeless. So, why do I feel more hopeful than ever?
I am hopeful because I'm seeing the national government finally provide appropriate financial help and I am hopeful because world media outlets are finally providing the coverage and support the small state needs.
Since last Friday, nearly 43,000 people have been rescued and more than 1,500 emergency relief camps have been set up in Kerala and across the country in cities like New Delhi, Chennai, Bengaluru, and Mumbai; for the first time in the past week, we are working together as a unit.
Domestic Efforts:
After surveying the area, last Saturday, Prime Minister Modi upped his financial contributions to Rs. 500 crores; many state officials are even pledging to donate a month's salary to the rescue efforts. Tamil Nadu, Andhra Pradesh, Puducherry, Jharkhand, Maharashtra, Karnataka, Manipur, West Bengal – the list sprawls across India of the states that have now significantly contributed to the Kerala CM's fund.
Prominent businessmen and international celebrities (Dhanush, Vijay, Shahrukh Khan, Amitabh Bachchan, Rajinikanth to name a few) are actively volunteering at rescue camps or are providing monetary relief. South Indian actors Kamal Hassan, Surya, and Sidharth are even participating in the #KeralaFloodRelief challenge. Cricketers have collectively donated Rs. 1.5 million to the CM fund. Even beloved Sonali Bendre, who is currently battling cancer in New York, has taken time to spread the word and show her support for the relief efforts.
Not to mention news channels across India and the world are finally acknowledging the seriousness of this natural disaster; Star India is even pairing up with an NGO called Goonj, hoping that others will follow in its footsteps.
I checked back in with Trivandrum local, Kalyani Nandakumar, on her perspective regarding the efforts thus far. She gave a shout-out to the fishermen of the region,
"A lot of the people who were rescued in boats were by the fishermen of the Southern part of Kerala and people are extremely grateful towards them."
More than 2,800 fishermen have loaded their boats and ventured into the 10 feet waters to help volunteer. Kalyani shared the below picture of locals lining up to thank fishermen as they leave their district.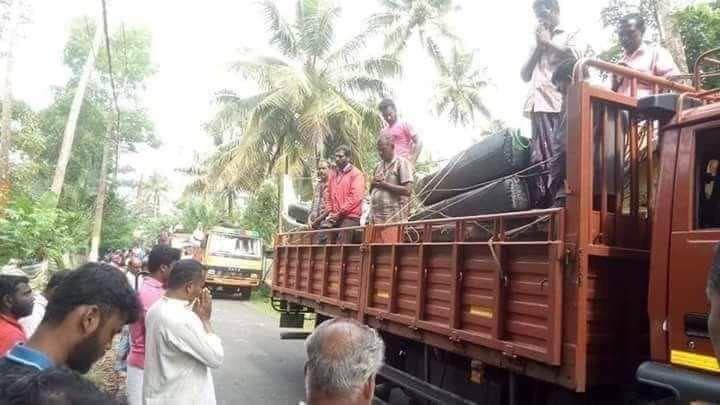 "The money is being used effectively, and student communities have made power banks for the people," she says.
International Efforts:
Former Jammu and Kashmir Chief Minister Omar Abdullah is donating one month's salary to the cause and has strongly encouraged the rest of his colleagues to do so as well. President Sheikh Mohammed bin Rashid Al Matouk of the United Arab Emirates (UAE) even took to Twitter to urge everyone to provide relief and even expressed his support in Malayalam. The UAE will be donating $100 million and the Qatar government will be donating Rs. 35 crores.
Religious communities across the board are even stepping up in the name of unity. The Islamic Centre of India is appealing to Muslims to donate a portion of their Eid budgets to the flood victims. A UK based Sikh organization sent volunteers to organize a langar for the flood-hit people of Kochi – meals were served to 3,000 people. Hindu temples across the board are collecting food and supplies to pass on to people in the surrounding areas. Christian Aid, a global coalition of churches, as well as Knanaya Catholic organizations across the United States have organized fundraisers and benefits for the cause. Without any religious or political bias, Indians all over the world are banding together.
What Does Kerala Need Right Now?
The devastation has been done. It's so easy to sit here and feel angry. Angry at the response time of the Indian government and surrounding states, angry that Kerala's infrastructure lent itself to the severity of the floods, and angry that this tragedy was glossed over by domestic and international media outlets. But this anger? It isn't constructive.
It does not help the people who are currently waiting on their rooftops, it doesn't help bring food, water, and medicine to people who are starving, and most importantly it doesn't help relieve the anguish and pain that comes with losing your home. The time to address these important issues will come, but right now? Kerala doesn't need an apology, it needs strength and support.
"There is nothing to be afraid of," says Kalyani, "because we're all in this together."
And seeing our communities come together makes me proud to not only be a Malayali but an Indian.
What Can You Do to Help?
Help perpetuate awareness:
The Kerala floods are not being treated as important world news. Write a post and tell a friend. Before we can fix a problem, people need to know that the problem exists. So, share this article on your newsfeed and InstaStories!
Donate to the cause: 
There are several credible websites that are collecting donations. You can donate directly on this Facebook donation page, which has seen close to $700,000 or through the Kerala CM's Distress Relief Fund (CMDRF). If you choose to make the donation online, here are the account details to follow: Account number: 67319948232 / Bank: State Bank of India / Branch: City branch, Thiruvananthapuram / IFS Code: SBIN0070028 / PAN: AAAGD0584M /Name of Donee: CMDRF.
Here are a couple more websites we found – Keralarescue.in and Ketto.org.
Our friends at Constantly Create Shop are donating profits to Kerala CM's Distress Relief Fund (CMDRF) to help flood victims in need. For bulk orders contact sean@constantlycreate.shop. For free shipping within the U.S., use code MINTPRINTS at checkout here.
Our friend Hana Manadath started a LaunchGood campaign to raise $1,000, which goes to a larger Kerela relief fund that is raising $250,000.
As a photographer from Kerala, I've found myself looking back at the photos I've taken in God's Own Country. I've turned my favorite shots into postcards, with 100 percent of the proceeds going towards relief efforts. Donate $7+, and I'll send you a personalized postcard of one of my photographs! Pick your postcard here and specify your choice as a note before donating.
Help someone in danger:
If you know anyone who is currently in danger or stranded by the floods, the government of Kerala has started an initiative to request help.
It is during times of crisis that the strength of our community is tested – if one state hurts, we all should hurt.