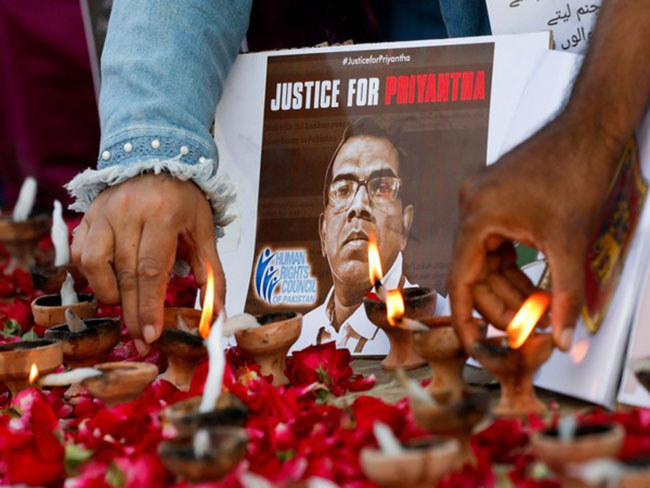 Weeks after national outrage, the Senate of Pakistan passed a resolution unanimously condemning a horrific incident in which a Sri Lankan national was lynched in Sialkot on Dec. 3, 2021. Identified as Priyantha Kumara Diyawadana, the 11-year Pakistan resident was attacked by a mob of enraged young factory workers. He was then lynched brutally and repeatedly until death; the perpetrators then set his body on fire.
In the midst of this atrocity, with Kumara's mangled body burning up in flames, men were gleefully taking selfies and posting on social media as if in celebration of some delusive victory.
What aggravated this group of men to act so heinously? "Alleged blasphemy." Why "alleged"? Because in most cases, no one can quite prove how the victim blasphemed. But as columnist Fatima Bhutto writes, "in Pakistan, to accuse someone of blasphemy is a death sentence." The state deems it punishable by death. Misuse, therefore, is not unheard of in the country — angry civilian mobs taking matters into their own hands, persecuting minorities and calling it a day. It's also true that, oftentimes, blasphemy labels in Pakistan are merely used to settle personal scores.
Hence, another unapologetic, gruesome display of violence, another individual, a victim of intolerance and another family now await justice. It's all too familiar. 
Kumara traveled to Pakistan from Sri Lanka over a decade ago. As a quintessential migrant, he dreamt of better opportunities and a chance to give his loved ones a comfortable life back home.
In Sialkot, the 49-year-old was working as an export manager for Rajco Industries. On the morning of Dec. 3, 2021 Kumara asked his staff to remove a sticker from a machine in their factory, ahead of a visit from a foreign delegation. The sticker in question had religious verses printed on it. When the workers refused, Kumara proceeded to remove the sticker himself or so has been the consensus. This action was enough to trigger the cruel insanity that followed: workers, who were apparently supporters of the far-right, extremist Islamic party Tehreek-e Labbaik Pakistan (TLP), unleashing their wrath and disregarding any sense of basic humanity in the name of religion. 
According to police officials, after brutally killing Kumara, the mob also wanted to kill the factory owner and set the building on fire.
"The mob wanted to set on fire the entire factory after lynching Kumara. A group of charged workers headed towards the residence of the factory owner to kill him, but timely action by police prevented further violence," Sialkot District Police Officer Omar Saeed said.
Since the incident, Pakistan's political and religious leaders have vehemently condemned the attack on Kumara, denouncing such "extrajudicial vigilantism" and calling it against the fundamental laws of Islam. Prime Minister Imran Khan also vowed that the perpetrators of this ghastly murder will be strictly punished. 
"A total 131 suspects, including 26 main ones, have been arrested so far. The 26 prime suspects have played a key role in inciting the people, lynching Kumara and setting his body ablaze," Punjab police officials confirmed.
At least 15 prime suspects were presented before the Anti-Terrorism Court Gujranwala, where they were remanded in police custody.
But while a resolution reiterating that extremism is deplorable in all its forms and manifestations has been passed, it does not erase the harm that has been done nor address the mindset of extremism that exists within the society.
This violence is a  cycle that's been witnessed far too many times. According to the Guardian, in one 2009 incident, an entire local Christian community was set ablaze and six people burnt alive in the Pakistani city of Gojra on blasphemy allegations. This followed an incident in 2014 in which a Christian couple was bludgeoned to death and later burnt in the furnace of a brick kiln after being accused of blasphemy, BBC reported. Most recently, 23-year-old student Mashal Khan was stripped naked, severely lynched and then shot over allegations of posting blasphemous content online in 2017.
According to Al Jazeera, at least 77 people accused of blasphemy have been killed extrajudicial since 1990. In most of these cases, the culprits were never quite punished to the full extent of the law. Government promises have been nothing but hollow words, for the fact remains that it dare not risk supporting a blasphemer and be outcast as blasphemous itself. Such is the caution required in a state that's driven more by ideologies instead of the law.  
In the recent past though, the entire region has been swept by this wave of intolerance and fanaticism. Incidents of brutality against Muslim minorities and communal violence in India have drastically increased with little to no intervention from the ruling party. Long-running discrimination toward Hindu minorities in Bangladesh took a deadly turn in October, triggering a series of protests worldwide, yet little to nothing is done by leaders in power within their own jurisdiction. It's ironic, the bigotry, when patrons of these very communities fight for rights and representation outside of their own countries and fail miserably in extending those on home ground. 
Nonetheless, for the citizens of Pakistan and those overseas, it's a moment of shame and global embarrassment. Once again the nation is grappling to save its international image that this is not true of all Pakistanis. That the abysmal state of affairs and the violent actions of some are not representative of the entire population. Local protests and vigils in solidarity with the Kumaras have been held across the country whereas overseas Pakistanis have also reportedly raised thousands of dollars to support the grieving family. Kumara is survived by his wife and two sons aged 14 and 9.
The story of Malik Adnan, the co-worker who tried to save Kumara from the manic mob has been a headliner across media outlets, perhaps also for some possible damage control. 
In Kumara's case, there is a glimmer of hope for his family seeking justice. There are diplomatic relations in play here — Kumara being a foreigner and Sri Lanka being an ally to Pakistan. Officials from both countries have discussed possible financial compensation and security for Priyantha's immediate family — his wife and two children — while the Pakistani government has assured the political leadership of Sri Lanka that it will pass on all information from its investigations at the earliest. Mounting international pressure has resulted in swift action, so far. 
As of this report, Senate Chairman Sadiq Sanjrani said he will send a delegation of senators to Sri Lanka to personally hand over a copy of the resolution to to Kumara's family.  
While a step in the right direction, this still prompts the question: will this incident finally pave the way for much-needed reform in Pakistan? There is reasonable doubt for there still stands a shrine to the murderer who gunned down a governor in office for voicing concerns against the country's blasphemy laws.