Sukhi, meaning happiness in Sanskrit, is an online platform targeted to people of color. This mental health organization's goal is to connect those with mental health issues with culturally competent providers. The Sukhi Project also provides a community for patients allowing them to connect and engage as a way to eradicate stigma. The organization's mission is to create accessibility for those seeking support while working towards disregarding the immense taboos that are associated with therapy.
This is a huge responsibility, but it is also one that allows the community to navigate their South Asian identities as Sukhi connects them with providers that are tailored to help them explore the emotions, feeling and conflicts they face as South Asians.
We had the opportunity to speak to the leaders of The Sukhi Project and discuss some of the inspirations behind this organization as well as its greatest benefits. CEO and founder Rahul Kulkarni told us about his journey with mental health and why it was important to him to build an organization like Sukhi.
Although we got that right job, and went to that right school, it all felt so empty. I noticed that my inner circles were trying to thrive on anxiety — this lead to trouble sleeping at night, questions regarding purpose, and an insatiable appetite for success and instant gratification. We were struggling and the only services I could find did not take into account the cultural nuances of being raised by Asian immigrants. I wanted to help build a platform that would reduce burnout, increase happiness, and teach mental resilience for all people.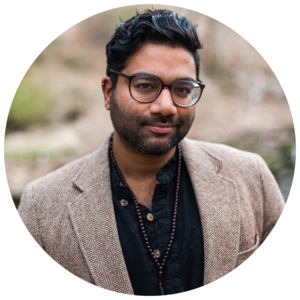 An integral part of Sukhi's mission is to work with patients to reach a level of happiness within their family unit, even when dealing with internal stress. Kulkarni discussed his own experience with stress within the family, the guilt of dealing with mental health struggles as well as the lack of conversations that existed in most South Asian homes.
As in many Asian homes, mental health wasn't spoken about within the walls of my childhood house. Yet mental distress was certainly part of the structure's foundation. Suffering in silence was almost a tacit badge of honor — this is how hard we work, these are the pains we've overcome…and we've done it for you.
When asked about the greatest benefits of the organization, Rahul referred to the importance of members being heard and having a sense of community.
Our aim is to plug our community members into a movement larger than its individual parts so they share their experiences, explore their mental well-being, and gain effective tools to live happier lives. We're building safe spaces through the help of like-minded community members and dedicated wellness providers.
Janet Namkung, Sukhi's Chief Culture Officer spoke to us about her 10-year experience in minority advocacy and its importance in the mental health space today.
The American Dream meant doing anything for your family so that everyone can survive. While the immigrant journey towards the American Dream comes with some successes for your family, it also brings the trauma and pain that no one wants to acknowledge or address. I saw my family, friends, and community members suffer silently and sometimes ending their lives. The pressure to provide and succeed in a community where talking about your mental health is stigmatized perpetuates a culture of silence, depression, and loneliness.

As I got older, I learned more and more about what self-care meant and that the challenges that I was experiencing weren't just in my head. I decided that I would pursue a career in community advocacy to be the voice for so many marginalized communities and help them get the support that they needed. Mental Health was one of the issues I advocated for and was excited to join the Sukhi Project to be able to be a part of the creative process.
As Sukhi's Chief Culture Officer, we spoke to Namkung about the importance of cultural competency when finding a mental health provider.
I wanted a therapist who understood the same normals so that they can connect on why I was experiencing certain types of trauma, anxiety, and depression. It is also important to have providers who understand that there isn't just one way to address mental health concerns. Providers who can address each patient or client with cultural understanding and being able to adjust to their cultural needs is so valuable and needed.
Aishika Jennela, Sukhi's comms and marketing associate, discussed digital content creation and how as a form of self-expression it aids with self-care.
I have a lot of creative freedom when it comes to Sukhi's social media and content, so yes, I do view it as a form of expression. I studied media in college and how it influences people, so I always wanted to pursue a career related to communications and media, and uplift marginalized voices and help spread their stories.

In a way, it is self-care because when designing or curating content for our social media or newsletters, I think about the words and stories I need to hear but haven't. How do I need to heal? What do I need to grow? What can I relate to? I also try to write copy that's reflective and introspective, that gets people to think as much writing it out lets me express my emotions and feelings.

It's also pretty affirming whenever people interact with our content and let me know they really needed to hear a particular quote we shared or found an article especially relatable.

We also spoke specifically about the marginalized communities in Asia/South Asia and how creating partnerships can help benefit the them.

Mental health is inherently tied to social justice. Economic inequality, healthcare disparities, homophobia, and racism impact our mental health and affect our abilities to live and thrive. Our most marginalized communities are also our most vulnerable, those that struggle with different forces of oppression at once, and we try to curate resources and content that address those issues and connect them with providers and organizations working on more sensitive topics like the Domestic Violence Resource Project. Even if we can change one life, that's still pretty meaningful.
We also had an opportunity to speak with Payal Patel, director of marketing, who explained to us her critical role in formulating the fundamentals of Sukhi's brand. 
It was important for me to connect with other Asian mental health organizations, target Asian influencers who were advocates of mental wellness, and overall bring awareness to the stigma that is associated with seeking therapy/coaching in the Asian community.
Patel, a makeup artist, told us a little about her journey transitioning to a career as a life coach.
Sukhi is paving the way as a mental health organization targeting minorities. With their first focus being the Asian and South Asian communities, Sukhi's goal is to ensure that those seeking help are connected with providers that are culturally aware of their religious background, family dynamic and customs. By providing connections, community and content, Sukhi has been able to offer support in a unique way from that of other organizations.
Their sense of community including digital conversation and meet-ups allows members to know that they are heard and not alone. This continuous support provided by the organization is also apparent in its content. With a goal of building mental resilience in minority communities, Sukhi provides resources such as podcast, music, videos and articles to support their members.
Their niche outlook with the Asian and Asian American community provides new ways for patients to reach out to providers that may be more culturally appropriate to help them cope with their mental health struggles. Sukhi's understanding of the need for culturally-competence in the mental health space will have a major impact on the treatment and care of minorities suffering from mental illness.
Learn more about Sukhi's services here and RSVP to their first-ever fundraising event happening in Washington, D.C. on Thursday, June 13th.