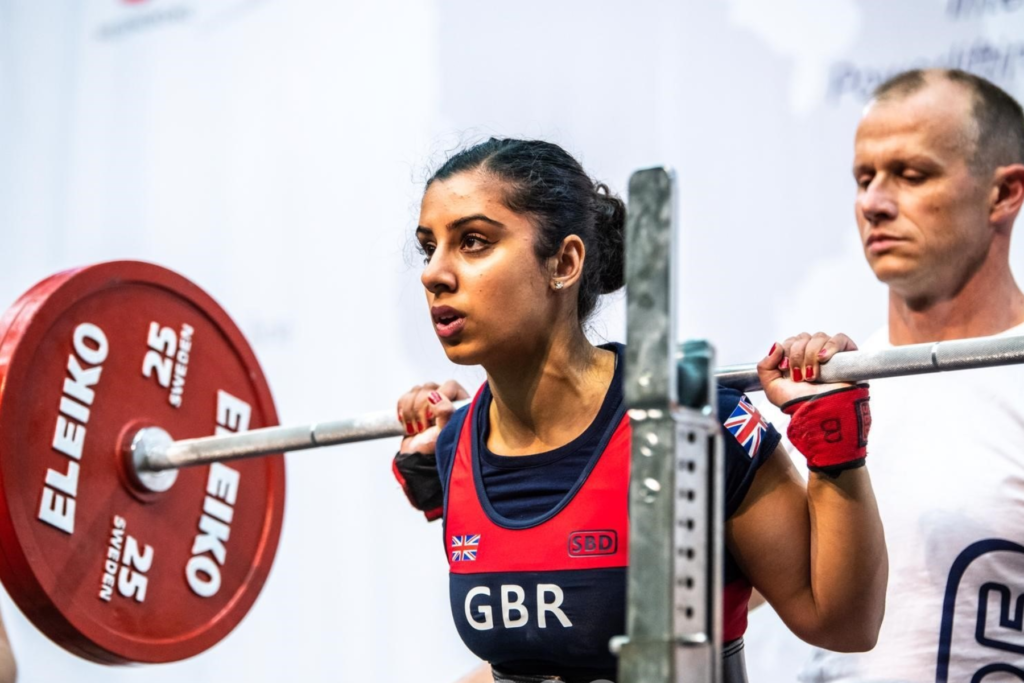 Karenjeet Kaur Bains is the first British Sikh female in history to represent Great Britain in powerlifting. This only became known to me when the ping of my Whatsapp alerted me to a  BBC sport clip in which Karanjeet explains what it means to be a British Sikh occupying the powerlifting space. The unapologetic use of her full name (there are too many Karen's anyway) and her visibility as a brown Sikh female, invoked a sense of pride that I could only describe as overwhelming. 
There was also a bittersweet feeling. Why does the existence of elite, South Asian women in sport feel so few and far between? I wanted to learn about Bain's story to not only highlight the barriers to South Asian women taking up sport, but also to showcase her tenacity as a British Sikh female actively on a mission to get more women involved in fitness. 
 I guess I have a different backstory to most typical South Asians families because my family is very sporty and my dad, a former powerlifter and bodybuilder, is my coach. I've got twin brothers, ten years older than me, who were particpating in 400 meter hurdles at a national level when I was a little girl. Seeing my dad training my brothers when I was younger got me really inspired. I used to pick up a little dumbbell and see how strong I was. I knew what strength was and I knew what winning meant.
Bains explained that she initially set foot into the gym in order to get stronger and maximise her success in athletics. Up until the age of 17, she was a champion sprinter, three times Warwickshire champion in the hammer throwing and 300m sprint as well as the fastest girl at school, holding seven consecutive secondary school records.  But when an injury prevented her from running, she took up powerlifting in a bid to maintain her fitness excellence.
View this post on Instagram
One of my favourite aspects of her sporting journey was the sense of normality around a young Sikh Punjabi girl's desire to get fit via lifting weights. She wanted to become stronger and so to put it simply, her father helped her to get her there. The coaching she received from her father enabled her to be immersed in a sport which was otherwise so far removed from the realities of young women. She quickly catapulted herself into success. 
I thought I'd just give it a go and dad taught me the basics – the  squat and deadlifts. I picked it up  really easily and within three months of having never lifted, my dad entered me into my first competition. I won that competition and  never looked back. Within 6 months, I became the British champion. Back then, there weren't many girls in powerlifting, but I fell into and found my love for it.
Bains was inspired and nurtured to excel in sport at a young age — she wasn't, however, immune to the cultural images peddled within society which prevent young South Asian women from connecting with their physical strength. 
When I was 18, my dad took me to his old gym. It was very male dominated and full of testosterone. The gym owner saw me warming up and must have thought I was lost. He said "I'm not sure if we've got dumbbells small enough for your daughter and my dad said " I'm not sure if you've got dumbbells big enough to be honest." It was a mic drop moment. That was my time to shine. I had a heavy deadlift session planned that day and safe to say I let my actions do the talking. I was far stronger than the rest of the men there. That was enough to humble the room  and amidst a few jaws dropping, they soon piped down as soon as they could see what I could do.
And this anecdote points to the wider issue of physical strength being seen as a virtue of men only. Poorna Bell, an acclaimed journalist, author and most recently, amateur powerlifter, has documented how her powerlifting journey enabled her to reconnect with joy following the death of her husband in 2015. In her book Stronger: Changing Everything I Knew About Women's Strength (for which Karanjeet was also interviewed for), Bell talks about the overwhelming focus on girls being mentally strong e.g. through surviving personal traumas, as opposed to being physically strong. These cultural messages which signal to women that they don't need to be physically strong,  inadvertently contribute to the lack of connection between South Asian women, exercise and therefore sport. 
Whilst physical strength is not often associated with women, being a South Asian adds another layer of complexity to the relationship between womanhood and fitness. 
We are taught as Indians that beauty means being dainty and submissive. I get asked "what if you get too butch? Who is going to marry you?" I hate that in  South Asian society; there is so much pressure and ambition surrounding marriage, as if this is the pinnacle of a women's adulthood and the point her family duties must commence. I'm trying to break these narratives. I get so many ridiculous comments, but I have a tough skin. Often within the community, men don't want to see a female who lifts weights, they just want to know their ability to make a round roti if I am really stereotyping here. Within those with a traditional mindset, there's a box to tick  with regards to a women's ability to conform to society's expectations but I truly believe now is the turning point for change
Bains' responses highlighted the existence of criteria which dictates what it means to be a "good South Asian girl." Women's  involvement in fitness and sport, means they can fall outside of these misogynistic criteria. If cultural forces pull South Asian women away from fitness and sport during their youth, how can we expect them to become athletes? Sporting Equals, a leading race equality charity stated that 7 British Asians competed for Team GB in the 2020 and 2016 Olympic Games. Furthermore, when you consider that physical activity levels among south Asians in England are 60% lower than among white British and lowest in South Asian women, a disheartening picture is painted in regard to the relationship between South Asian women, fitness and sport. 
View this post on Instagram
Whilst there are multiple barriers in the way of British south women engaging in sports and exercise e.g. issues relating to body confidence, it would be amiss to not acknowledge how cultural factors within the South Asian community can shape relationships to fitness. Interestingly, the same piece of research  which illustrated  low physical activity within English South Asian women, also highlighted that women over 55 spent 76% of their physical activity doing housework, compared to 46% of Indian women aged 16 to 34. This partly mirrored Karenjeet's point about how women's expectations  to commit to domestic duties, is seen as being at odds with a commitment to sport. 
Parents need to be more open minded. We are drilled with this message that we need to be academic which I believe is very important. My parents pushed me toward academics but I took that competitive instinct and applied it to everything and still do. I am a chartered accountant who qualified working for a Big 4 Accounting firm alongside my powerlifting career. I always champion the message that whatever your kids' passions are, whether that be dancing or sports, just let them do it. Don't just show them that you are interested and support them, go one step further and be active in showing up to their football matches or rehearsals. Invest in them and watch how they flourish knowing their parents are watching and are proud of them.
Whilst South Asian girls and women need to be nurtured into connecting with their love of fitness and movement within the home and communities, the visibility of  Bains as a physically strong, brown women lifting weights, cannot be underestimated. This is particularly so when you consider that the fitness industry is often dominated by thin, white women or fitness "influencers," often ditching  muscle building in favour of a toned appearance.
You see me roaring when I'm deadlifting. I am not quiet about anything. I'm just trying to break the norm. I try to be very natural and very raw. You can often  see me in training with sweat pouring down my face and no makeup. That can be cool. You don't have to look on point all the time. I think that motivates me a lot – knowing who is watching and who is being inspired by my journey being so raw and real! It's all about toughening up and trying not to let people get to you. I get a lot of comments from men, "Oh you look manly." Well I tell them; I lift more than you. As Sikhs are supposed to be known as the warrior race. It's about being fearless, protecting the innocent and standing up to injustice. Often that narrative is fed to the boys not so much the girls but whenever I compete, I imagine a battlefield and talk to God before I go out there.
Karenjeet's physical strength is matched by her spiritual strength. One the main tenets of Sikhi is selfless service — the helping of others without incentives for personal gain. She doesn't just lift weights just for herself but instead, chooses to use her platform as a force to propel women and girls to realise their power and has worked tirelessly to develop a coaching app designed to encourage others to work on their fitness journey. 
I've had a lot of exposure to the not-so-great side of things, so I want to help people all around the world. This app is about the narrative of coaching women to be strong over skinny because I believe that strength is for anyone of any shape, size or background. Find your 'amazing'. If that's just doing your workouts at home, or you want to help achieve your first milestone of your first press up or pull up, I can work with you on that. I provide a bespoke training programme that's tailored to your individual needs. There's lots of different resources including video tutorials specifically critiquing your form as well as female specific tips e.g. how to train during your menstrual cycle. Anything and everything!
The beauty of her coaching app is that it is a true labour of love, catering to vegans, those with health conditions such as a PCOS,  those with allergies and even women going through all stages of life including menopause or even IVF. Anyone can enquire about starting their fitness journey by completing an enquiry form on her website https://karenjeetbains.com. One of the questions on the form asks the enquirer to briefly note what they think is holding them back from achieving their goals. Karenjeet moves beyond generic, clinical coaching to focus on nurturing and  building the bridge between psychological wellbeing and physical fitness. 
View this post on Instagram
My work is about trying to create a legacy and inspire people. I want to inspire the ones that might have wanted to do something, but they weren't encouraged or have been told no throughout their entire life. I've coached really shy girls to start home workouts and we've slowly built them up toward going to the gym. Their confidence grew and to me, that's just the best feeling. 
Brown Girl Magazine was pleased to hear that Karenjeet has been nominated to win the prestigious Sports Personality of the year title as part of the Asian Achievers awards — an initiative now in its 20th year of being run. The awards represent the highest calibre of South Asian talent across business, politics and social enterprise, acknowledging those whose achievements have reflected on the national stage and invigorated their communities. She currently stands in good company with boxer Amir Khan, cricket champion Salma Bi and Blackburn Rovers footballer Millie Chandarana also being nominated for the title. Here's what she to say about the nomination:
It gives me a great sense of pride to be recognised for my achievements as a South Asian Female doing her best to shatter any glass ceilings about being a female in strength sports especially those coming from a diverse and minority background like myself. This  is just the beginning. I am truly blessed and humbled to be nominated for such an incredible award. I want to set up schools in India  – for girls especially. I want to reach those young people who are on the streets, who have no family. I want these schools to educate them also, to nurture them into athletics, strength sports, and self-defence. I want the most capable and deserving girls to be picked for the Olympics. There are billions of strong, talented girls out there who live in poverty and never get a chance. Imagine if a few of them became Olympic champions? I hope to kickstart that. One day.
As of September 23 2022, Karenjeet has won the Asian Achievers Award for Sports Personality of Year. Massive congratulations from everyone at Brown Girl Magazine.