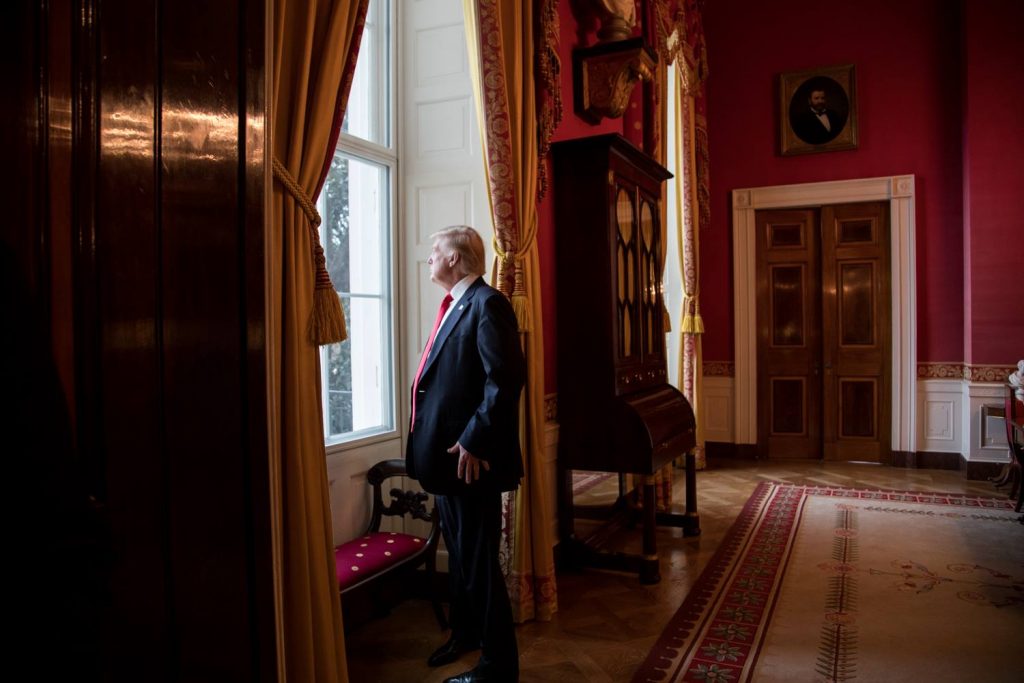 by Priya Arora – Follow @ThePriyaArora
All 54 African nations, the United Nations human rights office, Haiti, El Salvador, have made official declarations denouncing President Donald Trump for reportedly making racist remarks during an immigration meeting at the White House on Thursday.
The Washington Post reported that Trump "grew frustrated" with lawmakers while discussing a bipartisan deal protecting immigrants from Haiti, El Salvador and Africa.
"Why are we having all these people from sh–hole countries come here?" Trump reportedly said, citing "several people briefed on the meeting." "Why do we need more Haitians?" Trump went on to say. "Take them out," he added, referring to the deal.
According to the Post, Trump suggested that the U.S. "should instead bring more people from countries such as Norway, whose prime minister he met with" the day before.
The alleged remarks drew widespread criticism from lawmakers both in the U.S. and around the world. While remarks from domestic lawmakers focused on warring over whether or not Trump actually said the word "sh–hole," foreign response has focused on the real issue at its core – that Trump has time and again shown in his actions, and words, that he is racist.
A group of 54 African ambassadors to the United Nations said they were "extremely appalled" by the remarks and called an emergency session to discuss them, citing concerns "at the continuing and growing trend from the US administration toward Africa and people of African descent to denigrate the continent and people of colour."
The group is "extremely appalled at, and strongly condemns the outrageous, racist and xenophobic remarks by the president of the United States of America as widely reported by the media," a statement added, demanding a "retraction and an apology."
Their declaration came after the United Nations human rights office denounced the remarks as "racist." In an extraordinary rebuke, UN human rights spokesman Rupert Colville told the media that Trump's alleged comments "encouraged racism and xenophobia."
"These are shocking and shameful comments from the President of the United States. There is no other word one can use but 'racist'," Colville said. "You cannot dismiss entire countries and continents as 's—holes', whose entire populations, who are not white, are therefore not welcome," he added.
The issue was more than "vulgar language." Colville added. "It's about opening the door to humanity's worst side, about validating and encouraging racism and xenophobia that will potentially disrupt and destroy lives of many people."
The government of El Salvador issued a "letter of protest" to the U.S. government over Trump's remarks, demanding respect for its citizens and noting their contribution in rebuilding the Pentagon after 9/11 and in the reconstruction of New Orleans after Hurricane Katrina.
The African Union mission to the U.S. released a statement "to express its infuriation, disappointment and outrage" at the president's remarks. In addition to expressing their "shock, dismay and outrage," they said the Trump administration has a "huge misunderstanding of the African continent and its people."
The government of Haiti said in a statement it was "deeply shocked and outraged" by Trump's remark — and called it "racist." "These insulting and reprehensible statements in no way reflect the virtues of wisdom, restraint and discernment that must be cultivated by any high political authority," the statement said, adding that Trump's remark "reflects a totally erroneous and racist view of the Haitian community and its contribution to the United States."
Paul Altidor, Haiti's ambassador to the U.S., added that his country's government "vehemently condemns" Trump's comments "based on stereotypes." Altidor said that Trump had "been misinformed or he is miseducated" and that he was surprised and disappointed that Trump would "actually make such comments about any group of people."
Trump himself defended the remarks, initially saying that although he didn't say "sh–hole," the language he had used the in the meeting was "tough."
The language used by me at the DACA meeting was tough, but this was not the language used. What was really tough was the outlandish proposal made – a big setback for DACA!

— Donald J. Trump (@realDonaldTrump) January 12, 2018
Later, he refuted the remarks about Haiti altogether.
Never said anything derogatory about Haitians other than Haiti is, obviously, a very poor and troubled country. Never said "take them out." Made up by Dems. I have a wonderful relationship with Haitians. Probably should record future meetings – unfortunately, no trust!

— Donald J. Trump (@realDonaldTrump) January 12, 2018
Since his remarks, thousands took to social media using #shithole to share their stories, qualifications, and contributions to the country.
I'm a future Doctor.
I'm a medical student.
I have 3 degrees.
I speak 3 languages.
I'm published in Psych-Oncology.
I'm a member of Zeta Phi Beta.
I'm from a #ShitHole country! ?? pic.twitter.com/NXeQCjhLTH

— NCM. (@nyaalnasir) January 12, 2018
I'm 1st undocumented attorney in AZ
I'm a business owner
I'm a job creator
I'm a national award winner
I'm a volunteer and donor
I'm an @ASU_Alumni Sun Devil ?
I'm proudly from the 1st #Shithole country @realDonaldTrump attacked ??

— Daniel Rodriguez (@Darodrig) January 12, 2018
I'm a future News Editor.
I'm a Journalism & Media Studies Postgraduate Student.
I have 3 degrees.
I speak 6 languages.
I'm a 2018 Hazelhurst Fellow.
I'm a Postgraduate Merit Award holder.
I'm from a #ShitHole country ?? pic.twitter.com/DYadcLXNxI

— Takalani Sioga (@TakalaniSioga) January 12, 2018
As heartwarming and important as some of the stories shared are, they may perpetuate a narrative that immigrants must reach a certain level of success in order to prove that they deserve to be in the United States.
At a time when Trump's remarks and tweets draw national media attention nearly every day, it's important that we stay vigilant. A president who attacks immigration and immigrants, including targeting the H-1B visa program, is one that is deeply ignorant. Abroad, reaction to his most recent remarks tells us that the international community is watching—and that as a leading Western power, words from the President can have far-reaching ramifications on international relations.
---
Priya Arora is a queer-identified community activist, editor, writer and Netflix enthusiast. Born and raised in California, Priya has found a home in New York City, where she currently works as a Frontpage Editor at Yahoo. When she's not working, Priya enjoys watching old school Bollywood movies, laboring over NYTimes crossword puzzles, reading books she never finishes, and eating way too much of her partner's homemade Hyderabadi biryani.